Lecturers have begun a second-successive day of strike action at a London university today over a wage dispute.
University and College Union (UCU) members walked out at the School of Oriental and African Studies' (SOAS) Russell Square campus in central London after the university's management docked 100% of wages of academic staff taking part in a national marking and assessment boycott.
Several SOAS lecturers were deducted all pay and pension contributions for the last 11 days of April.
SOAS UCU branch secretary Dr David Lunn, 39, said: "The decision to impose 100% deductions has created a strength of feeling within the branch that I have never seen before.
"The levels of anger are just unprecedented because people simply cannot believe that management are being so punitive and so aggressive."
Lunn claimed marking makes up between five and seven percent of most staff's workloads and shouldn't be met with 100% wage deductions.
Speaking at a UCU-organised #SettleTheDispute rally last week, former shadow chancellor John McDonnell said: "I actually am ashamed of any association with SOAS now that they've taken the decision on 100% deductions.
"I just didn't expect it from SOAS. It is a disgrace."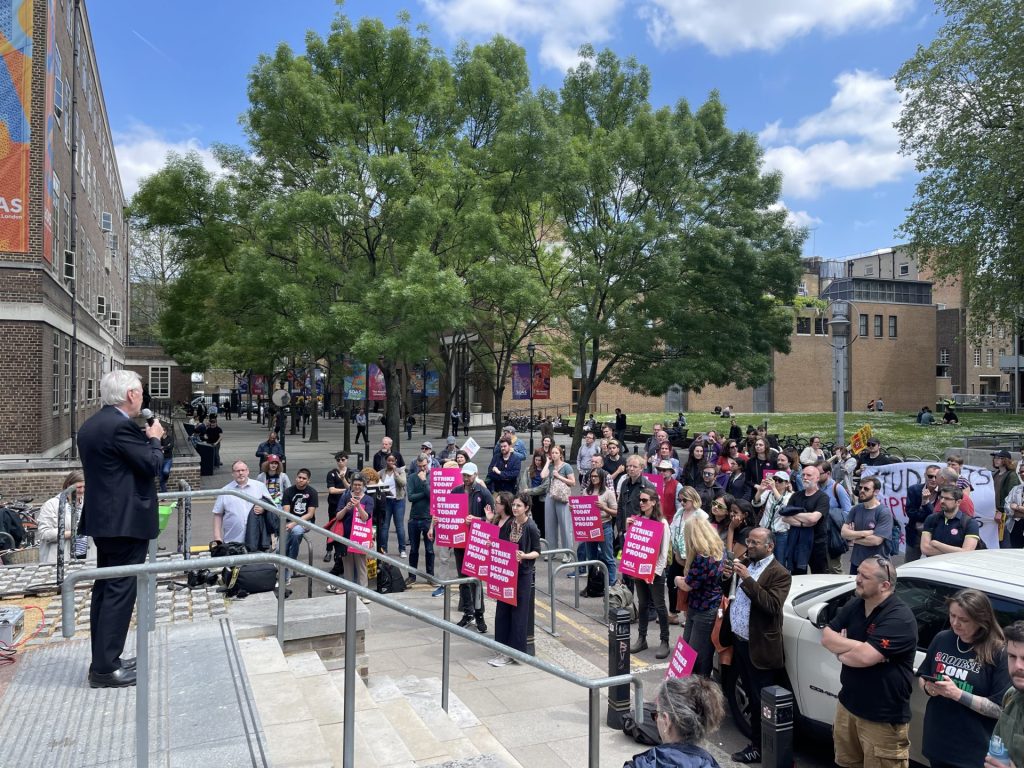 Masters' students at SOAS have been particularly affected by the industrial action as they are unable to have their dissertation supervisions (meetings with their dissertation supervisors).
Lectures have largely finished at SOAS due to the time of year and SOAS UCU has attempted to reduce the impact on students taking exams, although how and when students get their results will also be affected.
Lunn explained because of the extreme nature of the deductions, a GoFundMe page had been set up to provide extra financial help to lecturers.
"It will emphatically be needed," said Lunn when asked if extra money would be required.
"These deductions that have happened in this payslip are only the beginning.
"We're going to see the pay from the full month of May taken out of the June payslip, so that's when people will be facing £0 in their payslips."
SOAS UCU members who aren't taking part in the MAB have donated part of their salaries to help their colleagues.
Between crowdfunding attempts and the UCU's national and regional fighting funds (money set aside to help those involved in strike action), Lunn said the aim is to cover 80% of the wages of those who've faced wage cuts.
The marking and assesment boycott started in April after the UCU rejected the Universities and Colleges Employers Association's (UCEA) 5% pay offer in February.
SOAS bosses had made an offer to stop the 10-day SOAS specific strike action which began on May 24 but that was unanimously rejected by SOAS UCU members as it involved breaking with the national action and still involved wage deductions of at least 50%.
Lunn hopes SOAS management will change course on their stance and not impose the deductions on those protesting (pictured above earlier this month).
He said: "I'm hopeful management will see the damage they're doing to industrial relations."
The SOAS UCU branch today announced a further 8-day extension to the 10 days of strike action already called.
A SOAS spokesman claimed it had implemented the largest pay offer made to higher education staff in 20 years and brought forward pay rises.
He added: "We are disappointed that further industrial action has been called by the Universities and Colleges Union because we have been honest with our colleagues that we cannot afford further pay rises at this time.
"We are in regular contact with colleagues to update them on the steps we, along with other universities, are taking to mitigate the impact of industrial action to make sure that our students can progress and graduate.
"We have been clear that salary would be withheld for members of staff who participate in industrial action that affects the marking and assessment of students' work."