Conservative councillors have questioned the Mayor of London's ability to deliver an extension of the tram network to Sutton.
A report published by Transport for London (TfL) last month asked respondents to rank their levels of support for three route options from Sutton and their preference for Tram or Bus Rapid Transit (BRT).
Out of 5,980 respondents, 65% supported option one (South Wimbledon), 55% supported option two (Colliers Wood), and 49% supported option three (Wimbledon), with 81% supporting tram operation compared to 40% for BRT.
Stonecot Ward Conservative Councillor Param Nandha said: "I have supported option two, which links Sutton Town centre to Colliers Wood Town centre, as this option lays down the transport network which will boost business, new affordable housing and reduce vehicles on the roads."
He said that he supported BRT as it ran on tyres and is currently in operation in China, Brazil and Australia, with a number of other major cities considering a move to this system.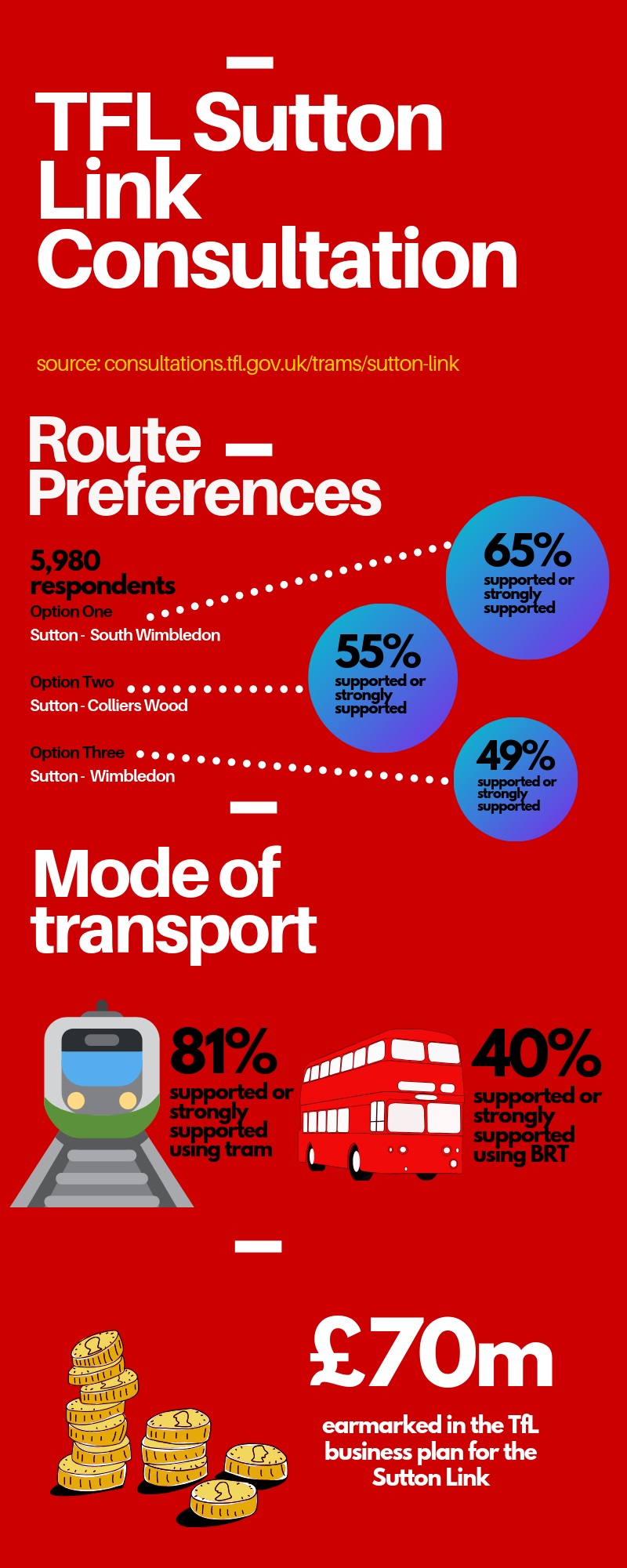 Mr Nandha added: "Residents of Sutton have longed for a better transport network such as the Tram, Crossrail and Overground services to improve the poor air quality, peak traffic, and reduce the number of car journeys; but given the current Mayor's poor management of TfL's finance, will the project be deliverable?"
Cheam Conservative Councillor Elliot Colburn said he hoped that TfL concludes that it should be looking to implement option one as the clear favourite among the public.
Mr Colburn said: "Sutton is one of the most poorly served boroughs in London when it comes to public transport, so I welcome TfL's report and am pleased to see the support for bringing the Tram to Sutton."
He added: "The challenge now will be, given the black hole in TfL's finances caused by the Mayor of London's poor management, to see if the project is actually deliverable."
A spokesperson for Sadiq Khan, the Mayor of London, said: "It's absolutely shocking that the Tories are opposing the Sutton Tram extension.
"TfL has earmarked £70m for the project in its business plan and is working closely with Sutton and Merton Councils on funding options.
"It's time for the Tories to get out of the way so we can build the Sutton Tram extension, with all the new jobs, homes and opportunities it will create."
Feature image: Copyright Dr Neil Clifton