A range of security measures are being put in place in time for the start of the Wimbledon tennis tournament on Monday.
A Met Police spokesman said the force has worked closely with the All England Lawn Tennis Club to prepare for this year's competition but would not discuss specific security arrangements.
The spokesman said: "A range of tactics will be put in place, some highly visible and some that the public will not notice and that includes a dedicated deployment of armed officers."
He said armed officers have supported the policing operation in previous years at the Championships.
He continued: "As with any major public event held in London, the MPS works closely with the organisers and relevant agencies involved to ensure appropriate security measures are in place.
"Our primary objective is the safety and security of the public.
He added: "Policing arrangements for this year's Championships are intended to facilitate the safe enjoyment for people attending the event, whilst minimising disruption to local residents. In particular our role will be to safeguard public safety, to prevent and detect crime and disorder and to minimise disruption to local communities."
An AELTC spokesperson said the safety and security of all visitors to the Championships is of paramount importance and there will be enhanced security measures in place in and around this year's Championships.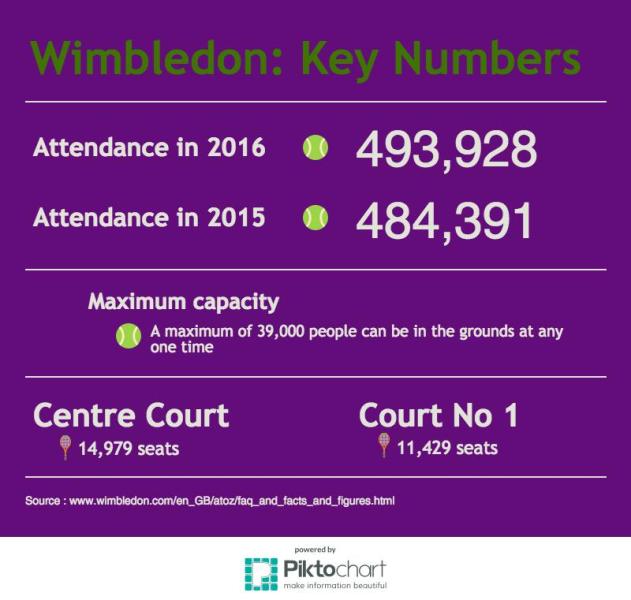 They said: "Working from a strong base of existing measures in place from previous years, covering extensive searches of people, bags and vehicles on entry to the Grounds, the placement of vehicle mitigation, wide CCTV coverage, armed and uniformed Police officers and sniffer dogs, this year's Championships will see a proportional uplift in measures in place on the advice of, and working in partnership with, the Metropolitan Police Service."
They confirmed there will also be visible physical security around the Queue, where people line up to buy last-minute tickets, in the form of vehicle mitigation barriers, as part of the enhanced measures for this year's Championships.
For those without tickets, free outdoor screenings of every match will be shown on the piazza on Wimbledon Broadway from Monday.
Love Wimbledon, an organisation representing central Wimbledon businesses, hosts the screenings and said they work closely with the town centre police and council to ensure the screenings are safe.
Helen Clark Bell, CEO of Love Wimbledon, said the big screen really helps to incorporate the Championships into the town centre and working with the All England Club to bring in banners and hanging baskets adds to this.
She said: "It feels like we're celebrating and welcoming people to come in and enjoy the atmosphere of Wimbledon."