South London artists are donating to an art auction and exhibition to raise funds for free art workshops for people living with dementia.
The Hart Club, opposite Lambeth North tube station, launched the Great Grey auction last Thursday during Dementia Action Week.
The auction is supported by the Alzheimer's society and runs from 24 May–16 June.
Art psychotherapist Cressida Brotherstone, who leads the workshops, said: "Dementia can isolate people in a social way.
"They'll have their carer or family around them a lot but they can lose their autonomy.
"The art making with the support of a therapist can help them build their autonomy again through the making of something new."
The Hart Club promotes 'neurodiversity' within the arts and launched the Great Grey project in September 2018 with funding from charity Age Unlimited.
Rising London artists have donated pieces so that weekly workshops can continue after June.
Camberwell-based artist George Rouy, 24, donated his oil painting valued at £3,000.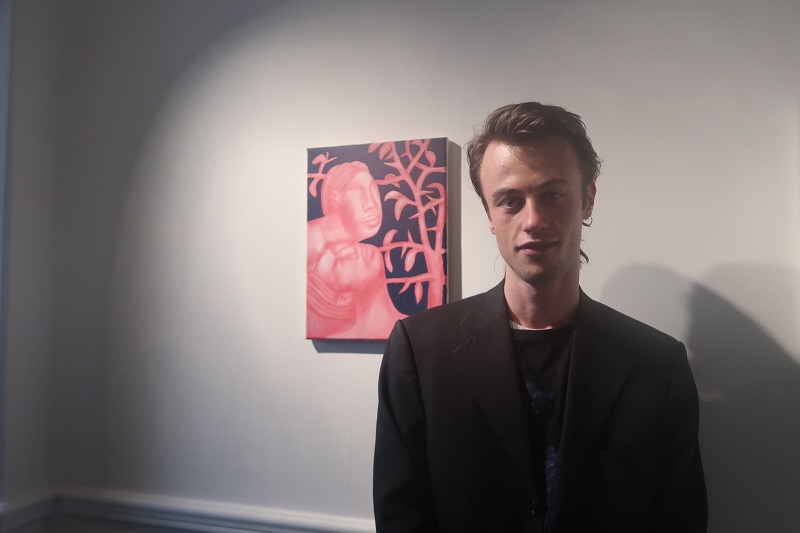 DONATION: Camberwell-based artist George Rouy with his piece.
The workshops teach various art techniques to aid the well-being of people living with dementia, including print-making and ceramics.
Carers are also encouraged to take part in the workshops and connect with each other.
A limited edition of the Catalogue Raisonné of Oil Paintings by renowned British Royal Academy artist William Scott has also been donated for auction.
Mr Scott was born in 1913 and died in 1989 after living with Alzheimer's disease.
Other artists featured in the auction and exhibition include Olivia Albanell, Tom Beard, Tomo Campbell, Leo Duff, Marie Jeanne Garrigou, Rachael Nilsson, Samara Scott, William Scott RA and Harley Weir.
Lambeth Dementia Alliance have put its 2019-2022 dementia action plan up from public consultation until 14 June and the survey can be found here.
Find more information about the auction here.