As the fast-paced, foot-tapping, drumming phenomenon dances into New Wimbledon Theatre, the lead male dancer reveals what it takes to perform on Riverdance's 21st birthday tour.
Bobby Hodges began dancing at the tender age of six after becoming mesmerised by the interval show performed at Eurovision in 1994 by Michael Flatley.
He eventually persuaded his parents to take him to dance class and Bobby and his four siblings began their journey into competitive side Irish dancing and what a journey it turned out to be!
As he prepares to take to Wimbledon's stage, he admits he still gets an adrenaline rush when performing live to a new audience each night.
Bobby said: "I'm happy to say that I'm never as nervous as I was for my first show!
"There is always that mixture of excitement and adrenaline, especially as the drums build for the first number Reel Around the Sun."
For 12 years Bobby competed at the top of his game and along with his sister and three brothers he trained with the renowned Sean Eireann McMahon academy in Bristol.
He jumped, clicked and trebbled, making tremendous beats, on stages around the globe and won numerous national and world titles as both a solist and team dancer in Celi's and figures.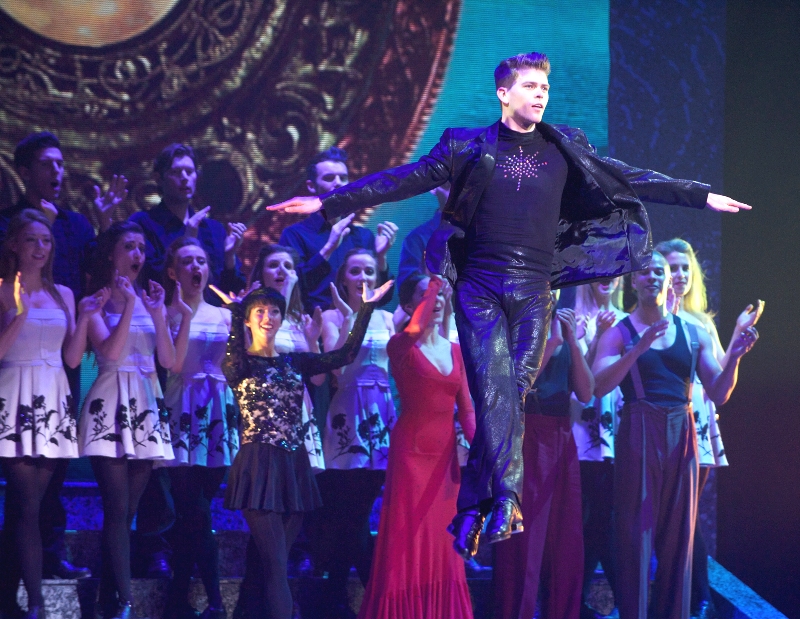 Picture courtesy of Rob McDougall, with thanks 
As an 18-year-old, Bobby 'retired' from competitive dancing and turned his stage presence to the world of Irish dance tours and shows with his first jig being a tour of South Africa.
Bobby never intended to tour full time, he said: "I wanted to experience it before I started university, but once I had performed my first show, I knew I wanted to be on the stage."
It took just six weeks in his first Lord of The Dance show to be cast as principle lead and he is now thrilled to be lead in the show that first inspired him to dance.
As a Bristolian, Bobby loves performing  in the UK and being close to home and spoke of how he is particularly enjoying the run at the New Wimbledon Theatre as he knows someone in the audience each night.
Irish dancing remains very much a family affair, with Bobby's parents and older brother coming to watch the show Wimbledon, where both he and his younger brother Mitchell will share the stage.
He cites performing at the Bristol Hippodrome, in his home town with his family in the audience as a special moment, but one of his favourite performances to date was taking to the stage at the Hammersmith Apollo in 2014 it was truly special as Riverdance had so much history at the venue.
Having been on this leg of the UK tour since December 31, life on the road can be very hectic.
A typical day leaves the dancers to relax and explore the new city, work out or shop before the working day starts around 4.30pm.
The lead dancers head for a massage around 5pm and then prepare for the show with hair, make-up and warm ups, they rehearse every day on stage for about an hour, as every stage is slightly different.
The rigorous routine and busy schedule demands the dancers look after their bodies and feet, so physios and massage therapists join them on tour.
The dancers face the dreaded ice buckets after the shows to aid recovery because performing up to eight shows a week is extremely physically demanding.
Down time is also an important part of life on tour and the troupe have enjoyed their time in London so far, by taking in other touring shows on the West End.
When speaking of the spectacles Bobby said: "Being on stage helps you appreciate how talented some of these performers are – it's also nice to sit on the other side of the curtain!"
Looking forward to performing in Wimbledon, Bobby said: "The audience is new for every show, so we're aware that for them it is their first time seeing the show.
"We have to bring the same energy that night.
"The audience's reactions vary greatly, the UK and US audiences are very vocal and audience participation is fundamental, whereas audiences in China and Japan are far more conservative and respectfully applaud after numbers.
"Until the end of the show, where they are really excited!"
With an immaculate quiff to support his fancy footwork Bobby talked about his post-show plans, he said: "I dream of one day producing my own show, but for now I'm really enjoying the spotlight and the buzz of performing."
Riverdance is at the New Wimbledon Theatre until the end of the month, before hop-footing to a theatre in Cambridge to continue its UK tour.