Fulham fans will be protesting tomorrow ahead of their game against Manchester City at Craven Cottage over the increase in home ticket prices this season.
The cheapest ticket for tomorrow's game is £55, compared to the next home game against Everton in two weeks where cheapest tickets are priced at £43 for adults and students.
Despite their banners being banned by the club, #StopTheGreed protesters encourage attendees to hold up one of their 10,000 flyers during the 55th minute of the match to mark the £55 cheapest ticket.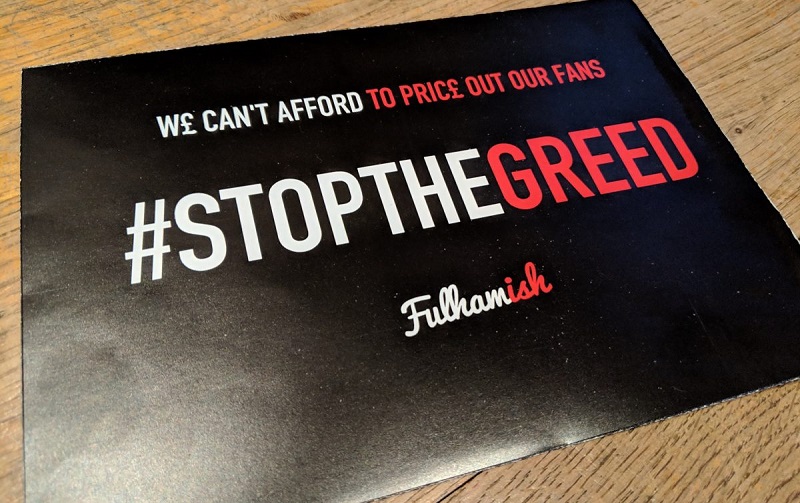 ANGRY: Fulham fans will be encouraged to hold up flyers during the 55th minute of tomorrow's game.
Host of Fulhamish podcast, Sammy James (pictured above), 27, who organised the protest said: "Clearly Fulham are trying to raise more through ticket revenue and they've obviously seen our promotion to the Premier League and tried to take full advantage of that.
"But by reducing tickets by about £10-15, the cost over a season wouldn't even be £2,000,000.
"Considering the amount of money that flows in and out of Fulham, is £2,000,000 really a huge price to pay to respect the fan base?"
Lecturer in football finance at the University of Liverpool, Kieran Maguire, analysed Fulham's published spending, tweeting: "The price of getting to 'the promised land' was losing £1,137,000 a week in 2017/18."
However Mr James insists it isn't just about getting a few cheaper tickets, it's also about listening to young fans who feel disenfranchised.
"There are more 16-24 year-olds attending away games than ever before, so these new ticket prices will just alienate new 16-24 year olds who might want to come and watch Fulham games.
"In future when we want to count on them as our core support, they won't be there because they were never attracted in the first place."
For Mr James, it feels as though Fulham are prioritising arbitrary short-term targets over investing in their growing fan base.
Fulham Supporters Trust revealed that 64% of Fulham fans are going to less home games because of ticket prices, from a survey of 2,300 season ticket holders, members and other fans.
Fulham have been in conversation with the protest organisers but will not release a statement ahead of Saturday's game.