Amputee service personnel were accompanied by two South Londoners as they cycled across the Normandy beaches with Help For Heroes to commemorate 75 years since D-Day.
The annual Big Battlefield Bike Ride encompassed a 330-mile cycle over five days between 7-13 June and attracted more than 160 cyclists in total.
Tom Newton Dunn, of Clapham, and Tim Chapman, of Dulwich, joined in the charitable effort to raise enough money to fund more than 9,000 sessions for veterans with a psychological wellbeing practitioner.
The Sun's political editor Mr Newton Dunn, 45, said: "It is utterly humbling to share time, experiences and all take part in the same cause which is essentially raising money for people like them. It takes your breath away sometimes."
Mr Newton Dunn has taken part in five Battlefield Bike Ride with Help for Heroes, having helped the charity get off the ground as The Sun's defence editor when it was first established in 2007. 
He explained: "Help for Heroes wants to decouple the politics of the wars these guys were fighting from the sacrifices they were prepared to make for their country."
He has raised £11,000 for Help for Heroes over the years through a range of activities, from riding a tandem bike with MP Johnny Mercer in a dress to abseiling down the Sun's head office.
"When cycling, there is also the peer pressure of being with these people — injured guys who have incredible physical problems but, boy, does it encourage you to go with it, stop complaining about yourself and do it for them."
He added: "If I ever have a guilty conscience about writing terrible things about particularly terrible MPs, putting in a few miles for some heroes is a tremendous tonic."
Mr Newton Dunn's great uncle, Major David Brooke, was killed in the Second World War and he was able to visit his grave while on the bike ride. 
Big Battlefield Bike Ride first timer and business consultant Tim Chapman, 51, said: "The actual ride itself was remarkable — there is a strong camaraderie between the riders, and on any one day you have a ton of different conversations.
"Most people could take part in this event. It just takes some training and determination, and a bit of grit.
"It is a big team effort where everyone from very different backgrounds come together for a common cause."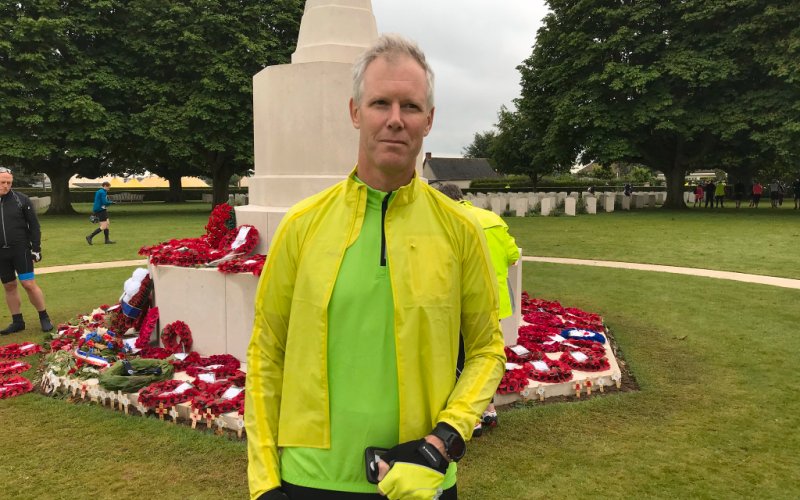 Mr Chapman has an immediate connection to the event, with his great uncle Major William Murray White dying in Normandy and his grandmother, Red Cross nurse, also travelling through France with the army.
He said: "Retracing some of her footsteps was very moving, thinking about the sheer scale of what took place and knowing she was there, helping behind the lines."
Veteran and Help for Heroes director Peter Smith, 65, emphasised the D-Day bike ride was focused on those with psychological injury, reflecting on a time when mental health stigmas were beginning to lift.
He said: "People rise to a physical challenge – if you are going to do one, people are willing to sponsor you. 
"If you are going to do something easy, what's the point? And, it gives you a huge sense of achievement."
The Big Battlefield Bike Ride for 2020 will commemorate Dunkirk's 80th anniversary. 
Visit www.h4hweb.com/ride20 for more information.