Meet Bear, Elsie, Heather, Mable, Moo and Ursula.
These adorable pint-sized Staffordshire Bull Terrier puppies may well tug on your heartstrings.
The fact they are just a handful of thousand of orphaned puppies in the UK bred for profit and dumped when they fail to find homes is even more heartbreaking.
The pups, who are now seven weeks old and set to go to loving homes, received round the clock care by Battersea Dogs & Cats Home staff after they were rushed into the centre.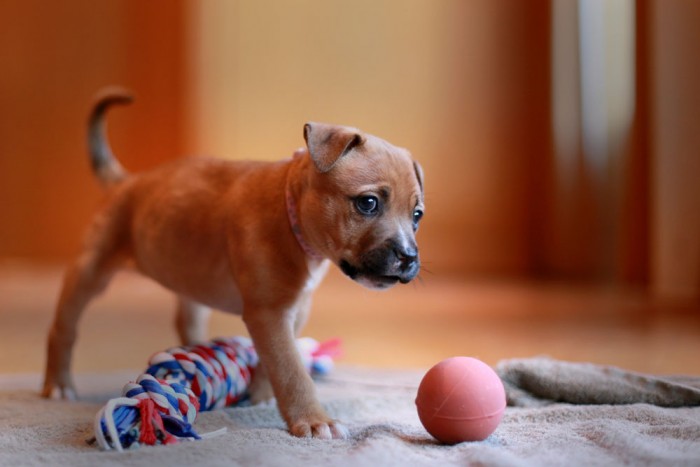 PLAYFUL PUP: This little guy enjoys chasing a ball and playing with chew toys

Their mum was a mature Staffie who appeared to have had a number of litters and was found wandering the streets of London heavily pregnant.
Due to her age she was unable to give birth naturally and had to undergo an emergency caesarean, but despite all best efforts she didn't make it and her pups were admitted to Battersea.
Seven puppies were born but one fell ill after two weeks and sadly died – possibly because she didn't get vital first few weeks with her mum.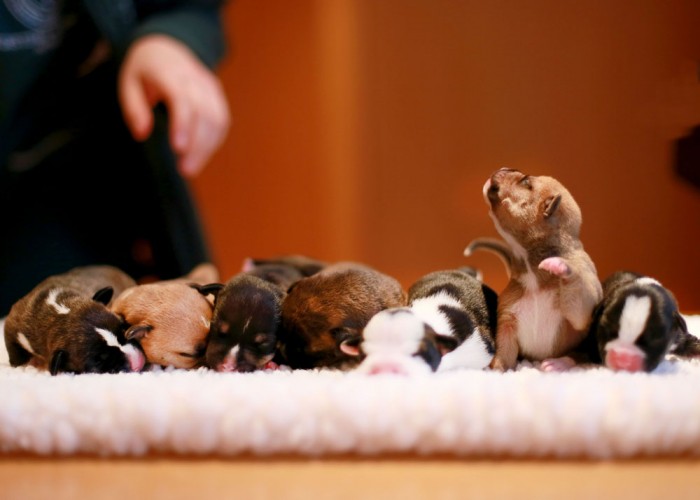 TINY: The litter at just seven days old

The breeding of dogs for profit by unlicensed backstreet breeders too often takes place in dirty, squalid conditions and is happening in neighbourhoods across the UK.
As a result puppies are taken away from their mothers too early and may develop serious health or behavioural problems.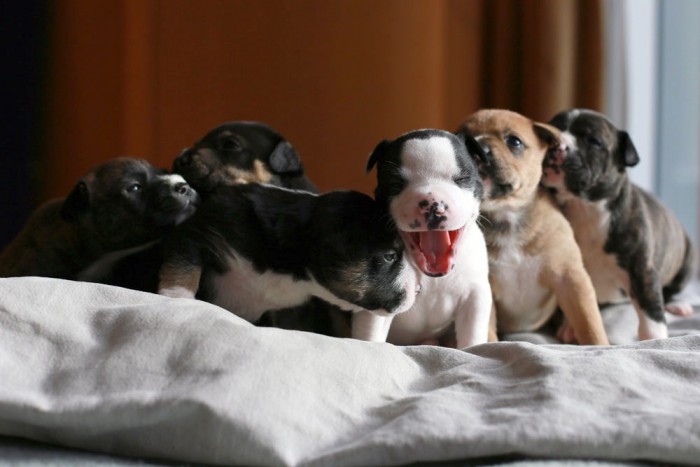 ADORABLE: The staffie pups at three weeks old
Battersea launched a campaign this month to crackdown on the practice of backstreet breeding and is calling for a ban on the sale of puppies under eight weeks old.
Carly Whyborn, Battersea's Head of Operations said: "Every day Battersea sees the consequences of backstreet breeding, from unwanted puppies to breeding bitches who have served their purpose.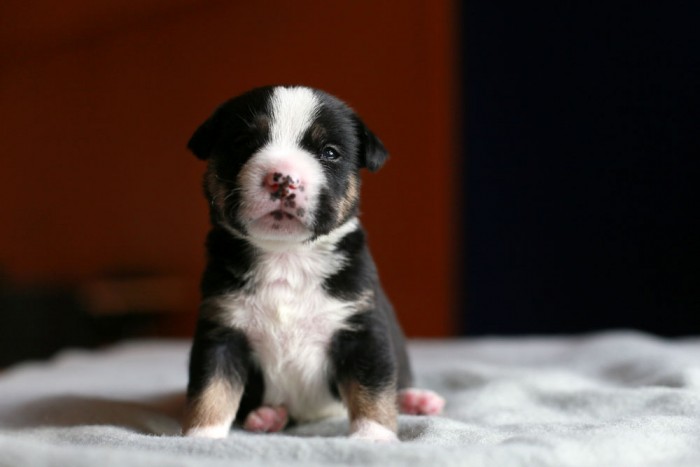 PINT-SIZED: One of the litter at less than a month old
"We must do everything we can to help bring an end to this careless and selfish practice that leaves so many dogs without a home."
Puppies shouldn't be parted from their mum or littermates before they are at least eight weeks old.
From birth to when they leave the litter, puppies learn how to interact, play, bite and how to be dogs.
They rely on each other a lot in their first weeks and need the warmth, comfort and milk from their mum which contains maternal antibodies to protect them.