The number of hate crimes against the LGBTQ+ community recorded in England and Wales has risen again in the past year, a new official report shows.
Hate crimes related to sexual orientation and transgender identity have increased by 41% and 56% respectively between March 2021 and March 2022.
In London alone, 3855 hate crimes related to sexual orientation and 437 to transgender identity were recorded.
Nancy Kelley, CEO of Stonewall, said: "These statistics are deeply worrying and highlight an alarming rise in lesbian, gay, bi and queer people being targeted because of who they are.
"Behind these figures are people whose lives have been damaged by hatred and abuse."
The Home Office explained that this significant increase may be the result of improved crime registration, the lower levels of crimes recorded in the previous year due to the pandemic lockdowns and restrictions, as well as the increasing awareness and knowledge of hate crimes, which may have led to a greater ability to identify such cases.
On the other hand, the number of hate crimes recorded by the police represents only a small part of the abuse and violence suffered by LGBTQ+ people, as most hate crimes related to sexual orientation and transgender identity go unreported.
Giulia, a 27-year-old queer woman, said: "This is mostly due to fear of not being believed, or taken seriously.
"There is a certain level of distrust in institutions' ability to help us when we are victims of hate crimes.
"I would also say that some people might not feel comfortable to report a hate crime due to the fear of being 'outed', if they live in particularly unsafe environments."
The Home Office also stated the largest percentage annual increase reached by transgender identity hate crimes may be due to the high number of conversations about transgender issues on social media over the last year.
Giulia said: "In the last two or three years we have witnessed a very violent public discourse that's trying to delegitimise trans people.
"This contributes to creating a hostile environment and puts people's lives at risk."
The hostility Giulia speaks of was confirmed by almost all transgender people interviewed in 2021 by TransActual, an organisation that works to improve trans people's legal recognition, protections and media representation as well as their experience of healthcare in the UK.
They said they had experienced transphobia on social media and/or witnessed it in digital and print media, and that this abuse had an impact on the way they were treated by family, friends, colleagues and strangers on the street, as well as on their mental health.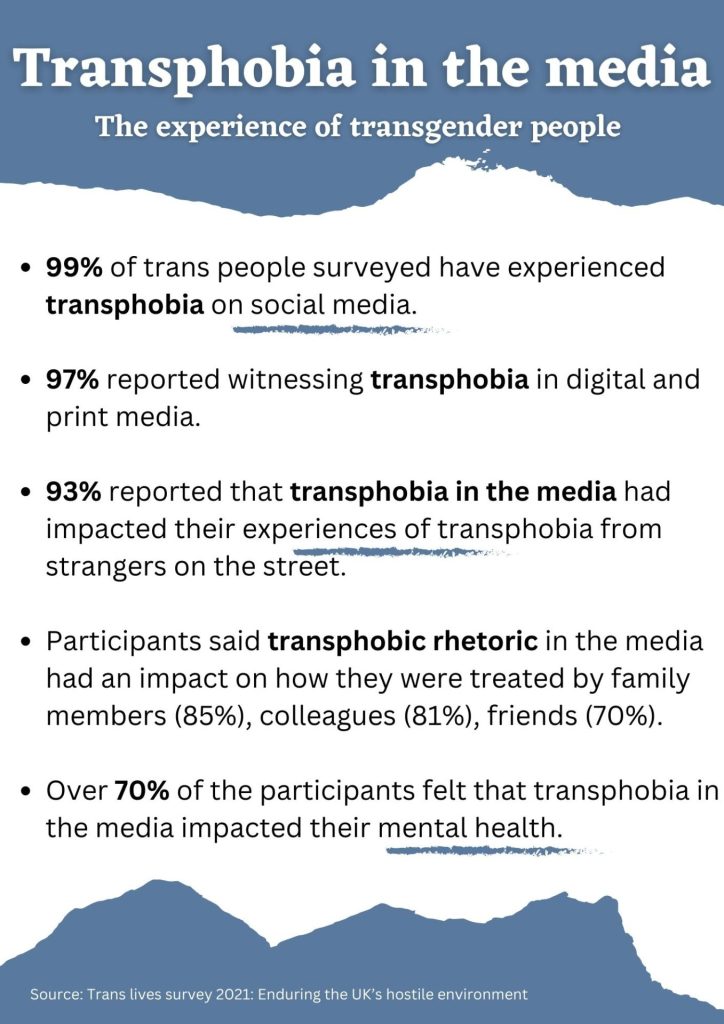 Kelley said: "The constant drumbeat of anti LGBTQ+ sentiment in media and politics has a human cost."
The nature, the extent and the impact of hate crimes against the LGBTQ+ community have been also investigated by Galop, a UK's LGBTQ+ anti-abuse charity.
Participants said they mostly faced verbal and online abuse and admitted that having experienced violence based on their gender identity and/or sexual orientation had affected their well-being and mental and physical health.
Some of the interviewees described the emotional and psychological consequences generated by the experience, sometimes long-term, such as fear, shame, anger; others said they had developed mental health issues such as depression, anxiety, sleep deprivation, post-traumatic stress disorder, or that their previous condition had worsened.
Kelley said: "As a society, we all need to do more to combat anti-LGBTQ+ violence and call out abuse, harassment and anti-LGBTQ+ sentiment wherever we see it, but we also need a greater commitment from the police to take decisive action to follow up and investigate these offences."
Education also plays an important role.
Giulia said: "I think the most effective way to reduce hate crimes in the long run is investing in education on these topics, both in schools and civil society.
"I also think efforts to hold social media platforms accountable for online hate should be sustained and intensified.
"We cannot separate the online world from the offline world, what happens in digital spaces is harder to regulate but has tangible implications in physical spaces."
Featured image : Unsplash