Eighteen Lambeth restaurants are selling on Just Eat despite their zero or one star food hygiene ratings.
But research shows the takeaways and cafes score an average of 4.4 stars out of six on the popular online food order and delivery service.
Jimmy's Plaice, a fish and chip shop on Coldharbour Lane, has a one rating from the Food Standards Agency, meaning major improvement is necessary.
And yet it receives the top ranking of six on Just Eat, with a slew of positive reviews.
The Just Eat star ratings are based on the ratings left by customers following an order. Customers score restaurants on food quality, restaurant service and delivery times, and also have the option of leaving a detailed review.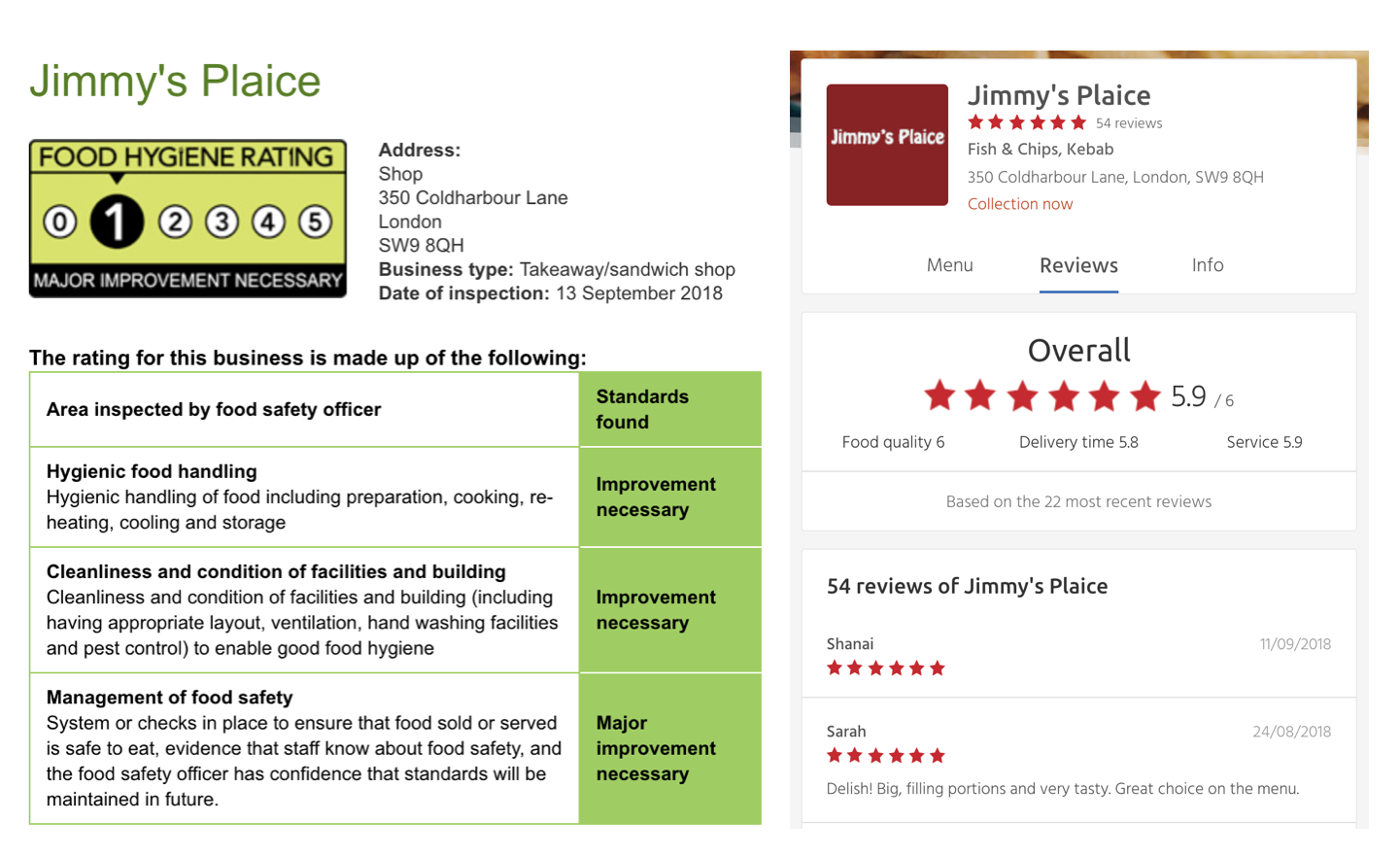 Businesses are not required to display their food hygiene score on Just Eat, with only user ratings visible on the page, a move that has been criticised by campaigners.
Village Masaleh, an Indian and Pakistani restaurant, is the only Lambeth takeaway on Just Eat to receive a zero, with a FSA report highlighting how the management of food safety required urgent improvement, with the cleanliness and condition of the building also flagged for concern.
However, their Just Eat entry is flooded with happy comments – earning them a 5.2 rating.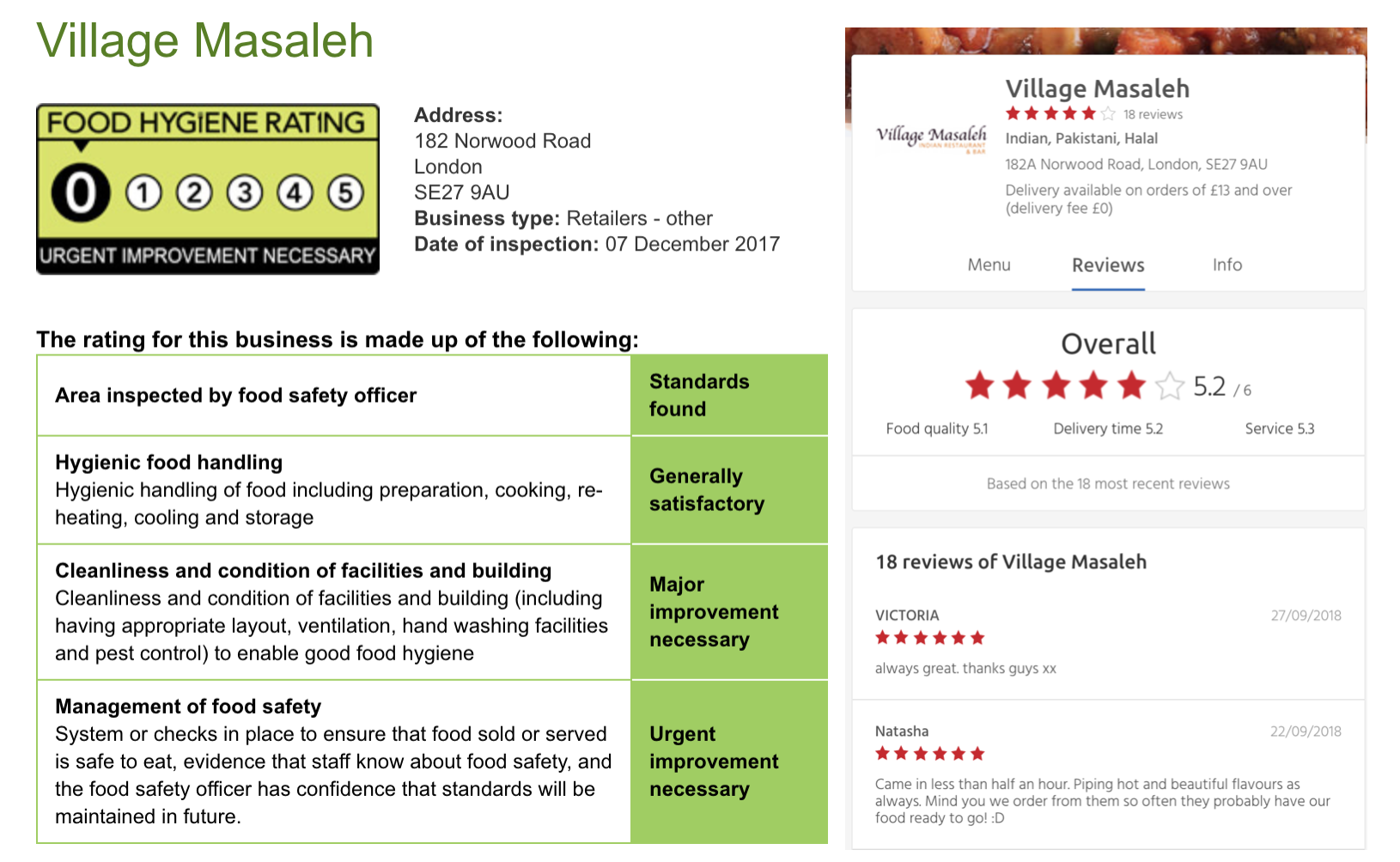 Sizzlerz, near Streatham station offers gourmet, kebab and halal food and has 4.5 stars from 2,822 reviews.
Among the other local restaurants listed on Just Eat with a one star food standards rating are Bravi Ragazzi, Delhi Bites and Perpericon.
In Kennington, Chinese takeaway Happy Family gets one star from the FSA, as does Chicken and Pizza Palace, listed as Palace Grill, on Kennington Park Road.
Four Just Eat restaurants near West Norwood station need major improvement – New Golden Wok, Lal Baag, Wah Moul and Papadom On The Hill.
In Brixton two Chinese takeaways on Just Eat scored just one from food standards officials, Panda Oriental on Brixton Road and Paya on Brixton Hill.
Others with low food hygiene scores were Burger Bros, near Tulse Hill station, the Indian Post near Gipsy Hill station and Peri Peri Original, near Stockwell tube station.
Just Eat policy states that restaurants must be FSA registered to be allowed on the platform and that free accredited food hygiene training is available for all restaurants.
A spokesperson from Just Eat said: "Food safety is an issue we take extremely seriously.
"It is already a legal requirement for food businesses in Wales and Northern Ireland to display their rating and the FSA is committed to introducing the mandatory display of ratings to food outlets in England.
"Whenever any potential food safety issues are brought to our attention our restaurant compliance team will review, investigate and liaise with the relevant local authority and Environmental Health Officers as appropriate."
They also said that the information about food hygiene standards are available on the website, but the FSA is calling on the takeaway giant to make the food hygiene ratings more obvious.
Publicly listed Just Eat is one of this year's most impressive performers on the FTSE 100 – with annual revenue estimates between £660 and £700m, which some analysts have even called 'conservative'.
In England it is voluntary to display your food hygiene rating, which has led to restaurants with a low hygiene rating not presenting their results.
The FSA said that it wants a change in regulation, so it is mandatory to display food hygiene ratings for consumer safety.
"The Food Hygiene Rating Scheme means that people can choose to eat out or buy food at places with higher ratings," said a spokesman. "Businesses with low ratings will thus be encouraged to improve standards and to maintain these in the future."
Just Eat insist that they take consumer concerns seriously and are launching a trial to display food hygiene ratings on their platform in Northern Ireland, which could then be extended nationwide.
For more details see http://ratings.food.gov.uk/