Reigning Wimbledon champion Novak Djokovic swapped the court for the kitchen and rustled up some culinary delights at a cooking masterclass at the All England Tennis Club yesterday.
The world No 1 prepared gluten-free pasta with pachino tomatoes and prawns, alongside celebrity chef Lisa Faulkner, as he chatted about how his family's passion for food has played a key role in shaping who he is today.
The event marked the UK launch of the Jacob's Creek Made By film series – films that reveal the story behind the tennis star.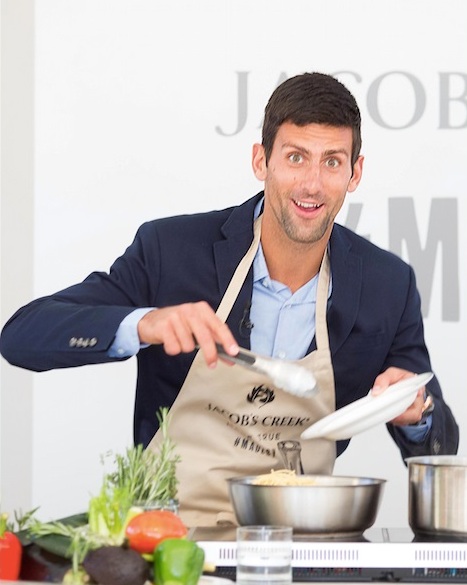 FUN IN THE KITCHEN: Djokovic goofs around for the camera
Djokovic is the star of the Jacob's Creek Made By film series, which since its launch in January this year has racked up six million views.
The films see him recounting unheard life stories from his native Belgrade, Serbia, celebrating the people, places and passions that have made him the tennis champion he is today.
The documentary-style film series Made By Determination takes viewers back to the beginning of his journey, from growing up in war-torn Serbia where he'd practice tennis near his parent's restaurant, to the dedication and commitment of his first coach Jelena Gencic, through to his pivotal Grand Slam win at Wimbledon.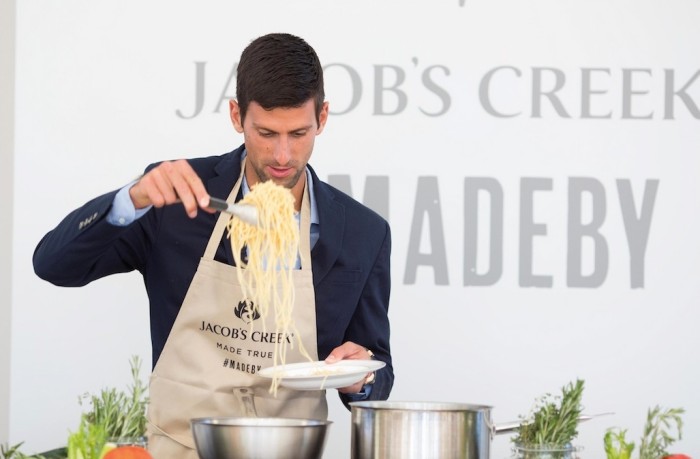 SERVING HIS FAVOURITE MEAL: Djokovic plates up the pasta

Djokovic said: "Watching Pete Sampras play at Wimbledon, something that features in my Made By films, was what inspired me to dream of winning Wimbledon in the first place.
"Now being back at Wimbledon as the reigning champion, watching my films on the grounds is a very special feeling."
On sharing his Made By recipes with a cooking demonstration he added: "Food is a huge passion of mine, and has always played a big role in my life – from watching my parents in their restaurant in Serbia to my own journey where I have listened to my body and overhauled my diet and lifestyle.
https://www.youtube.com/watch?v=VasWcH5vCTs
"Bringing my love of food to Wimbledon, a place that holds so many great memories, is incredibly rewarding."
UK Marketing Director for Jacob's Creek, Lucy Bearman, said: "Jacob's Creek celebrates authenticity, and what's more authentic than watching how someone handles themselves in the kitchen?
"It's not every day you see the world's No 1 tennis champion cooking up a storm, but it was great to see Novak is as handy with a spatula as he is with a tennis racquet!"
The Made By films series has three chapters, Birthed from Serbia, Shaped by Jelena and Inspired by Dreams.
The films plus outtakes and behind the scenes can be viewed online at www.madebyjacobscreek.com