A Battersea man is walking the length of the River Thames – more than 200 miles – to raise cash for one of Europe's largest cancer treatment centre in Manchester after his dad was successfully treated there.
Phillip Payne embarked on his fundraising venture at the river's source on June 14 and is set to complete his epic walk tomorrow at the end of the pier in Shoeburyness.
His dad David, 70, was diagnosed with bladder cancer last year and underwent chemotherapy and had an operation at Salford's The Christie to remove the organ earlier this year.
Staff breakfast in Battersea Park with @kaikell our Box Office Manager who's walking the Thames for charity! pic.twitter.com/fGjrt4Ben1

— BatterseaArtsCentre (@battersea_arts) June 25, 2015
Phillip is close to smashing the £1,000 target he but needs a final flurry of donations to push him over the line.
He said: "The care at The Christie in Salford was really outstanding – they were very, very good.
"During the walk there have been moments where I've thought simultaneously 'I want this over' and 'it's the best thing I've ever done'.
"It's tougher than I expected it to be especially with my very heavy rucksack – I've given up any ambitions of being a foot model!"
Secondly, these signs courtesy of the @nationaltrust trail have been beacons of reassurance! http://t.co/R6MQ5IZBko pic.twitter.com/A2JpMSp1gO

— Phillip Payne (@kaikell) June 24, 2015
Box office manager Phillip explained that he had intended to set off on his journey in April but due to the devastating fire at his Battersea Arts Centre workplace in March he decided to postpone the walk.
"It's a cliché, but cancer seems like the sort of thing that happens to other people until it strikes you or someone you love," he explained.
"My dad's very fit for his age. He's trim, never smoked and drinks very little – a bit boring really!
"When we got the diagnosis it was a bit of a shock, it felt so unjust. It goes to show it can strike anyone."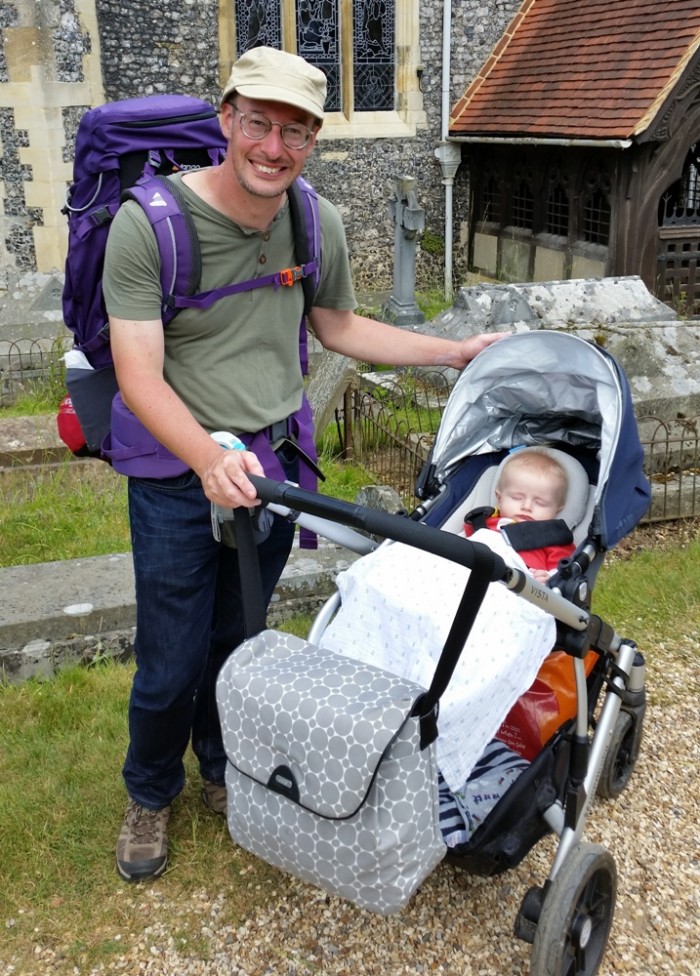 NEARLY THERE! Phillip meets a friend's baby en-route

Originally from Wigan, where his family is still based, Phillip explained that the geographical distance made him feel even more separated from them, but was determined to do something to help.
He said: "There was a great deal of rallying around when he was diagnosed.
"My family's based up north and even though we all felt helpless I felt especially separated from them.
"I felt completely helpless at the time, and increasingly knew that I wanted to do something.
"In the first few months of 2014 the Thames was experiencing winter flooding – it was on the news quite regularly.
"One day I thought 'where does the River Thames actually start?' I looked on Google Maps and got the idea from there."
Despite becoming footsore and weary at the end of his daily ten-hour trek, sleeping in tents and the odd B&B along the way, Phillip revealed that he has thoroughly enjoyed the experience so far.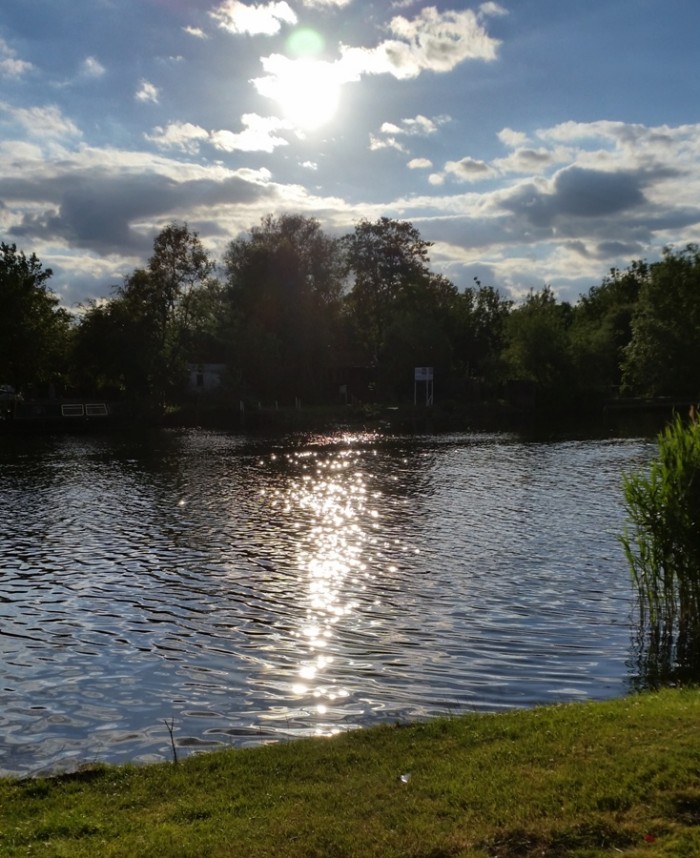 IDLLYIC: Dappled light on the River Thames 

He said: "It's been amazing to see so much nature and colour at this time of year.
"I've walked through fields of corn, waded through beds of nettles and there's nothing like going through a farmer's field and have every cow watching you!"
The river technically finishes at the Thames Barrier but Phillip wants to finish his walk at sea – the destiny of all rivers.
"I plan to open my arms wide on that pier and issue some great exclamation!
"I will take it all in, watch the sea and then catch the next train home to Battersea."
Phillip conceded that there are a lot of worthy cancer charities but The Christie is especially closer to his heart.
He said: "There are a lot of big charities that do wonderful work such as Cancer Research and Macmillan which are trying to find the answer to cancer, which is great and hopefully we will get there, but it's important to remember the reality of cancer now.
"My dad goes to show you can be as healthy as anything and it can still get you.
"I urge people to give what they can – a little goes a long way."
You can donate here https://www.justgiving.com/pipthames/