Up to 75 trees in Kew Gardens and Richmond Park have been brought down or damaged by storms Dudley, Eunice, and Franklin.
Some of the trees, many of which were hundreds of years old, were of special scientific interest, or the largest UK example of their specimen.
Park authorities will secure damaged trees where possible, retaining deadwood for new schemes from trees that cannot be saved.
Michael Rowland, head of park operations at The Royal Parks, said: "While these trees are no longer alive, they can still support a wealth of wildlife.
"We will leave deadwood behind where it is safe to do so to support biodiversity."
Richmond Park lost three of its veteran trees, including a 450-year-old oak, with two further veteran oaks suffering bad damage.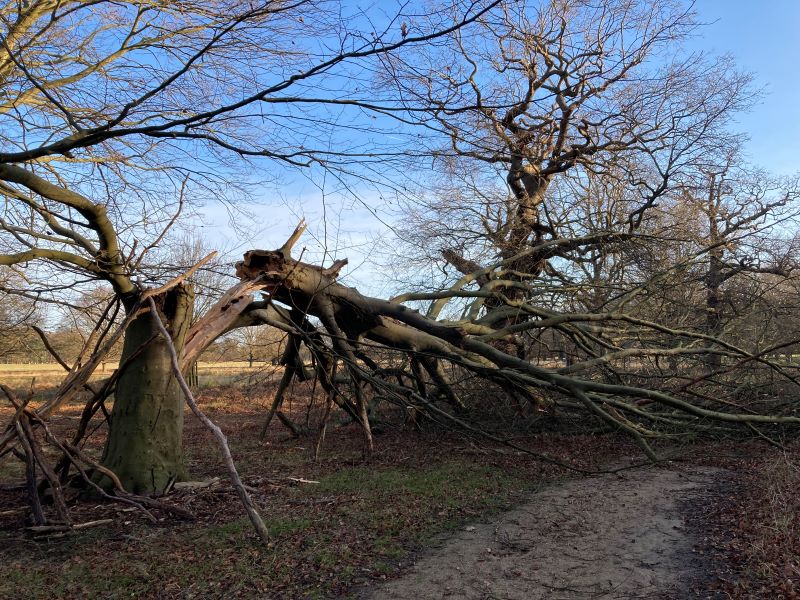 Veterans are trees that have developed specific features of biological interest due to their age over time.
The park's 250-year-old veteran beech, on the south side near Broomfield Hill, was uprooted by the force of the wind.
A veteran scarlet thorn, growing on the exposed Sawyer's Hill on the north side of the park, also collapsed sideways under the force of the wind.
Around 15 trees were lost at Kew Gardens, three of which were on the Tree Register of Britain and Ireland as the largest or tallest examples of their type.
Rowland said: "Even old trees are susceptible to extreme weather, disease and age."
Both organisations stressed that their teams had worked around the clock to ensure that visitors would be safe and any dangerous trees made secure.
Kew Garden's Princess of Wales Conservatory, currently hosting Kew's central orchid exhibition, was forced to close on Saturday after suffering damage.
Four people died in the UK and Ireland as a result of falling trees in Storm Eunice.
The three named storms hit the UK within the space of a week, the first time this has occurred since storm naming was introduced.
Image credits: The Royal Parks