Merton Council has defended the speed with which it removed a fallen tree in Wimbledon after a family claimed they were left unable to drive from their house for three days.
When Storm Eunice hit the UK, a rare red weather warning saw gusts in excess of 90mph tear across the country.
Following the destruction last Friday a 22ft tall Horse chestnut tree at Gap Road Cemetery, Wimbledon fell halfway into the road and blocked a nearby house's driveway.
A Merton Council spokesperson said: "Although the borough is lucky not to have suffered some of the devastating impacts seen elsewhere, this is by far the worst storm in Merton for decades. Scores of trees were brought down, both in parks and on-street, and homes were damaged."
However, the family in Wimbledon claim: "They [the council] said it wasn't a priority, even though it was blocking the road and everything… there could've been an accident."
The 31-year-old man who was living at the affected house said: "We were locked in here and couldn't get out at all because the council didn't clear it until 10 o'clock on Monday morning.
"We reported it four times saying when is it going to be removed, when is it going to be removed? Because we couldn't get out."
He added: "My mum broke her humerus on Friday and we couldn't even get the cars out to take her to the hospital… she took the bus Saturday morning."
He did say the area around the fallen tree was taped on Saturday morning, but explained: "I didn't really know what that did… it was halfway in the road so cars couldn't drive past each other."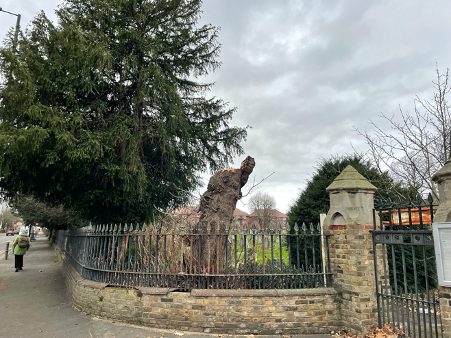 A council spokesperson defended the local authority's response.
They said: "Many fallen trees were cleared within a few hours and staff and contractors are continuing to clear the remaining ones as quickly as possible.
"The safety of our residents and visitors is paramount, which is why our cemeteries were locked over the weekend, until the council's Arborists team could inspect the trees and make sure the area was safe."
A worker for Gap Road cemetery did say they received multiple complaints from people who turned up to the cemetery to visit loved ones, unaware that it had even closed.
No gravestones were damaged by the tree and Gap Road Cemetery reopened on Wednesday.
All three Merton Cemeteries, including London Road and Merton and Sutton Joint Cemeteries, were closed due to unsafe fallen trees and unstable root plates.
London Road and Merton Sutton Joint Cemetery opened yesterday after safety checks were carried out.