With some of the oldest Conservative and Labour societies in the country, universities in London are known for their vibrant political culture.
Members of student political societies are, however, experiencing a sense of déjà vu.
Liz Truss's resignation after just 45 days in office means that the immediate future of the Tory government is once again up for debate.
But as you may expect of future Members of Parliament and Cabinet ministers, the student politicos I spoke to are ready to do it all again.
Lewis Warner, a second year politics student at King's College London and co-chair of the Labour Society, said: "I wasn't expecting [Truss] to be around for the next general election, but 45 days is absolutely incredible – for all the wrong reasons."
Lewis added: "After 12 years of conservative rule they've reached the bottom of the barrel. They have nothing left to offer."
While the pound recovered from its all-time low against the dollar, the hike in mortgage rates and the damage done to the Conservatives' credibility by Truss' premiership have stuck.
The president of the London School of Economics Labour Society, second year law student Muhammad Ibrahim, believes the Truss government had one positive effect though.
Muhammad said: "Since Thatcher and Cameron, we've had various attempts at justifying policy which relates to lower taxes and so forth. What we've now had is a complete rejection by the markets and by the electorate to this ideological view. The positive is that we've finally got that on record."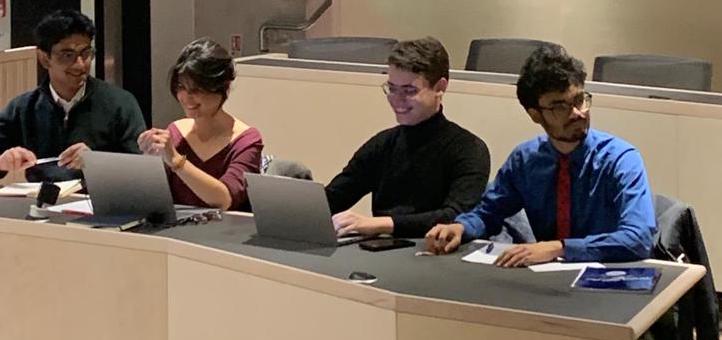 The presidents of King's College's Conservative Association and LSE's Conservative Society share Muhammad's view.
Third year International Relations student and president of LSE's Conservative association, Marc Boixader Riera, said: "Truss's mini-budget was clearly out of touch with reality. I would say that these 45 days have been a disaster."
But Marc's proposed remedy of returning Boris Johnson to the highest office of state is unpopular with his counterpart at King's, second year politics student Isaac Farnbank.
Isaac said: "I think if we were to put him back we'd be talking to ourselves and not to the country.
"We need someone to get on without drama and not only survive the next general election but potentially win it."
However, given the economic damage, government chaos and public distress Liz Truss's premiership wrought, the Labour societies' Lewis and Muhammad are calling for an early general election.
And they're not alone.
A YouGov poll carried out on the day of Truss's resignation recorded that 63% of people surveyed want the new PM to call an early general election, which could spell disaster for the Tories.
Both Lewis and Muhammad believe Labour leader Keir Starmer is capable not only of getting the country back on track, but also restoring the UK's global reputation.
Lewis said: "[Starmer] may not have the aloofness that people associate with Boris Johnson, but I don't necessarily think that's a bad thing.
"What Starmer represents is a return to actual grownup politics. He's not promising the moon on a stick, he's promising actual tangible change."
There'll be a new Tory leader this week, but if the last six are anything to go by, we'd be foolish to rule anything out.
Watch this space.
Catch up on MPs' reactions to Truss's resignation.
Featured image credit: Shadowssettle Wikipedia Commons