The world's first Pingu's English international kindergarten opened in Cambodia earlier this year with support from Kingston University.
The School of Education department first partnered with the pre-school education provider Linguaphone Group in 2015 to develop an international curriculum for young children.
The kindergarten will teach almost 100 children aged from three to six English, maths, IT and language skills including reading, writing and speaking.
Director of learning and teaching at the University's School of Education Daryl Maisey said: "We wanted to create a modern curriculum that not only helps young children learn English but enhances their learning and development in all areas."
She described the opening of the first Pingu's English kindergarten as a significant milestone for the team involved.
Pingu's English is based on the adventures of children's TV character Pingu –  a fictional penguin – who educators believe makes a good role model for kids of all ages.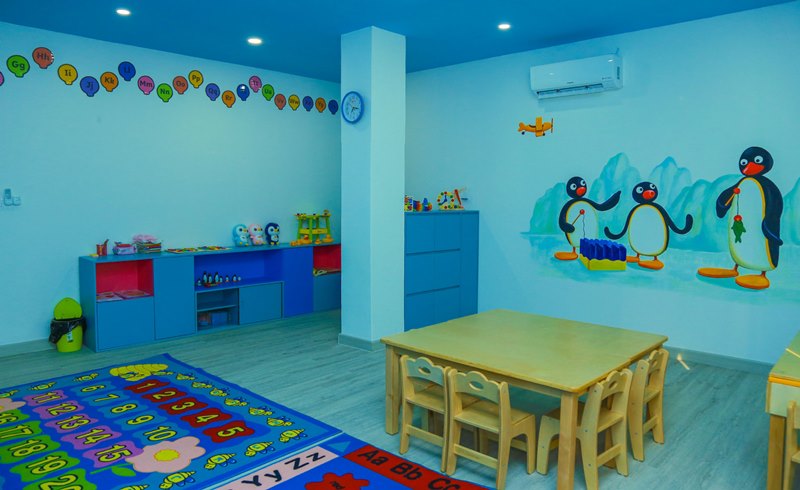 CLASSY…one of Pingu's classrooms ready for lessons
The curriculum is taught 30 hours a week in more than 20 countries including Italy, Saudi Arabia, Brazil and Thailand. Resources like textbooks, phonics and songs have been created by Kingston's graduates, academics and Pingu's English Academic team.
The University's School of Science and Mathematics is also supporting the project by creating stimulating learning environments with game design techniques aimed at improving the interaction between teachers and students.
Senior lecturer in computer science Jarek Francik said: "This new concept creates countless challenges like how to meet specific emotional and intellectual needs while delivering an effective learning and teaching tool to three to seven-year olds and how to attract and maintain their attention."
Linguaphone Group CEO Derek Price said: "The role of Kingston University in that development has been absolutely central, considering the success in the Early Years team achieved by the University.
"With the successful launch of the International Kindergarten Program, Pingu's English is making great strides in the delivery of its early-years strategy worldwide."
He added: "The Group now considers the University to be a valued long-term strategic partner, evidenced by the latest collaboration on the upgraded gamification of the Pingu's English ELT curriculum and by a full nursery program that we endeavour to develop together in the near future."
Images from Kingston University and Linguaphone Group, with thanks.