Cancer patients in south west London are waiting longer than two months to receive their first cancer treatment, a new NHS report shows.
The report, released earlier this month, shows that all major NHS trusts in the area are falling short of national targets with the exception of the Kingston Hospital NHS Foundation Trust.
Guys and St Thomas' Trust, which has hospitals in Lambeth, was the worst performer with fewer than 69% of cancer patients receiving their first treatment in the first two months after their GP's referral.
"There has never been a more important time for patients to receive a fast diagnosis," said Jo Farrar, interim chief executive at Kingston Hospital NHS Foundation Trust.
"Achieving this target is extremely challenging as demand rises, however we are committed to continuously striving to ensure timely diagnoses and treatment, giving the best possible chance of survival."
Delays in treatment allow the disease to advance unchecked and also have the potential to leave patients in a state of anxiety and fear, according to cancer charity Macmillan.
Senior cancer information nurse specialist at Macmillan Kate Goldie said: "When someone is first diagnosed or hears the words 'we think it could be cancer', their world often turns upside down in a single moment.
"The wait to see a specialist or to start treatment is an agonising time already, and facing further delays can make things even worse.
"We hear from people calling our support line and on our online community about how worry and uncertainty during this period is stopping people from being able to go about their day-to-day lives, while family members tell us of the helplessness they feel while they wait for their loved one's treatment to start."
In April, a total of 44 patients in south west London had been waiting for more than two months for their first cancer treatment. Among those, eight people had been waiting for at least 14 weeks. Further investigation by South West Londoner showed that treatment for certain types of cancer was taking longer to provide than others.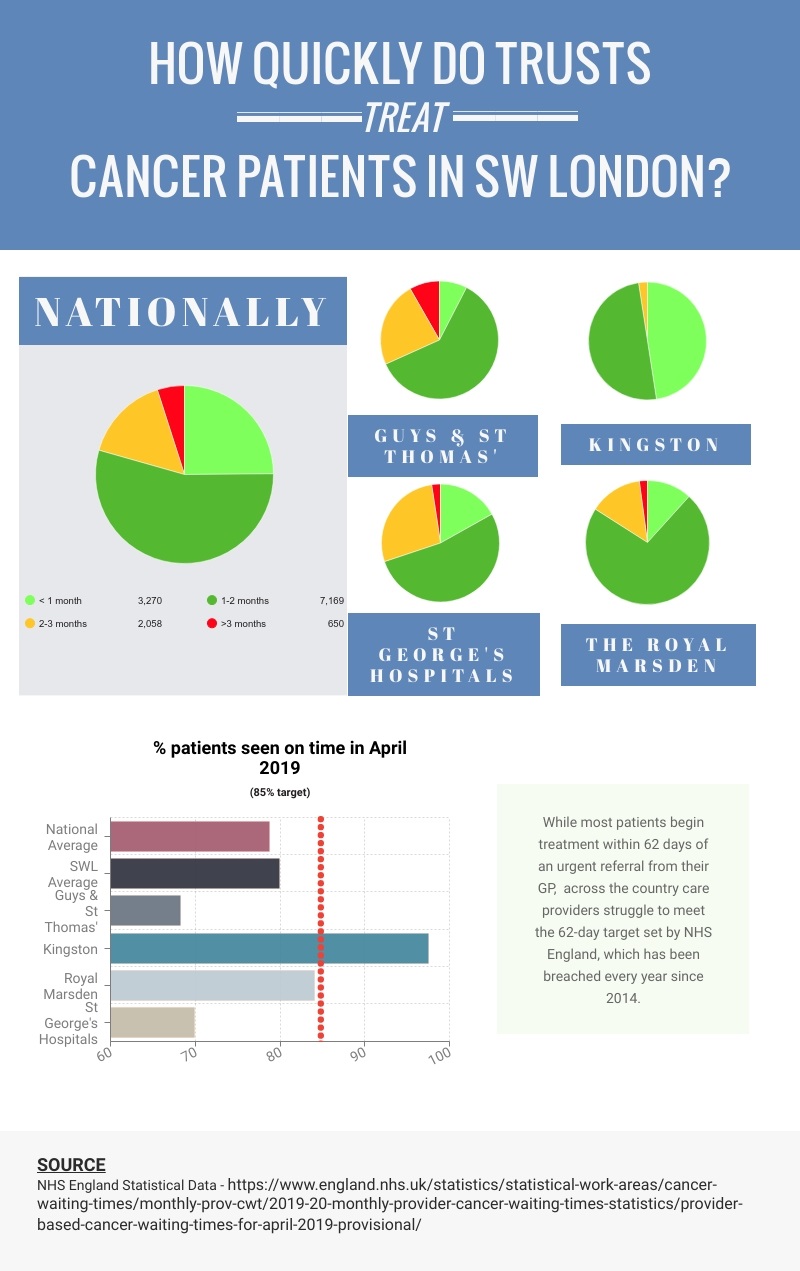 For example, while every patient with suspected lung cancer started treatment within two months at the Royal Marsden NHS Foundation Trust, only 1 in 3 people with suspected lower gastrointestinal cancers had received any treatment at all in the same time period.
Across all trusts in south west London, hospitals were outstripping the national targets in some specialties (although these varied between providers), but lagged far behind in others.
For all healthcare providers in the area, patients with rarer cancers were more likely to face delays in starting treatment.
While no representatives from any of the providers examined were willing to give an interview, Guys and St Thomas' Trust issued a statement which said: "Demand has been significantly above what we planned for which is a major contributing factor.
"We continue to work closely with our partners to address this and wider operational challenges whilst we maintain our relentless focus on operational performance."
How does south west London compare nationally?
Providers in the area are not alone in the challenges they face: the majority of NHS trusts across England missed the national target to ensure at least 85% of cancer patients receive treatment within 62 days of being referred by their GP.
Instead, hospitals were only hitting targets 78.7% of the time – that's roughly 600 patients short of the target in April alone.
When the 62-day operational standard for cancer treatment was first introduced in 2009, most trusts in south west London and across England performed above the baseline, but this has been in decline since 2014, when the target was first breached.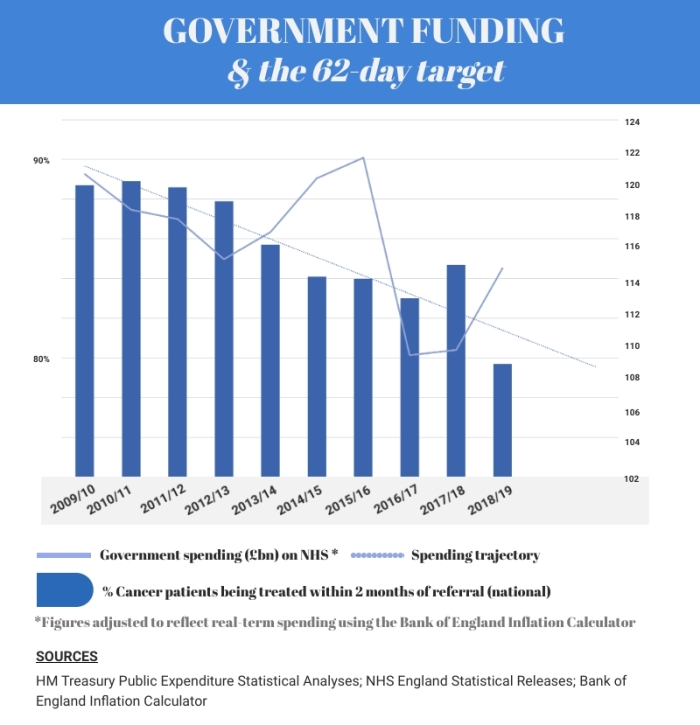 It has been missed every year since then.
What are NHS targets and do they really work?
The 62-day target was introduced in 2009/10 as a way to measure different NHS healthcare providers' performance and was intended to make them more competitive.
Under the target-based system, patients are entitled to undergo their treatment at another hospital if figures show they are likely to have to wait longer than the two-month target specified by NHS England.
This rule was supposed to act as an incentive for hospitals to provide timely treatment, because their funding is partially based on the number of patients they treat.
However, recently the target-based model has come under fire for putting hospital staff under pressure.
Speaking at a healthcare conference in London this April, NHS England chair Lord Prior, said that targets had done little to get rid of delays in the service patients received at different healthcare providers, and that they had instead "fragmented and disintegrated" the system.
He added that over the last 15 years, targets were to blame for replacing a culture "based on trust" with one "based on contract" which "unquestionably created divisions between managers and clinical staff" and placed huge pressures on care.
NHS targets are currently under review, and the system is set to be altered under the NHS' Long-Term Plan.
Should the NHS abandon care targets?

Trusts examined for this article included: Kingston Hospital NHS Foundation Trust, The Royal Marsden NHS Foundation Trust, Guys and St Thomas' NHS Foundation Trust and St George's Hospital NHS Foundation Trust.