Love slipping into a little black dress for a confidence boost? Fashionistas are donning theirs for a couture challenge, wearing the same dress every day during London Fashion Week to raise money for charity.
Enter the Little Black Dress Initiative, founded by south west Londoner-based Natasha Turner and Cynthia Ward, which aims to raise £30,000 as participants turn fast fashion upside down by sticking to well-worn classics.
Co-founder and Wandsworth resident Natasha Turner said: "You come into work and peoples' comments about your appearance affect the way you feel inside, as well as outside.
"Some women do not have the same opportunities as others and I want to promote their needs in a brighter light."
She explained that the aim of the initiative was not for participants to experience the struggle of women in poverty first-hand, but to spark conversations about the crucial support needed.
The money will support the charity work of The Junior League, which supports homeless shelters, schools and food banks in London, as well as working to develop women as civic leaders.
Ms Ward explained that one use of the money raised is in supplying Christmas food packages to more than 1,330 vulnerable people in London each year.
The Little Black Dress Initiative also aims to increase awareness of London charities SmartWorks and Suited and Booted, charities that provide professional clothing to support vulnerable people attending interviews.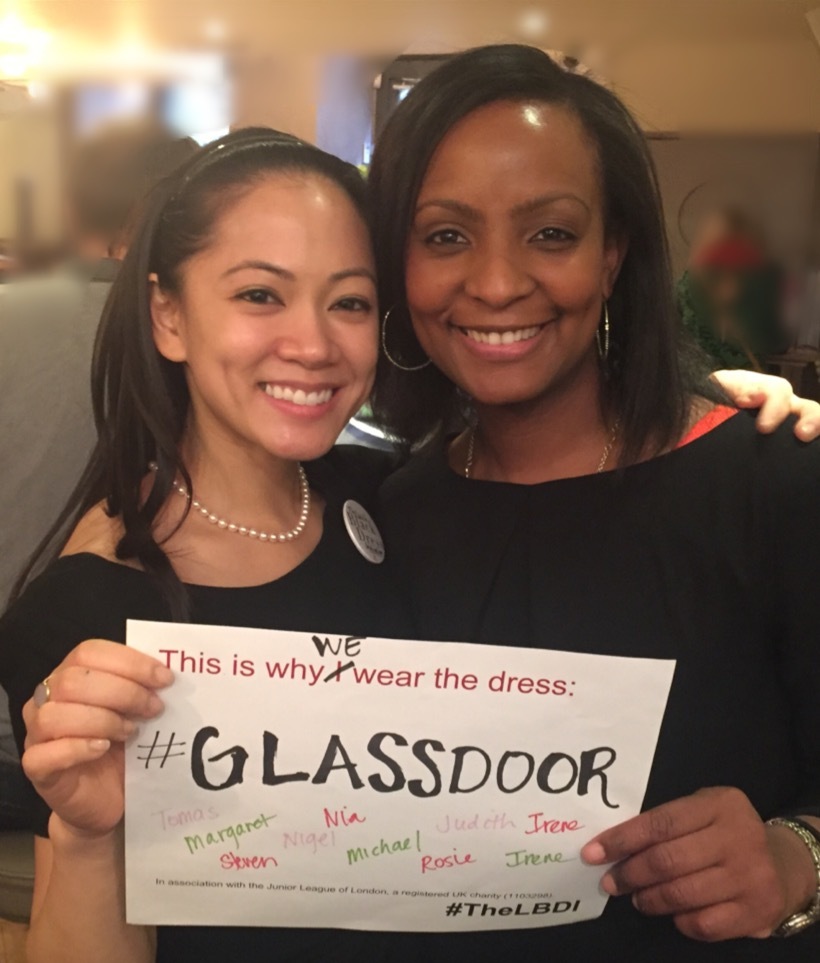 DRESSED TO IMPRESS: Cynthia and Natasha
The initiative has experienced increasing success since its first campaign in 2014, in which The Junior League London raised £17,000.
Last year that figure was £10,000 higher and Ms Turner and Ms Ward are hoping that the campaign raises over £30,000 this year.
The campaign has seen international success and has now expanded to eighteen other Junior League branches in North America.
Chief executive of City-based charity, Suited and Booted, Dr Maria Lenn said it was vitally important that those attending interviews look the part and feel the part.
The charity prepares 1000 male clients a year for interviews, often after they are referred by crisis centres and hospices.
Among those helped are looked-after children leaving the care system and seeking employment.
Dr Lenn said: "We want to give our clients one-to-one attention – their visit to Suited and Booted is symbolic of a transformation."
She said the charity sees more and more clients, and that the work of The London Junior League was crucial in providing support.
"It's important that this is a pampering experience – it doesn't look or feel like charity shop."
She made a plea for more donations of shoes to add the finishing touch to the interview outfits that vulnerable men are provided with.
SmartWorks is a similar charity supported by The Little Black Dress Initiative, and supports vulnerable women.
UK head of wardrobe, Victoria Gorelik, said: "We work with women from any background – they may have been referred by The Job Centre, be in single parent programmes, have come from prison or ay be participating in drug recovery programmes."
As at Suited and Booted, those visiting SmartWorks are treated to a long dressing session with a trained volunteer stylist, as well as receiving expert HR advice.
Ms Gorelik said: "Ahead of an interview, clothing should be the last thing these women have to think about.
"Some of our clients have applied for over 200 different jobs already and 90% of them are quite down in their confidence.
"It's important that this is a pampering experience – it doesn't look or feel like charity shop.
"We want these women to feel respected."
She explained some clients may not even have suitable underwear or makeup, and that this can be crippling for their confidence.
She praised the work of The Junior League London, and said The Little Black Dress Initiative was very important in starting conversations and making people aware of the need for such services.
You can donate to The Little Black Dress Initiative at virginmoneygiving.com/fund/LBDI2016) The campaign can be found on Twitter @TheLBDI and Instagram #TheLBDI or Facebook.
The campaign runs throughout London Fashion Week.