The tenacious sport of Nordic Walking is steadily moving across the UK and has set-up sticks in Brockley.
When Fin Laura Kinnunen moved to London ten years ago, she started walking.
First, she walked as an instructor for the Borough Council's Healthy Walks project.
Then, she was emboldened to bring a piece of Finland to her new home. The council coordinator was enthused, and the rest is local history.
She said: "How could I get involved, what could I do that would help me make friends and just feel part of the community?"
Nordic walking, like so many innovations from northern Europe started in a practical way – with the Finnish national ski-team using poles for summer training.
Laura said: "Nordic walking poles are different from ski-poles or rambling sticks, they have these straps.
"We firmly plant the poles into the ground and put pressure into the straps while propelling the whole body forward."
This technique embraces the body's natural walking rhythm while exercising the tummy, arms and back in a posture that increases circulation and an embodied way of breathing.
Laura has asthma, and describes the benefits of her professional pastime as rehabilitative.
"I used to have a very stressful desk job in the city and had that hunched forward, stressed-out posture. After people walk for a while, they feel different and also more confident."
Laura's particular community of walkers can be seen dotted across Ladywell Fields and Hilly Fields during weekends and weekdays.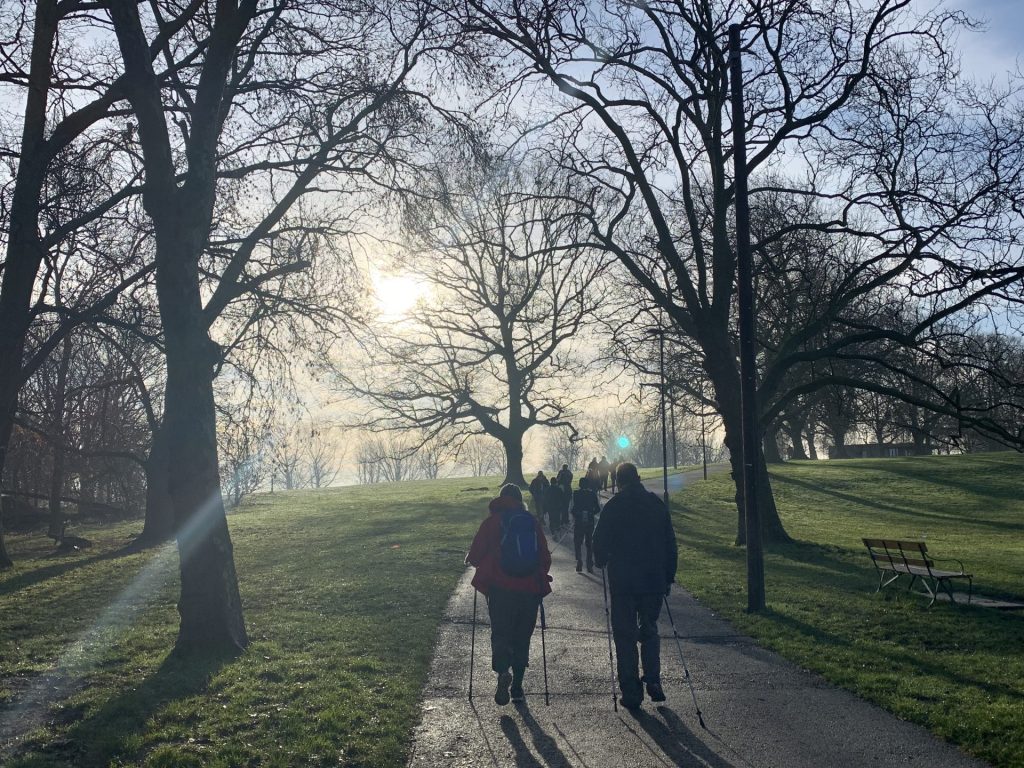 "For me, I started teaching in Brockley because I was new to the area and realised how rich in green space it is. In my previous life, when I worked in Japan, I never used the qualification."
Each well attended group can boast up to fifty walkers at a time, many of whom simulated the experience during 2020 and 2021's lockdowns.
While neighbours were star-jumping to Joe Wicks, Laura's groups were striding around their blocks before coming together on Zoom for intermittent warm-ups and the coffee and pub chats they so craved.
Laura explained the social benefits of her groups with warmth.
She has taught this specialist technique to over two thousand residents in Brockley but consistently sees women gain a sense of belonging and mentorship in the setting.
"People have gone through divorces, health conditions and family losses, and the group has always been there and been comforting."
Jane, 67, said: "Laura has changed and improved so many lives. The impact on our physical and mental wellbeing is enormous. I've made so many friends and feel part of a real community of walkers. Laura has brought a little piece of Nordic heaven to south east London."
In 2015, Laura was further inspired by the This Girl Can campaign, which focussed on removing physical and mental barriers to women and girls taking part in sport.
It triggered a light-bulb moment in which she realised how social walking can fill the gap where anxieties about 'keep-fit' exist.
For many, the idea of pumping iron in a loud room full of sweaty strangers isn't a good reason to leave the house.
For Alice, 38, Nordic walking offers a more direct way of connecting through sport than the treadmill.
She said: "Nordic Walking gives you a sense of community you wouldn't get from other activities.
"You chat as you walk, so you get to know people you wouldn't otherwise meet while being in the outdoors.
"You don't get this from a gym class where you just follow an instructor then head home."
But Brockley's men have embraced this piece of Scandinavia too, albeit in a slightly different way.
Although not traditionally considered a 'macho' activity, Laura has instructed many injured sportsmen who have seen Nordic Walking as a route into physical and psychological recovery, and men who opt to take their sticks out of the city and into open countryside.
Nico, 61, said: "Going outside, meeting other people exercising, while experiencing seasonal changes in familiar places, was like a balm to body and mind. It all created such a transformation within me that I trained as a walk leader and then as a Nordic Walking instructor."
But what of the sights, sounds and smells these walkers encounter on their walks? Laura speaks with affection of bare trees in winter on Hilly Fields and watching "twinkling lights over London."
It is no surprise that this simple act of endurance has its roots in a country recently ranked the "happiest in the world" – Finland.
Listening to these testimonials, it seems entirely possible that the Nordic gift of light, magic and happiness can be pursued in South East London.
To find out more about Nordic Walking in Brockley, visit their website here.
Featured images: Laura Kinnunen