Kensington and Chelsea, Hammersmith and Fulham and Westminster have among the lowest first preference rates for applications to primary and secondary schools in the capital.
The figures, released by the Department for Education, show that across England there were 562,487 applications made for secondary school in 2017, an increase of 2.6% on last year, and the highest number of applications received since 2008.
The proportion of secondary applicants receiving an offer of their first-choice school has dropped slightly from 84.1% in 2016 to 83.5% this year.
The proportion of applicants who received an offer of any of their preferred schools also dropped slightly to 96.1% in 2017 from 96.5% the year before.
As in previous years, the lowest first preference rates at secondary level are all in London, with Hammersmith and Fulham (53.6%), Westminster (56.6%) and Lewisham (57.8%) achieving the lowest rates in 2017.
Hammersmith and Fulham and Westminster have been in the lowest three since 2015 but both achieved higher preference rates in 2017 compared to 2016 (52.0% and 53.4% respectively).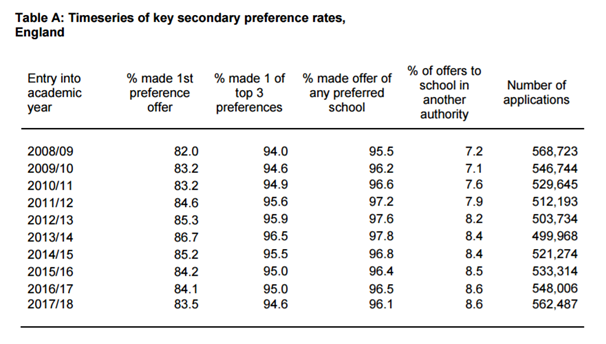 Charlotte Phillips, The Good Schools Guide's south west London education consultant, discussed the demand for more secondary places in London, with 11 of the capital's 32 local authorities receiving more applications than they have school places.
"London clearly needs more secondary places and, practically speaking, this means new schools as many existing schools are already fit to burst out of their porta-classrooms," said Ms Phillips.
Ms Phillips explained that local authorities have no direct control over how many schools and school places are available to children from their local area, and they rely on independent organisations such as multi-academy trusts to create new schools in places that need them – but these organisations are not always willing.
Ms Phillips added: "In each of the worst performing London boroughs you will find some schools with glowing OFSTED reports and glittering exam results, and parents are well aware of this when it comes to applying.
"Not surprisingly, the best schools will be selected as a first choice for far more children than their classrooms can hold, and what we need is more of these successful and popular schools. This of course, will require continued investment and support, but parents will catch on and we will see a greater spread of schools being listed as first choice."
Primary schools received 620,330 applications across the country, down 3.3% from the 641,572 applications last year. This total is the lowest seen in the four years that primary level figures have been collected.
This decrease is a result of the notable drop in births in 2013, which is now feeding into primary school applications.
In 2017, 90.0% of applicants received an offer of their first-choice school, an increase from 88.4% in 2016, and 97.7% received an offer of one of their top three preferences which also increased from 96.9% last year.