Aggressive fighting dogs may be behind £10,000 worth of damage to Merton trees.
The council's greenspaces team surveyed trees in Green Walk and the Nelson Gardens area and found biting and gnawing marks on the trunks.
Battersea Dogs & Cats Home media and PR manager Debbie Chapman believes that these incidents could be linked to backstreet breeding where dogs are bred specifically for profit.
"There could be a link between backstreet breeding and these issues," she explained.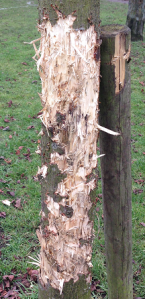 "Unfortunately there's no way of telling where the puppies that are bred in bad conditions end up – they could fall into the hands of irresponsible owners who then train them up to be aggressive.
"The training of dogs to be aggressive is something that we are very concerned about."
Calls to the RSPCA reporting organised animal fighting have gone up by a third in the past five years.
There were 594 calls made to the RSPCA to report incidents of organised animal fighting in 2014, an increase of nearly 33% compared to the previous year.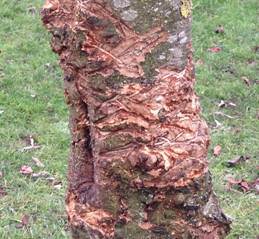 It's believed that more young people are adopting these aggressive dogs as a social statement or offensive weapon.
Merton Council's cabinet member for environmental sustainability and regeneration, Andrew Judge, is urging more people to report this type of vandalism.
"It's terrible that these trees have been harmed in this way and we urge dog owners to be responsible for their pets," he said.
"Please get in touch if you see a tree being damaged."
To report this type of damage call 020 8535 3659
Picture courtesy of Danie Swanepoel, with thanks