An award-winning bakery, locally-sourced honey and biodynamic vegetables could disappear from Brixton's farmers market later this month if plans for stall owners to take over running the market fall through.
Organiser London Farmers Market (LFM) said it is no longer financially viable to continue trading, and has made the decision to close the market after nearly six years.
Plans are underway which will see a consortium of stall owners take over the market and, while these are not yet set in stone, stall owners are confident an agreement may yet be reached.
In a Facebook post, LFM said: "We have increasingly found it difficult to improve customer numbers or increase the variety of stalls on offer at Brixton.
"Sadly we have therefore had to take the decision to stop running the Brixton Farmer's Market. We've had some great times on Brixton Station Road, and will miss being part of the Brixton community."
Councillor Jack Hopkins, cabinet member for jobs and growth, said: "London Farmers Markets have taken the decision to stop running their Brixton operation after struggling to attract enough customers and provide a wide enough variety of stalls.
"The council has been talking to the existing traders to see if there is the opportunity to take on the running of this Sunday market themselves, but it's too early to say if those talks will be successful."
Richard Scroggs, who owns the Old Post Office Bakery – the winner of this year's favourite stall at Brixton Farmer's Market, said: "If the market's not here anymore, that's a major source of income for us reduced.
"What makes an area like Brixton is that you have all sorts of different people running little businesses.
"If the market goes, that's another nail in the coffin of what makes London an interesting city."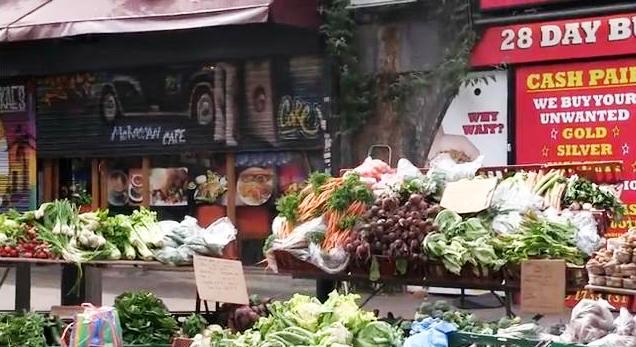 LFM spokesperson Cherly Cohen explained the difficulties they face in keeping the market running: "When somebody leaves it's very hard to replace them. There are people who've been there a long time and do well, it's just difficult to keep the numbers up.
"I've met with Lambeth's street trading team and all stallholders have been written to. It seems the council's rents are set and nothing can be done."
The closure is seen by many as the latest blow to local businesses in an area which has already seen national chains replace independent traders as part of an ongoing gentrification process.
Shoppers view the market as offering more than just a shopping experience, but rather something that brings the whole community together.
"Where else do you get this?" said shopper Richard Webster.
"It's going to be such a sad loss. I really, really, really would hate to see it go."