Ex-Servicemen and women living with dementia are finding solace in creativity at The Royal Star and Garter Home in Surbiton.
More than 820,000 people in the UK live with dementia and a new case is diagnosed every three minutes.
The Royal Star and Garter's exemplary work, creatively caring for British veterans, is proving a leading example during Dementia Awareness Week.
Pauline Shaw, director of care & service development, said: "I walk into the hallway of our specialist dementia care family environment and I can see, and importantly I can 'feel', a place infused with laughter, warmth and love.
"The environment is colourful, engaging and full of interesting things to talk about, to look at and to hold and explore."
The Royal Star and Garter charity was founded in 1916 to care for severely injured young men returning from First World War battlegrounds.
Surbiton residents living with dementia, like Doug Jakeman, 97, receive high-speed specialist nursing and therapeutic care.
Mr Jakeman served in the Army in the Second World War, seeing active service in the Middle East, Africa and Italy.
He likes nothing better than dancing with his carers to reconnect to his past.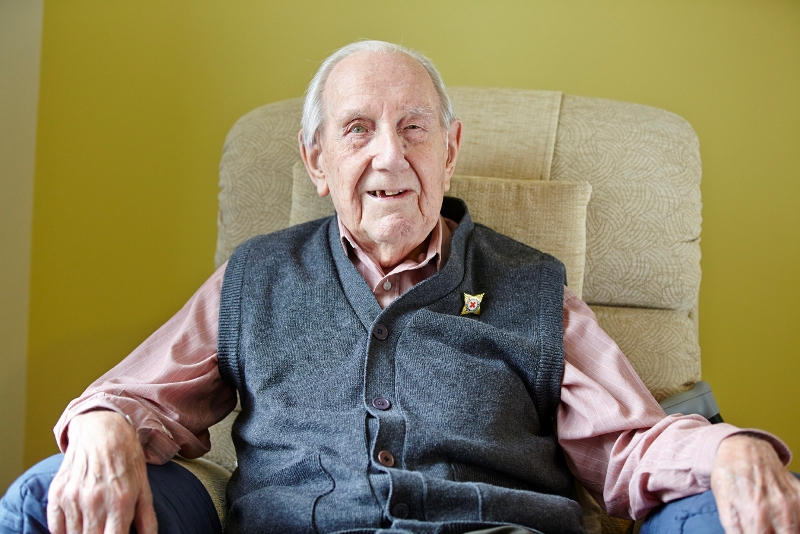 Doug Jakeman, 97, WWII veteran and Royal Star and Garter resident
Staff discarded uniform years ago in favour of colourful and comfortable clothing to put residents at greater ease.
Costumes are on hand for staff and residents to wear, promoting fun and role-play fun.
Ms Shaw said: "There is no shortage of staff eager to get into role as Superman or a bride on her wedding day.
"It is part of what they do, to create moments, fun, distraction and something very special."
Items from residents' past become reminiscence equipment to trigger experience and recollections over long-submerged memories.
Comforting props help people make sense of a world becoming increasingly confusing and disconnected from their reality.
Many residents living with dementia find comfort from dolls and soft toys.
Ms Shaw added: "I often see a resident holding a soft toy or doll with great tenderness and care.
"The feelings of nurturing and being nurtured remain so crucial to us all, no matter what our reality."
By 2020, it is estimated 40,000 veterans will require nursing due to dementia leaving many military families needing the specialist care found in Surbiton.
Despite this dramatic proposition, The Royal Star and Garter will continue to accept applications from physically disabled veterans including widows and partners of ex-Service people.