A unique Kennington brewery that donates its profits to help fight prostate cancer has reached the global final of a start-up competition.
After winning a £10,000 prize in the UK finals of The Venture back in April, Two Fingers Brewing Co. will now compete against 15 other start-up companies from all over the world in the initiative set up by Premium Scotch Whiskey Brand, Chivas Regal.
All the start-ups aim to create positive change through business and hope to scoop the $1,000,000 cash prize to plough back into their companies – $250,000 of which will be decided by public vote.
"We were absolutely thrilled to be selected for the global final – especially as the UK finalists had to vote among themselves to decide who went forward," said Matt Sadler, Co. Founder of the Two Fingers Brewing Company.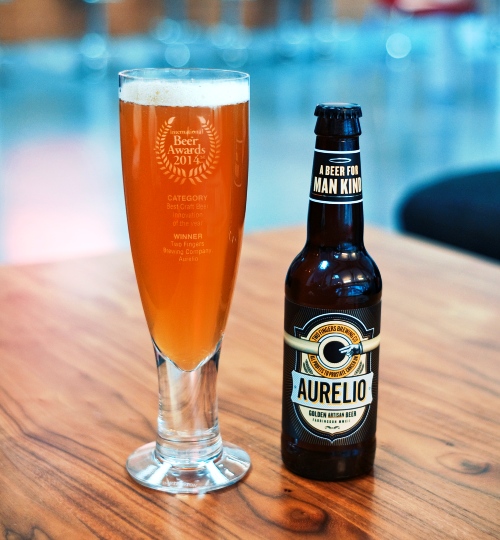 "All of the finalists had really inspirational ideas, so to have our peers pick us to represent the UK in the final was truly humbling."
Created in 2012 by seven friends the company aims to fight prostate cancer, the most common cancer in men, by donating all of its profits to Prostate Cancer UK and raising awareness through the sale of its range of Aurelio beer.
Aside from the public vote the other $750,000 is judged on a 'Dragon's Den' style pitch to a panel of experts including Sonal Shah, former Director of the Office of Social Innovation and Civic Participation in the White House under Barack Obama on July 24 in San Francisco.
The brewery has already begun to expand their business to global markets with the prize money from the UK final, but hope to expand further and creating a larger range of drinks.
"As beer is a global drink and prostate cancer is a global concern it's always been our dream to launch Two Fingers Brewing Co. as a global brand – so people all around the world can help mankind, just by drinking beer," Matt said.
"People all around the world can help mankind just by drinking beer."
"And since The Venture is a global contest, it really is the perfect launch pad."
The brewery hope to create a family of drinks, not just beer, from cider to stout each of which will be given a man's name which describes the characteristics of the drink.
Thanks to their partnership with Prostate Cancer UK, Two Fingers have raised more than £8,000 for the charity and generated enough press coverage to reach 12million people, raising awareness of the disease.
"Two Fingers Brewing Co.'s hard work and dedication has created an innovative new way for us to raise awareness and funds – and engage with men on their own terms," said Mark Bishop, Director of Fundraising at Prostate Cancer UK.
"We thank the team for creating Aurelio and helping more men survive and enjoy a better quality of life."
To vote for them visit https://www.theventure.com/global/en/finalists/two-fingers-brewing