A Wimbledon resident is now a local celebrity after being honoured with the prestigious Milkman of the Year award last month.
Ian Beardwell, 49, was recognised nationwide out of nearly 1,200 milkmen and milkwomen.
The family man is something of a dream milkman, recognised numerous times for his acts of kindness, from chasing car thieves, reuniting lost pets with owners and comforting a resident who was burgled.
"Getting recognised in the supermarket for the first time is strange!" he said.
"There's all those minor celebrity things I'm trying to get used to that I didn't expect to happen to be quite honest."
While Ian's hard work has been noted on more than one occasion, he gave credit to his colleagues who also work hard through the night to ensure top quality service.
"I just think to myself I'm just one link in the chain really," he said.
"There's hundreds of us milkmen out there overnight. Part of the reasons people think we don't exist is because we're out there creeping around all night long.
"But my colleagues have all got stories to tell, they've all done their little bit. We're all willing to lend a helping hand.
"It's a big team effort and sometimes the spotlight gets shined on one person and that's me at the moment."
Incredibly, the milkman has never missed a round in 28 years, and his passion for the jobs was passed by by his father and uncle who were both also milkmen.
He delivered first pint of milk as a 10-year-old on Christmas Eve 1979.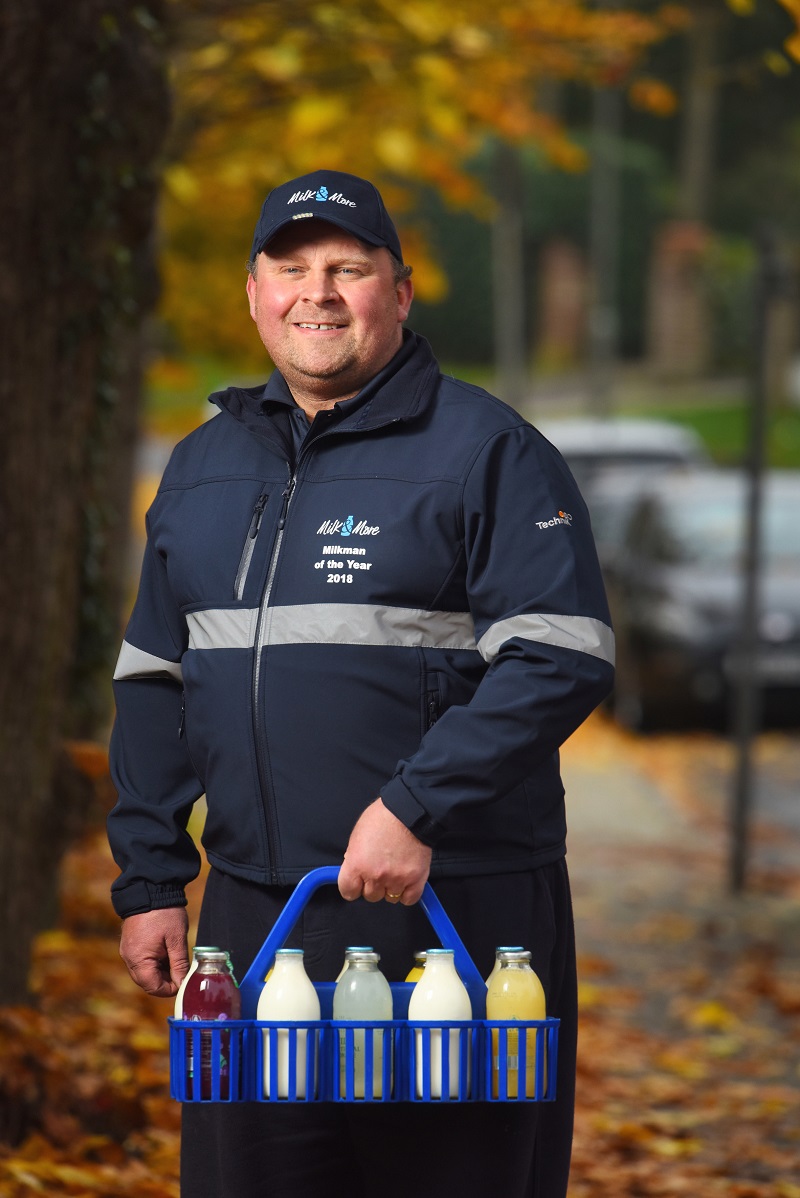 DAIRY TO BE DIFFERENT: Ian was awarded the Milkman of the Year award last month
"I was out helping my dad and that sort of toughened me up for it.
"I decided that I'd do the job which I loved as a boy. I thought I'd try it for the summer and see where that went and then 28 years later I'm still doing it because I love it."
So what is the secret to no days off? For Ian, it's a love of the job, a can-attitude, and self-discipline.
He said: "If you feel a little bit under the weather you have to get up and be self-motivated. I am very self-motivated. I don't want to let people down.
"It can be quite a tough job at times especially in the middle of the winter but if you're self-motivated and you worry about your customers and you want to deliver great service it's something that gets you out of bed in the night."
It seems that now more than ever, milkmen are a vital part of the community.
He said: "There is a trend coming back to having a traditional milkman.
"We're part of that community, we're one little block in the community where we can be an extra pair of eyes and ears at night time – it holds us all together."
Being the best milkman in the county has also made Ian pretty popular with his kids, George, 20 and Jack, 13.
"They're coming round to the idea it's pretty cool actually! They do quite like it! The whole family is quite thrilled," he said.
Having a milkman's schedule for 20 years of marriage also takes a supportive partner, and Ian said his wife Georgina, 48, who works at Boots, has always supported him through all the late nights.
28 years later, Ian still has the same enthusiasm that he first felt as a 10-year-old boy.
He said: "I love the routine, I love the feel of being out in the same road, the same place every day, and I enjoy seeing the same faces.
"I like being out in the fresh air, I like being on my own and I like working hard. I like the idea of being the best milkman as well!
"I've been doing it a long time and I've always tried to be the best."