You won't find Harry Potter, The Famous Five or Charlie and The Chocolate Factory in this pop-up kids bookshop in Brixton. These best selling children's classics all lack one ingredient that founders Aimée Felone and David Steven deem essential. A minority protagonist.
Aimée and David, owners of publisher Knights Of, opened their first pop-up shop on October 24 2018 for only five days after the release of a report by the Centre for Literacy in Primary Education (CLPE) which revealed that only 4% of the children's books published in 2017 featured black, asian and minority ethnic (BAME) characters.
They then reopened the unnamed store on Coldharbour Lane, fondly known as 'Kids Bookshop', on 12 December for only 12 days with the hashtag, #12daysofinclusion.
The pair have launched a crowdfunding campaign to open their pop-up stores across the country and, on Wednesday, publishers Penguin Random House promised to match all donations up to £15,000.
All the books stocked in the store feature BAME children as well as children with disabilities, neurodiverse kids and LGBT+ children.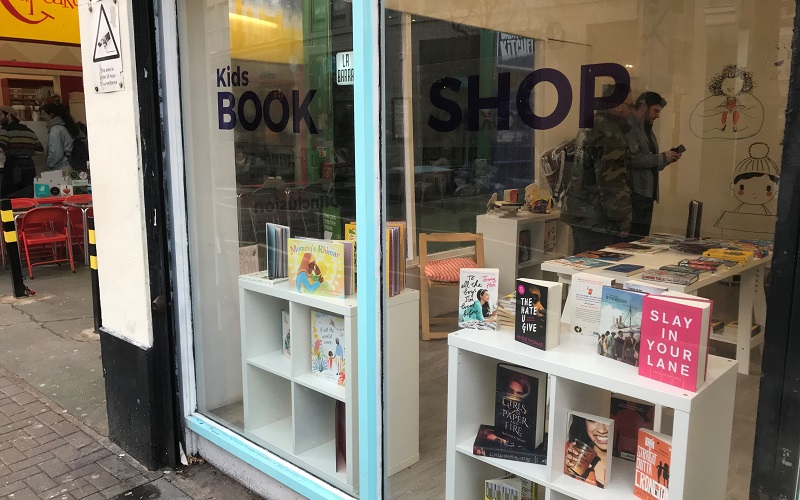 INLCUSIVE: The bookshop owners want to highlight the lack of diversity in children's literature.
Aimee said: "We get asked why it's important for minority voices to be heard all the time. I think it's a really interesting question because we don't ask why it's important to have other kids in stories.
"I think that question comes from when people are used to seeing themselves in books. There aren't that many that feature BAME protagonists or disabled characters or kids from different socioeconomic backgrounds. It's still just as important to see everybody because that's the world we live in.
"We don't live in homogeneous communities. We live in a world with different types of people from different backgrounds."
Instead of Charlotte's Web or The Chronicles of Narnia, Aimées favorite book is Ruby's Worry by Tom Percival, a story about a young BAME girl who one day finds a worry that starts to grow.
Aimée said: "I love that picture book. I think it's because we don't publish picture books at Knights Of so I'm always amazed by really beautiful picture books with a great story as well."
The publisher has been invited to open shops in Liverpool, Edinburgh and Birmingham.
Prizes for donating to the crowdfunder include a school visit by the author of The High-rise Mysteries Sharna Jackson and an inclusive books subscription box.
To see more information about the crowdfunder, visit www.crowdfunder.co.uk/readtheonepercent.