A cash-strapped council is planning to spend almost £500,000 asking residents about a housing estate redevelopment when there is no legal requirement to hold the vote.
Kingston Council says it intends to ballot tenants about the redevelopment of the Cambridge Road Estate despite being under no obligation to do so.
Rules introduced by London Mayor Sadiq Khan require council tenants to be balloted so their consent is obtained before the Greater London Assembly funds any redevelopment project.
However, funding for this project was obtained before the new rules came into effect in July leading some to question the need for the expensive ballot.
James Giles, 18, of the Kingston Independent Residents Group, said: "Because Kingston already had the money it's not compulsory but because they want to put residents at the heart of decision making, that is why they're choosing to hold a ballot."
At a series of meetings held in October this year where the council consulted with residents about plans for the vote, it was estimated it could cost up to £25,000 to run and administer.
However, Freedom of Information requests by campaigners show the true cost of the ballot could be up to £450,000.
This is at a time when Kingston Council has well publicised financial difficulties leading to fears of cuts to key services.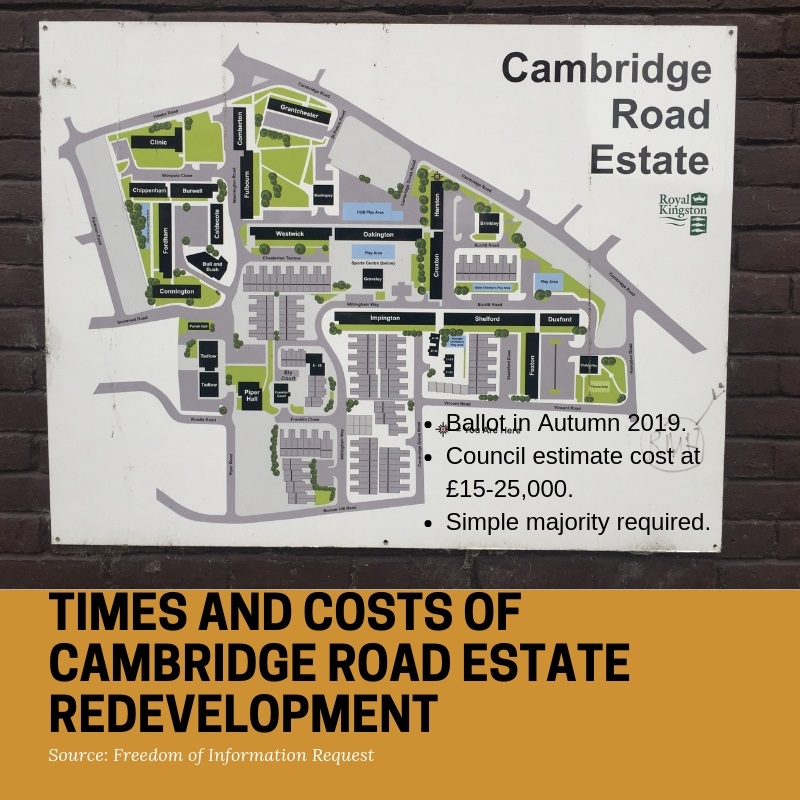 The Borough Council has appointed Countryside Properties as prime contractor for the project with the referendum scheduled for autumn next year.
Controversy has also surrounded the franchise of the ballot with fears that women living on the estate could be disenfranchised.
Under GLA rules dating from the 1960s, leaseholders, social tenants who rent from the council and people in temporary accommodation on the estate are entitled to vote.
However, in the social tenant's category, only the holder of the lease for the property, who is usually male, has the right to vote.
Harry Hall, 39, chair of the Cambridge Road Estate Residents Association, has concerns about this franchise and other factors including rent levels and the amount of information available to residents.
He said: "We don't have a problem with the ballot."
A Kingston Council spokesman said: "This is a voluntary ballot that the administration wishes to undertake as part of their commitment to giving local residents a say in their future."