Passengers through Clapham Junction station dug deep to donate more than 400 shoeboxes worth of presents to a homeless centre last week.
South Western Railway partnered with Clapham-based Ace of Clubs, a day centre for homeless and vulnerable people in South West London.
More than 430 presents were donated through the campaign publicised through leaflets, station announcements and posters around the busy station.
Clapham Junction duty station manager Fiona Brown said: "We anticipated maybe one to two crates so having seven crates of presents was absolutely overwhelming.
"In times where people are very busy, for us to step out of the box and do something a little bit different especially for a local charity, the feedback has been really positive."
The campaign was inspired by previous shoebox appeals hosted at Wimbledon station.
Ms Brown said she hoped to expand the appeal to more stations in the south west for next year.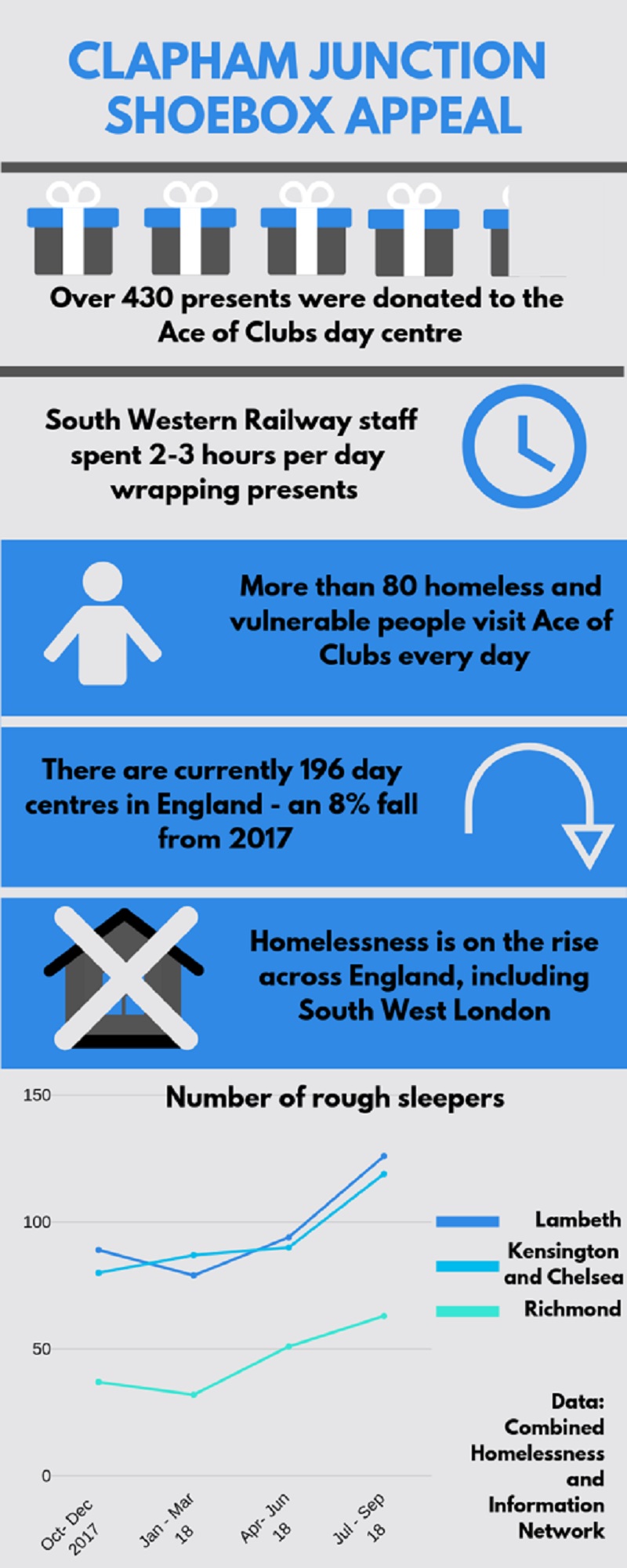 South Western Railway staff were on board to collect the gifts during the week, before spending several hours a day wrapping the shoeboxes and sorting them by age and gender.
Shoe shop Clarks donated several shoeboxes, allowing passengers to donate loose gifts as well as pre-prepared parcels.
The boxes donated to the centre included practical items such as oyster cards, prepaid mobile phones and socks, along with more personal notes including chocolates and fragrances.
The presents will be distributed to the homeless and vulnerable people who use the centre throughout the Christmas period.
Ace of Clubs is open all year around and sees at least 80 people per day for hot meals, showers and other vital services.
It expects to host 150 guests for dinner on Christmas day, supported by at least 25 volunteers.