A Kingston musician was finally reunited with his four-legged best friend this week after she was stolen from outside Wholefoods in Clapham Junction in August.
After seven weeks of 'living a nightmare', Conn Kennedy, was reunited with his dog Queenie when she was found tied to a railing in Stockwell Park Estate by the RSPCA.
"Searching for her was like searching for the proverbial needle in the haystack, it felt like a daunting uphill battle, so I feel very lucky to get her back," said Conn.
The two-and-a half-year-old Staffordshire bull terrier was found wearing a sign that read, 'This dog belongs to Vincent, if you see him, tell him not to come back'.
Conn and Queenie became inseparable after she was gifted to him by a friend as a new-born puppy to help with the bereavement of his parents, and she became his loyal musical mascot.
On Sunday, August 19 2016, Conn stopped at the Clapham Junction branch of Wholefoods to buy dog food for Queenie.
While he was inside, a man entered the store and asked who the dog outside belonged to, so Conn informed him that Queenie was his.
"He turned to me and grinned then replied 'okay!' before turning around and walking calmly out of the store," said Conn.
Conn exited the shop to discover Queenie was gone.
A frantic search began, but more than seven weeks went by without any news on Queenie's whereabouts.
Things took a positive turn when Conn received a phonecall on Tuesday, October 18 to say she had been found safe and well.
"I didn't want to get my hopes up initially, in case they had the wrong dog or something," said Conn.
Conn made his way to Lambeth Council where the Animal Welfare Officer Claire McMahon, had stayed behind after her shift to reunite the pair.
Conn said: "I can't describe it. She looked at me almost like she was in shock, like she was saying, 'is it really you?!', then she jumped up into my arms."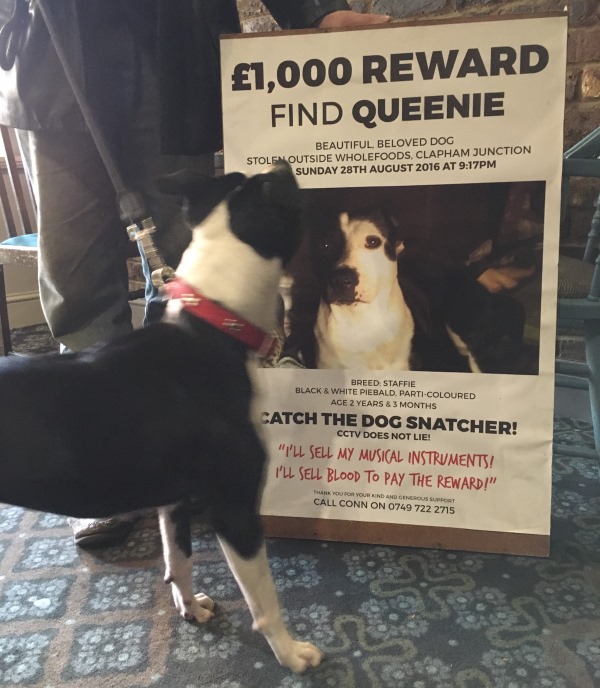 While there are no leads so far on who is responsible for the theft, Conn remains optimistic that the culprit can be tracked down.
Jane Franklin, of Dog Lost, had listed Queenie on their site in order to aid the search, and she liaised between the RSPCA and Lambeth Council in order to help track Conn down.
"Queenie was taken for a vet check but the number they had for her owner wasn't working, so we struggled to get through to him initially," said Jane.
"I contacted Wholefoods and they said they knew him well and would get the message across, so it was a real team effort but we all got there in the end."
Despite losing some weight, Queenie is physically unharmed and is quickly getting back to her boisterous daily routine.
"I'm just so grateful she's not hurt, had she been injured or scarred that would have been a painful remainder every day of what happened to her during that time," said Conn.
If anyone has any information on the theft, contact the police on 101 quoting crime reference number: 0319525/16.