Anti-social behaviour and violence and sexual offences are the most commonly reported offences in Merton's crime hotspots.
Home Office statistics revealed that in August 2016, Trinity ward had the most reported crimes of the whole borough at 157 – followed by Cricket Green (130), Colliers Wood (125), Figge's Marsh (108) and Graveney (93).
Of the 613 crimes reported across the five districts, anti-social behaviour accounted for 28% and violence and sexual offences made up 15%.
Other common offences included criminal damage and arson, and vehicle crime – together making up 17% of all the reported crimes.
The five districts topping the charts for August 2016 also harboured the most reported crimes in Merton in May and July – comprising 37% and 39% of total reported crimes in the borough respectively.
Acting Chief Superintendent Steve Wallace at Wimbledon Police Station said: "Merton Borough has maintained a continued reduction of ASB by 2.7% over the previous year.
"We, like many boroughs, have had an increase in violence with injury and sexual offences.
"We believe most of those increased because of improved recording practices and increased confidence of victims to report crime to us."
While there was a sharp increase of 23% in reported crimes in the borough between June (1,372) and July (1,682), between July and August there was a decrease of 7% to 1,566.
Working to reduce crime in the capital, Acting ChSupt Wallace explained that a second dedicated ward officer will be assigned to every London ward by the end of 2017.
Trinity, Cricket Green, Figge's Marsh and Graveney are among the wards to receive extra support in the coming months.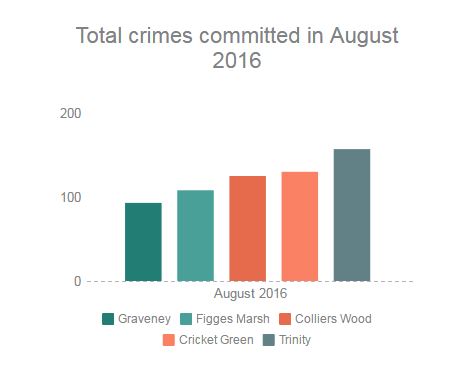 "Merton police are committed to making Merton a safer place to live, work and visit," said Acting ChSupt Wallace.
Merton Council has also been working to improve public safety, with various campaigns and initiatives underway.
Cabinet member for community safety, engagement and equalities Councillor Edith Macauley said Merton is one of London's safest boroughs.
"We have a number of action plans and strategies to tackle violence against women and girls and anti-social behaviour and our focus is to protect the victim and ensure that perpetrators are held to account where ever possible," she said.
Merton was one of the first London boroughs to join the 'UK Says No More' national campaign to combat domestic violence and sexual assault this year.
In October, Merton Council also supported National Hate Crime Awareness Week 2016.
For more information visit http://www.merton.gov.uk/index.htm