'Metro Man' and a dancing cheerleader on stilts created a party atmosphere at the launch of Metro Bank's newest branch in Wimbledon today.
The SW19 branch is the 43rd since the first opened in Holborn in July 2010.
Founder and chairman Vernon W Hill II and his wife Mrs Shirley Hill were at the SW19 opening alongside their pet dog Duffy.
They were joined by the Mayor of Merton, Councillor Brenda Fraser, and her daughter Gillian Fraser, Consort to the Mayor.
The Mayor said: "It is a unique place, right in the heart of Wimbledon. It is in an ideal location in a very busy area opposite the train station.
"What I have seen is very good and I welcome them to Wimbledon."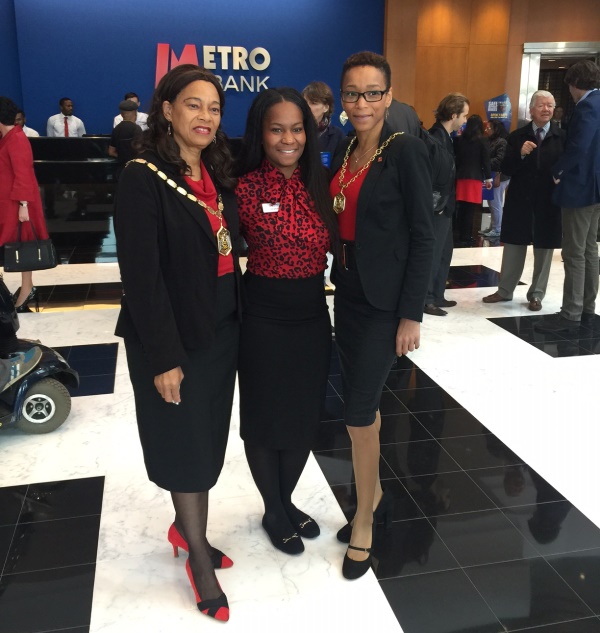 SMILES ALL ROUND: The Mayor of Merton and her daughter, Consort to the Mayor, accompanied by a Metro Bank employee (centre)
The striking building took five months to build and will house up to 200 employees.
The branch will also include the bank's training centre with five purpose-built training rooms.
The bank, which prides itself on its customer service, is open Monday to Friday 8am-8pm, Saturday 8am – 6pm and Sunday 11am-5pm, 362 days a year.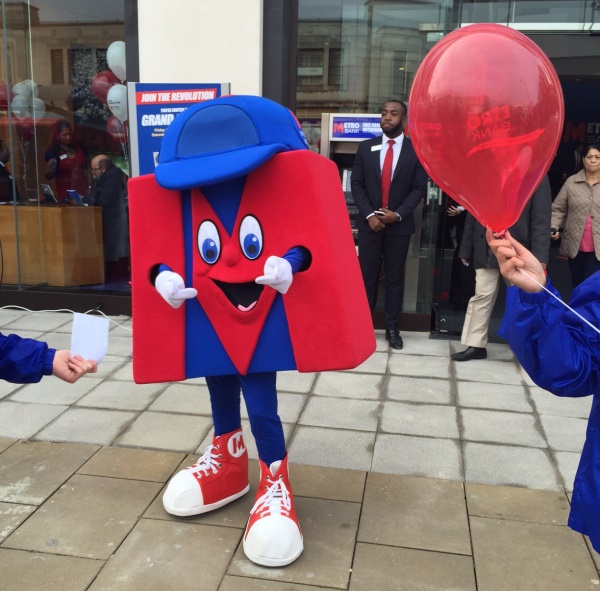 WHO YOU GONNA CALL? Metro Man!
Managing director Iain Kirkpatrick said: "We are all about service and convenience.
"We have great apps and great internet banking, but if someone comes to the bank we know it is because they want to see someone.
"If you lose a bank card you can get a replacement within ten minutes as we can print a new bank card at the branch."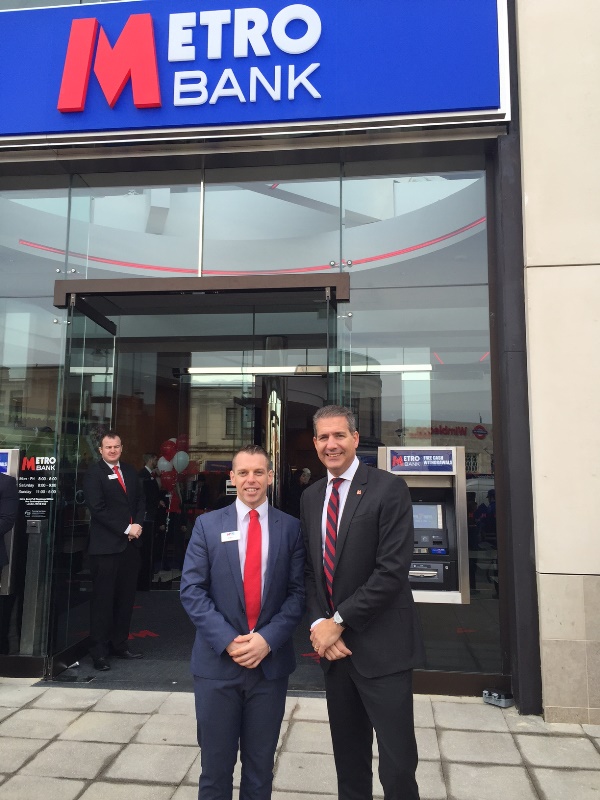 PROUD: Martin Smith (left) and Iain Kirkpatrick (right)
The bank does a lot of work with the community, including hosting business networking events and educating as many as 25,000 schoolchildren nationwide about money and finances.
"We go into schools and help teach the children about money as part of the curriculum" said Martin Smith, branch manager.