Londoners of all backgrounds are being encouraged to talk more about donating their organs.
New figures, released last week, reveal that there are 1,300 people waiting for a transplant in the capital. This represents one in five of the 6,500 people on the national waiting list as a whole.
The number of registered donors is rising—last year it was 36% of the UK population, compared to 30% in 2012—but there is still a shortfall, and every day three people die before receiving the organs they need.
William Pope was diagnosed with heart disease at 16. An athletic teenager, his deteriorating health meant that by 2012 he was placed on the transplant waiting list before receiving a new heart.
Talking about that time, William said: "It's a very good thing to be on the transplant list, as you have hope.
"I was on the urgent transplant list, which meant I had to stay in hospital until I received a transplant. This was difficult and frustrating, as you cannot leave the hospital premises, and most of the time you're confined to a hospital room.
"The trouble is, you get higher up the list the more ill you are. So you're basically waiting to get just sick enough to be at the top of the list, without passing away before a match is found."
A match was found. William recovered—now 25, he works in film and is based in Stockwell. He considers himself extraordinarily lucky to have received a transplant.
He said: "There is no question that without it, I would not be here today, able to do the things I love."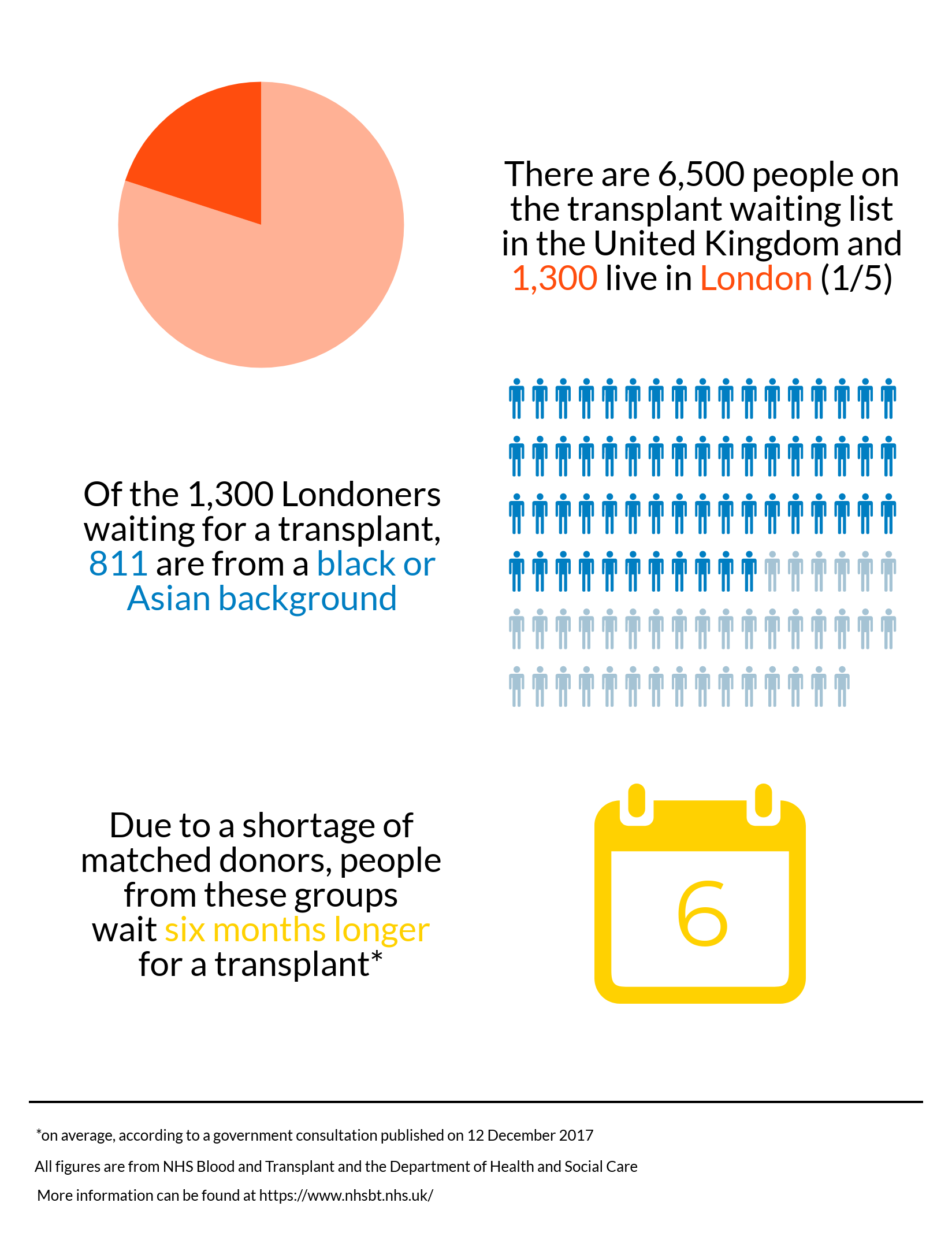 As well as encouraging more people to register as donors, NHS Blood and Transplant are asking those in London and surrounding areas to talk more freely with their families about their decision, as part of their 'words save lives' appeal.
Almost half of potential transplants in London were declined by families who were unsure of their relatives' wishes.
An NHS spokesmen encouraged Londoners to talk to their families as soon as possible, saying: "Let them know you want to be an organ donor and prove that words really do save lives.
A few words now can make an extraordinary difference."
The need for these conversations is particularly acute among ethnic minorities. Of the 1,300 Londoners on the transplant waiting list, 811 are black or Asian, due to lower donation rates in these communities.
The need to match donors closely with recipients means that successful transplants come from donors of a similar ethnic background. Black and Asian people on the transplant list wait, on average, six months longer for a suitable organ than people from other groups.
Imman Ahmed, a 23-year-old freelance assistant from East London, received two donated kidneys after a necrotic syndrome meant she had to spend four years undergoing dialysis.
Imman is determined to get those in her Muslim community to talk about organ donation. She says: "I have been quite vocal about it. I think it is [a discussion] that is needed, especially for people from more diverse ethnic groups.
"I know that for a lot of black and Asian people, there's not a lot of donors and that causes a lot of issues with tissue typing and stuff."
Like William, Imman recognises that she donations she received saved and transformed her life. She is about to go travelling around Thailand, Singapore and Dubai, something that would not have been possible while she still needed dialysis. She says: "I'm here right now because two people went onto that list and they gave me a kidney."
Winston Roach, 35 and from Bow, credits his organ transplants with allowing him to live the life he wants, working full time and bringing up a twin son and daughter. His story can be watched in the accompanying video.
As of 2017, the NHS estimates that over 50,000 people are alive today thanks to organ transplants—more than enough to fill Chelsea's Stamford Bridge stadium.
Each organ donor can save the life of up to nine people, and as more people register and conversations around the topic become the norm, less people will have to wait for the transplants that will give them a second chance at life.
As William says: "To choose to donate your organs after death is a truly selfless act.
"My donor's father told me that his son came home one day and said 'By the way, Dad, I'm an organ donor.' Those eight words saved my life."
***
With special thanks to all the medical professionals at the renal transplant unit of the Royal London Hospital, who treated both Imman Ahmed and Winston Roach.
William Pope would like to thank the medical team at Harefield Hospital in Uxbridge and to include a remembrance of his donor Tom Ince (1992 – 2012).