A Clapham dad is putting on his wetsuit before his morning commute to train for the London triathlon for Great Ormond Street Hospital Children's Charity.
Rafael Sanchez, dad to Milo, seven, and Poppy, five, is 45 and hasn't competed for 19 years, but said he won't trail behind the 200-strong Team Ramsay for GOSH, led by the celebrity chef himself.
Mr Sanchez's race will raise money for the children's hospital where Milo had life-saving surgery when he was just a toddler.
He said: "From my perspective it's the least we can do for the hospital who saved my son's life.
"I realise, like most of us do, that there is a very big funding gap, and anything GOSH can get from donations actually makes a big difference."
The lawyer, who fits training around commuting and running after the kids, cycles, jogs and swims in the icy Brockwell Lido every week.
"Once a week I go to swim there and look ridiculous in a wetsuit," he said.
"I work in a corporate environment where I don't feel like I'm adding much to society on a daily basis.
"But at least this is one thing I can do where I feel I'm a bit useful."
Milo was diagnosed with an adrenal cortical carcinoma, a rare form of cancer, when he was two. He had successful surgery and continues to visit GOSH for check-ups every six months.
"For people who are concerned about funding for critical care for kids, great Ormond Street charity is great," he said.
"As parents you will be going through a whole range of emotions, and still have your daily life as well as other children, but what I can say is at GOSH you are going to get the best care for your child by all the staff."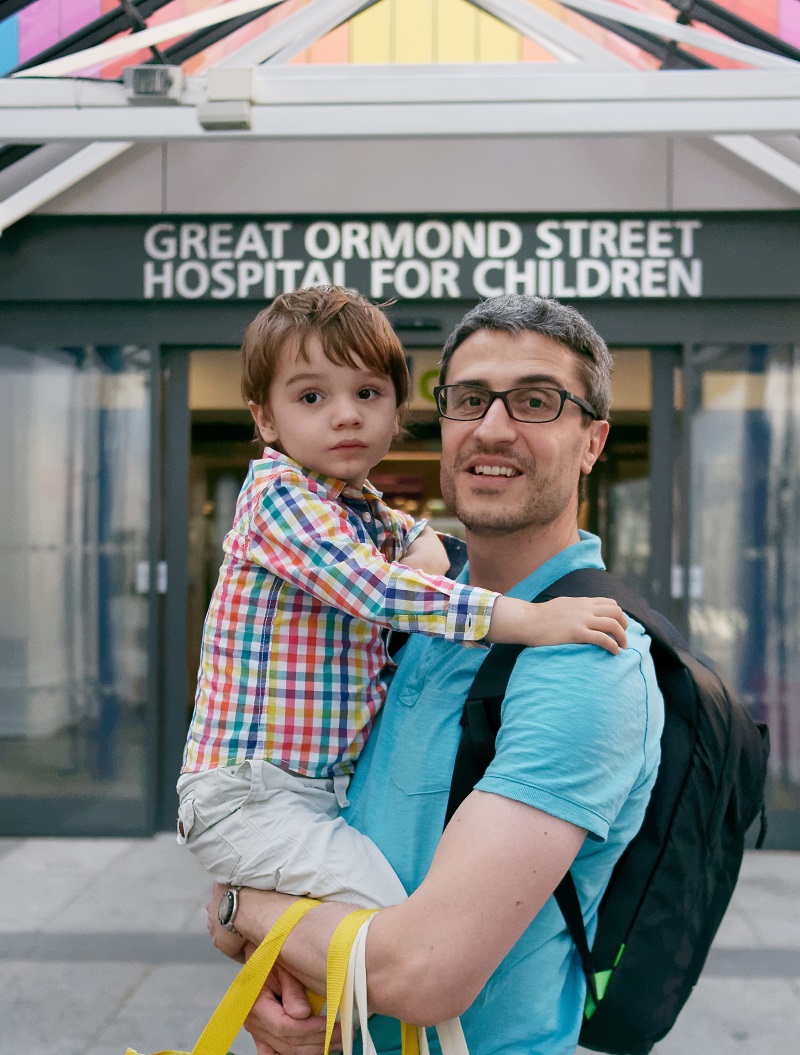 MAKING A DIFFERENCE: Mr Sanchez said fundraising for the hospital which saved his son's life is the least he can do.
Mr Sanchez and his wife decided to move their family back  from Hong Kong, where they were living at the time of Milo's diagnosis, on the recommendation of friends and doctors to go to GOSH.
He said the unique skills and experience of staff here convinced them to move to London to seek care.
He said: "What stuck out to me is, when we were approaching the time of the surgery, there were so many doctors around us, and they were all very specialised.
"Doctors from all over the world came to train there."
The dad said he was taking his training seriously and would compete again to raise money for other kids at the hospital.
He was already eyeing up an ironman competition and a race the whole family could take part in.
The Gordon and Tana Ramsay Foundation was set up in 2015 in collaboration with the Great Ormond Street Hospital Children's Charity to raise funds.
Laura Savory, deputy director of community fundraising at Great Ormond Street Hospital Children's Charity, said: "We're really excited that Gordon is taking part again and we can't wait to see him, alongside our other amazing supporters, who will help make a real difference for children treated at Great Ormond Street Hospital.
"Whether you are a beginner heading for the sprint distance, part of a relay team or a seasoned triathlete, join Rafael and sign up to support GOSH!"
To join 'Team Ramsay', entry is £25 and supporters are encouraged to fundraise £450. Visit the website for more details. The London Triathlon is on Saturday July 27.