Nearly naked models protested for PETA outside Somerset House on the eve of London Fashion Week to condemn the fashion industry's use of fur.
The trio of bare beauties were covered only by a banner proclaiming one of PETA's most famous slogans 'We'd Rather Go Naked Than Wear Fur'.
The iconic Somerset House will host London Fashion Week's most prestigious British designers including Burberry Prorsum, Matthew Williamson, Paul Smith and Vivienne Westwood.
"Fashion should be fun, not fatal," said PETA Director Mimi Bekhechi. "No jacket, scarf or piece of trim is worth electrocuting, bludgeoning, strangling or skinning alive a thinking, feeling animal."
The PETA campaign is aiming for the curious crowds and style-conscious bloggers who come to LFW to change their minds about the fashion for fur.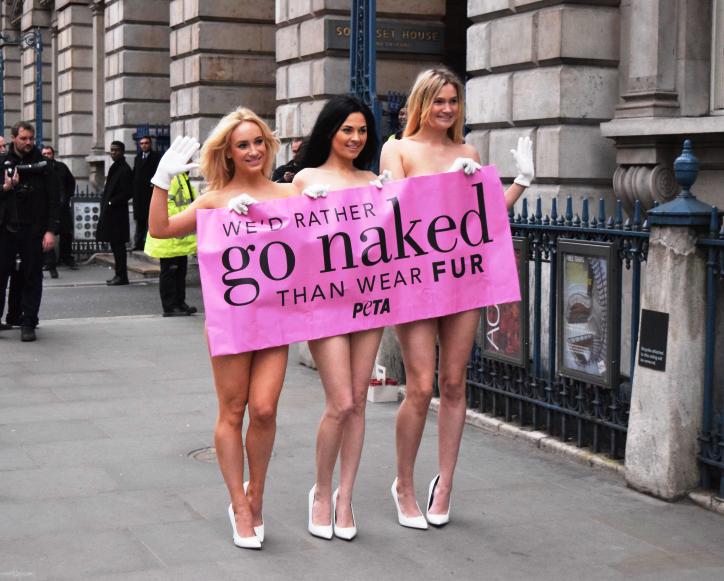 Some of Britain's most famous designers are already completely fur free, including style maven Vivienne Westwood and Simone Rocha.
Lifelong vegetarian Stella McCartney has also always excluded fur and leather from her designs to keep her brand cruelty-free.
High-street fashionistas are also following suit with Topshop, reflecting the 95% of the public who said they would refuse to wear real fur, also banning animal fuzz.
PETA's high-profile campaigns show the awful conditions foxes, rabbits and minks bred on fur farms are kept in, confined to cramped, dirty cages.
Paloma Faith headed up a recent video campaign with the animal rights group showing the reality of the lives of animals bred for fur around the world.