A Thai Buddhist temple in Wimbledon frequented by Novak Djokovic is in desperate need of funds for necessary roof repairs.
The Buddhapadipa Temple is hidden away in Wimbledon Village along a seemingly innocuous row of houses on Calonne Road.
It is the oldest Thai temple in the UK and is currently looking for donations to make essential repairs to its roof, including the replacement of hard and strong timbers and changing tiles.
"We do school trips every week," said one of the monks.
"We are trying to repair our roof at the moment. It has been damaged by bad English weather."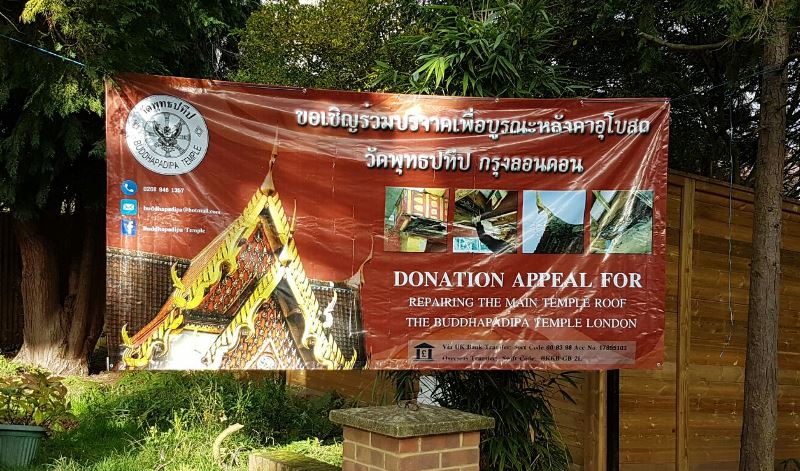 Last Sunday, the temple held the important Buddhist Kathina 'robe presenting' ceremony and the Loykratong Festival, also known as the Festival of Flowers.
The ceremony involved lots of stalls selling Thai foods for residents to experience Thai culture – and all proceeds went towards the roof repairs.
The temple, which spreads over more than four acres, is home to tranquil ponds, streams, footbridges and courtyards.
It is frequently used for quiet reflection by tennis superstar Djokovic when the Serb is in Wimbledon for the summer Tennis Championships.
The 29-year-old uses the temple as a place of refuge, as it is only a five-minute walk from the All England Club.
Djokovic has been using the temple for several years now, and is a three-time winner of the prestigious competition.
Thought-provoking quotes are dotted throughout the grounds such as 'purifying the mind is the great way to achieve life's happiness'.
The temple is affiliated to the Royal Thai Embassy in London and was originally opened in East Sheen in 1966 by the King and Queen of Thailand.
For more information and how to donate, click here.