Wimbledon champ Andy Murray has added his voice to the 'Yes' campaign for Scottish independence, on the day of the historic referendum vote.
Scots are taking to the polling booths today to vote on the referendum, with results expected to be announced at 6am tomorrow.
Andy Murray had remained neutral on the position of Scottish independence but in his tweet this morning he cited the 'negativity' of the No campaign for deciding his vote.
Huge day for Scotland today! no campaign negativity last few days totally swayed my view on it. excited to see the outcome. lets do this!

— Andy Murray (@andy_murray) September 18, 2014
Andy Murray's tweets echoes a campaign slogan from Scotland's First Minister Alex Salmond which said, 'let's do this'.
First Minister letter to voters – "let's do this" http://t.co/SlOL0WLCnw #Indyref #Yes

— The SNP (@theSNP) September 17, 2014
Campaigning from both the 'Yes' and 'No' camps has intensified in recent weeks as the opinion polls have found the result too close to call.
As Murray lives in England he won't be able to actually cast a vote but has joined other ex-pat Scots in urging their countrymen to vote for independence.
Sir Sean Connery, comedian Frankie Boyle and actor Brian Cox are just some famous Scots who have rallied to the 'Yes' campaign.
Former Primer Minister Gordon Brown, who has been a prominent voice of the 'No' campaign, made an impassioned speech yesterday.
There is no clear winner so far but voter turnout is expected to be break records with more than four million Scots registered to vote, and the voting age for the referendum lowered to 16.
The question over the division of the UK has roused passions on both sides of the political divide, creating a storm of controvery and arguments as the ferocity of the debate escalated.
Emma Kinloch, originally from Glasgow and now living in London, told SW Londoner: "I am so angry– my church hall at home, which is a polling station today, was covered in graffiti by 'Yes' campaigners with threatening slogans such as 'If you vote no you'll be shot' and 'You'll be sorry if you vote no'.
"Completely disgusted. Vote 'No' for further powers for the Scottish Parliament or Vote 'Yes' for more of this intimidation."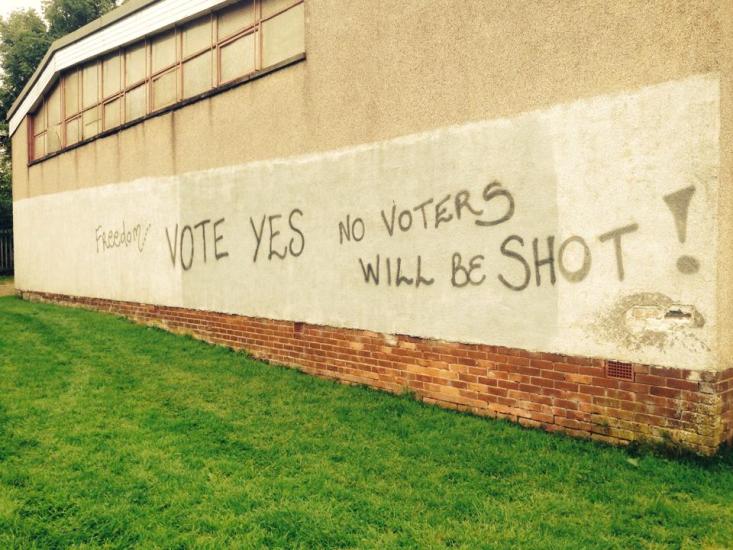 Judy Murray, currently practicing for her first live dance on BBC1's Strictly Come Dancing with dance partner Anton Du Beke, has remained tight-lipped about her support for either the 'Yes' or 'No' campaign.
Featured image courtesy of Scottish Government, with thanks
YouTube video courtesy of BBC, with thanks
Inset image courtesy of Emma Kinloch, with thanks