Thousands of petitioners are trying to stop plans to fell 26 trees in Kensington to make way for a new cycle lane.
In one month more than 6,400 people have signed the petition, launched by a mother and daughter aghast at the Transport for London (TfL) proposal.
The plan is to remove 23 trees from Notting Hill Gate's central reservation area and two smaller mature trees and a sapling from Holland Park Avenue.
Last month's Committee on Climate Change report said three billion trees must be planted by 2050 to end Britain's contribution to global warming.
Mother Emma Kay, 56, said: "People in Kensington & Chelsea have a strong sense of local community and when it's threatened, they want to come together to do something."
She heard about the plans through a TfL meeting at Kensington & Chelsea borough's Town Hall, and shared the news with her daughter Isabel, 19, who promptly started an online petition.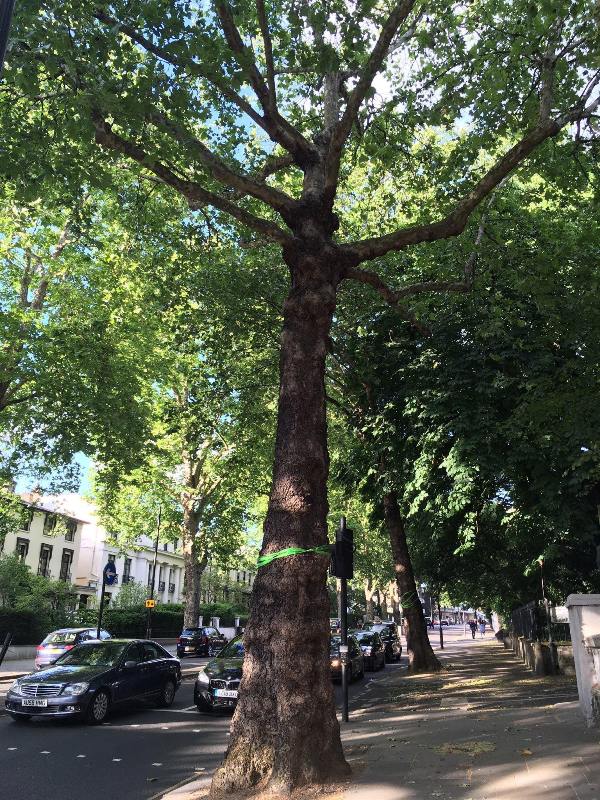 She said there was a large campaign by residents to add the trees to the area around 10 to 20 years ago.
"They fought long and hard to persuade the council to put them in to the central reservation at Notting Hill Gate," she said.
"To make a bleak, concrete, urban landscape into a beautiful, green area and obviously more healthy because the trees fight against pollution.
"It was a huge victory for the local community and extraordinarily ironic that now the same council that agreed to it, is now claiming to be neutral about whether they should be taken out again."
She added: "The council haven't come out as strongly on the side of the residents as you'd expect given that we're the ones who voted to put them there. You'd think they'd be a bit more sensitive to local democracy."
Councillor Johnny Thalassites, lead member for Planning and Transport from Kensington and Chelsea Council, said: "We'd encourage everyone to have their say on TfL's proposals and tell them what they think.
"TfL's current proposals are an attempt to improve roads for cyclists. Encouraging more people to make the healthy choice to cycle in the borough is a big part of our wider air quality strategy.
"However, we've heard from huge numbers of residents with serious concerns about the current plans, including the potential for gridlock, the loss of trees and the effect the plans will potentially have on vital local high streets and businesses.
"We believe TfL can and must review the parts of their plan that have caused these concerns."
Residents fear that local businesses will also be affected as loading bays could be removed to make way for the cycle lane.
Nigel Hardy, TfL's head of programme sponsorship, said: "We recognise the importance of local businesses and will carefully consider their feedback.
"In Notting Hill Gate we are proposing to remove the central reservation to enable a safe and direct cycle facility for cyclists, whilst improving crossing facilities for pedestrians and providing parking and loading bays to help local businesses.
"Also around the village area of Holland Park we're increasing the number of pay and display parking bays by the row of shops and introducing a dedicated new loading bay."
Both cyclists themselves, student Isabel and her mum strongly believe the proposed cycle lanes could potentially be very dangerous as well.
Isabel said: "The proposal is a two-way cycle lane and in this particular area, you're going to have uphill and downhill cyclists.
"Some will be going slowly uphill and some going very fast downhill and competing with each other in a very small lane."
Emma added: "The clue is in the name – Notting Hill. If there's a slower cyclist in front they're going to whizz out and overtake.
"That risks hitting people coming up the hill either on cycles or on foot and TfL haven't been able to address that concern – it's been so frustrating and disappointing."
Mr Hardy responded: "We will consider all the views from the consultation to ensure that our designs are further developed to offer the best possible outcomes for people walking and cycling and we encourage everybody to get involved in our consultation which closes on the 16 June to have their say – the responses we get from people will be used to further develop our proposals."
He said TfL would plant as many trees as are removed and welcome working with local groups to identify new locations for the trees.
TV presenter Jeremy Clarkson tweeted his outrage: "They're going to take down all the trees to make life easier for cyclists. I mean, who voted for these people?"
A meeting held at Kensington town hall with TfL and the Royal Borough of Kensington & Chelsea council saw the majority of residents oppose the plans.
Residents have until this Sunday, June 16, to voice their concerns to TFL here: tfl.gov.uk/wood-notting
Find the petition here: https://www.change.org/p/mayor-of-london-save-the-trees-on-holland-park-avenue