By Bethany Kirkbride
September 16 2019, 16.45
Follow @SW_Londoner
British Airways pilot strikes last week left many customers out of pocket after they struggled to get hold of customer services ahead of their planned travel.
Members of the British Airline Pilots Association (Balpa) took part in industrial action over pay which grounded the majority of the 1,600 flights BA was due to operate out of Heathrow and Gatwick on Monday 9 and Tuesday 10.
Another strike is scheduled for September 27 and will take place if BA does not improve its July offer to pilots of an 11.5% pay increase over three years, that will see the average BA long-haul Captain's salary go up to £202,000 with annual allowances.
Suzanne Foley, who planned to celebrate her 50th birthday in Ibiza with friends only for their return flight to be cancelled by BA, said: "Trying to rearrange the return travel has been very stressful, time consuming and expensive.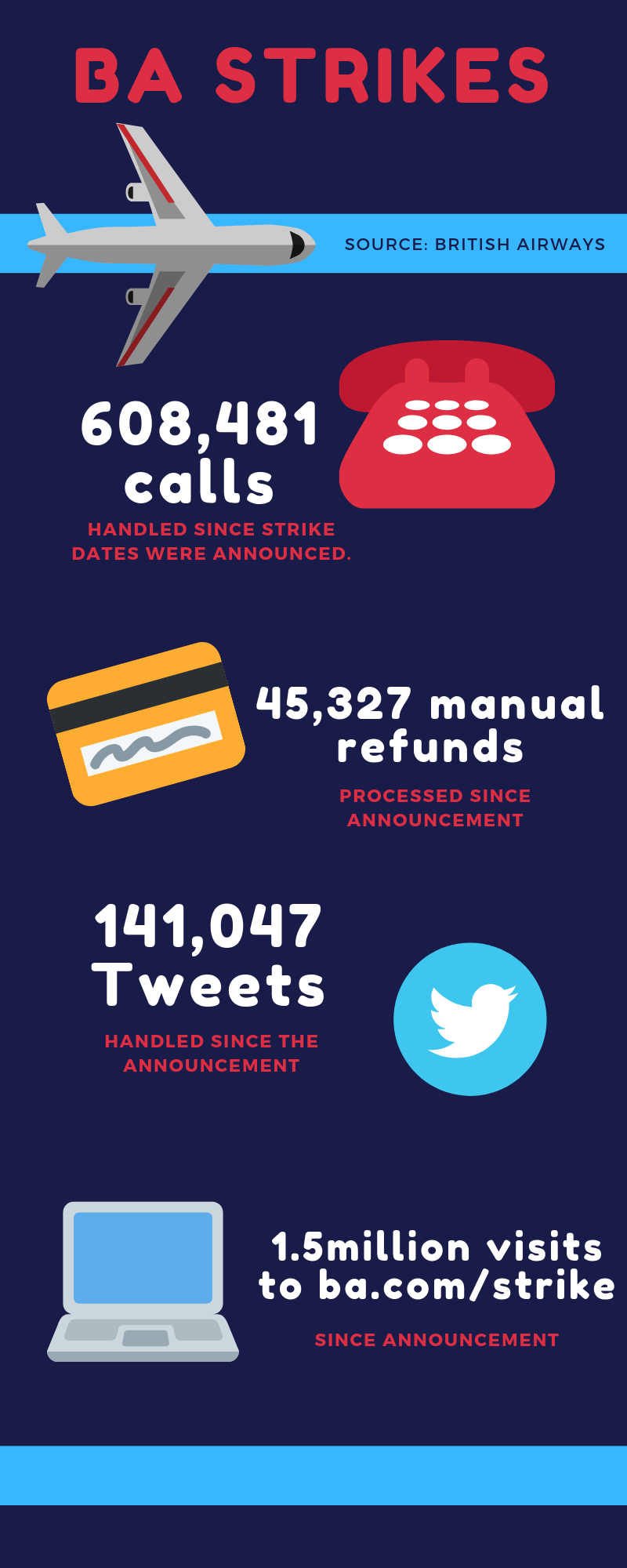 "All I've been told by BA is that they will refund some of the flight, but not how much that comes to and when I'll get it.
"At the moment I'm out of pocket by over a thousand pounds, which doesn't include the trains I'll now have to catch as we're flying back into a different airport."
BA contacted affected customers and offered them full refunds, the option to re-book for another date of travel, travel with an alternative airline or the chance to use the value of their booked flight towards another destination at another time.
But with some affected customers struggling to get hold of their third-party holiday provider to find out their rights, many customers have had to pay for new flights not knowing when or whether they would be compensated by BA.
Amy Forbes, 32, booked a trip to Mallorca with lastminute.com and after struggling to get through to its customer service team after her return BA flight was cancelled, she booked an alternative flight with the budget airline, easyJet.
She said: "BA should have had much clearer comms on what was going on and lastminute.com has just completely abdicated its responsibility as a third party merchant.
"I mostly blame lastminute.com – we had so little confidence they would be able to get back to us before we left on Wednesday that we decided to just buy new flights and stomach the extra cost if we can't get a refund or travel insurance doesn't cover it.
"Better that than feeling stressed on holiday about how we're getting home."
A BA spokesperson said: "We have added extra colleagues to our Customer Relations teams to help support our customers: at peak times we have up to 900 colleagues answering phones.
"As per the recent article in the FT, easyJet said its UK captains earned an average of £120,000 and a maximum of £145,000 – this is less than our pilots earn.
"The average salary of a BA long-haul Captain is £167,000, this is 5x the UK national average salary; the average salary of a BA Co-Pilot is £70,000 per annum.
"With the 11.5% pay deal (over three years) the average BA long-haul Captain's salary will go up to £186,000, and in three years' time their salaries, with annual allowances (annual pay increments/flight pay) will be £202,000.
"In relation to cabin crew – the pay deal on the table has already been accepted by GMB and Unite Union. Unite represent the majority of our cabin crew members."
The holiday merchant lastminute.com did not respond to SWL's request for comment.