Counter terrorism police investigating the Parsons Green bombing shifted their attention to sleepy suburban London this afternoon.
Armed police and security services, supported by forensic specialists, are focusing their attention on an address in the Cavendish Road area of Sunbury-on-Thames but no arrests have been made there.
However, earlier in the day, an 18-year old man was arrested in Dover on terror charges.
It is thought that the property belongs to Penelope and Ronald Jones, who have fostered hundreds of young people since 1970, including refugees from several countries. Both were awarded MBEs for services to children and families in 2009.
The couple, aged 71 and 88, owned the property as of February this year although it is not known if they or any of their children still live there.
Neighbours were told to leave their properties shortly after 1pm this afternoon, with many initially taken to nearby Staines rugby club.
Later a coach took residents to the Greeno Community Centre in Shepperton, where they were expected to stay overnight.
However, some residents were unimpressed that more than five hours after the incident started, there was still little information from police.
Residents of cavendish rd being let back in singularly to retrieve pets, all being escorted there and back by officers @SW_Londoner pic.twitter.com/ccl6g24Qe4

— WillThompson (@thompsonjourno) September 16, 2017
"Police have been really blunt, not saying anything, not answering direct questions and giving blunt answers," said Mr Parkins, 29, a Cavendish Road resident.
"I've been here about three hours, they've set up temporary refuge centre at local rugby club but apart from that no light has been shed. I tried driving into my road and was denied getting anywhere near it.
"There's been speculation it could be the purple house on this road, the only way you can find out is when we're let back in and it'll be the door that's smashed in."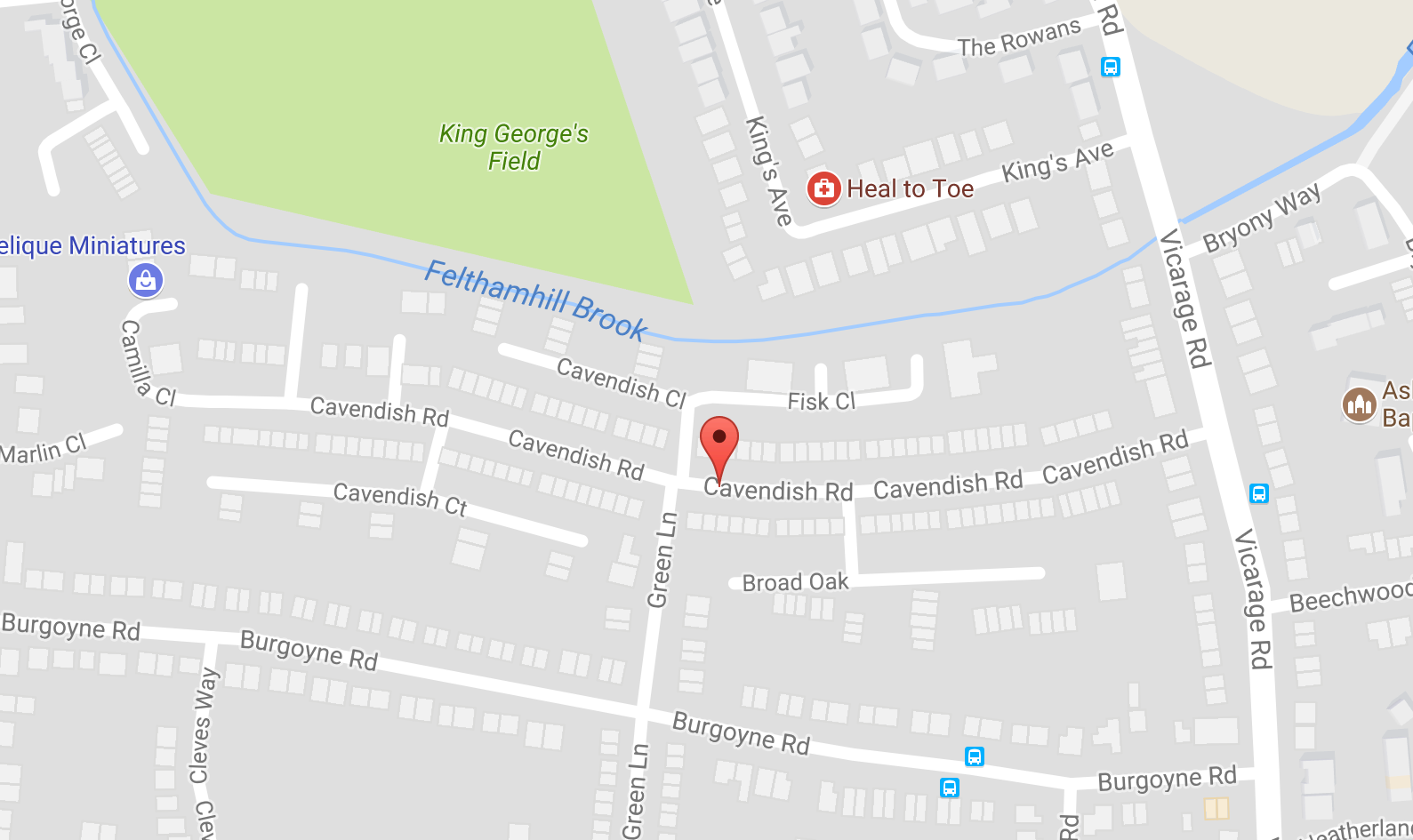 It is thought 40 to 50 people have will now have to spend the night away from their homes.
"We're out for the night and I'm absolutely outraged," said Alan Clarke, 44.
"I've just been allowed back for my phone. It was an absolute shock when the police knocked on the window and gave us five minutes to get out."
@SW_Londoner everyone that lives between the end of cavendish (my location) up to the road to broad oak can return and stay but no one else pic.twitter.com/QIF44eizFn

— WillThompson (@thompsonjourno) September 16, 2017

Another resident, Zane Evans, added: "We've been told it could be anything up to 24 hours, so I'm going to stay round a friend's house. We need baby stuff and our dog, at least they're allowing us back for that. The police are just doing their job."
Nigel Cole, 33, told how police gave residents very little time to evacuate properties.
He said: "My door went and gentleman stood there in black mask, brown jeans and trainers with a black vest and said you need to get out your house, no information why.
"He just said 'I'm the police'. I asked for ID and he said 'I haven't got time for this'".
Quietening down at Staines Rugby Club, many have been moved on to Greeno Centre in Shepperton for catering purposes pic.twitter.com/T1CVVUtzgz

— WillThompson (@thompsonjourno) September 16, 2017
Meanwhile, police revealed they are keeping an open mind about whether the District Line bomb attack was part of a wider conspiracy.
Metropolitan Police Deputy Assistant Commissioner Neil Basu described the arrest in Dover as 'significant' and the UK threat level remains at its highest level, meaning an attack is expected imminently.
"At this stage we are keeping an open mind around whether more than one person is responsible for the attack and we are still pursuing numerous lines of enquiry and at a great pace," he said.
"So what happens next? Our priorities are to ensure that the address in Sunbury is safe and to identify and locate any other potential suspects.
"We have identified 121 witnesses so far, and we have spoken to 100 of them already. Officers continue to trawl through many hours of closed circuit television footage and more than 180 videos and pictures that have been sent to them by the public. We continue to take large numbers of calls from the public via the confidential Anti Terrorist Hotline.
"The public's help remains crucial, and I urge anyone with information, no matter how significant they think it is, to continue letting us know.
"Police officers across the UK are also still out in force, protecting communities.
"Yesterday the Prime Minister announced that the terrorism threat level had been raised to critical by the independent Joint Terrorism Analysis Centre.
"This means a terrorist attack is not only highly likely but a further attack may be imminent. The threat level remains at critical for the time being but is under constant review."
Meanwhile, Home Secretary Amber Rudd claimed it was too early to say whether those responsible for the tube bombing were known to authorities.
"Police have made good progress but the threat level remains at critical and we urge the public to remain vigilant," she said.
"We've made a very significant arrest but the operation is ongoing and when we have no information, we'll share it."
Anyone with information is urged to call the Anti-Terrorist Hotline on 0800 789 321 or, in an emergency, call 999.