A man who stabbed to death a defenceless stranger in the street has pleaded guilty to manslaughter on the grounds of diminished responsibility at the Old Bailey.
Ephraim Norman, 24, of Thornton Heath pleaded guilty to the manslaughter of Andrew Else, 52, from Croydon, and was sentenced to a secure order (sec 37 Mental Health Act) and a restriction order (section 41 Mental Health Act) last Friday.
He will be detained indefinitely under these orders.
Norman also pleaded guilty to attempted murder relating to a stabbing of a 15-year-old boy which took place in the weeks before he killed Mr Else.
On the evening of April 24 2014 Mr Else was walking along Selsdon Park Road, South Croydon, when he was approached by Norman who began to stab him.
Two men who had been travelling in a recovery truck along the same stretch of road passed Mr. Else and Norman as the attack was in progress.
They witnessed Mr Else lying on a grass verge with Norman crouching over him.
As the vehicle slowed down the occupants managed to get a clear view and caught a glimpse of a knife and Norman raising the knife above his head repeatedly stabbing Mr Else.
The vehicle recovery drivers pulled over and called the police – one of whom crouched down behind a vehicle providing commentary to the operator until uniformed police officers arrived.
Officers arrested Norman and he was taken into custody for questioning
A post-mortem examination took place on April 25 2014 at Croydon Mortuary and gave cause of death as haemorrhage multiple stab wounds – in excess of 200.
It was noted that it appeared Mr Else had no defence wounds to his arms or hands.
It was during the interview process that Norman admitted committing another offence. Detectives carried out enquires and established that on April 6 2014 Norman was responsible for stabbing a 15-year-old boy in his neck.
Police were called by the victim after midnight to report that he had been stabbed.
Officers made their way to Beulah Hill with the junction of Norbury Hill and found the victim.
The victim had been stabbed with such ferocity at the base of his skull that the knife went straight through just missing his spinal column.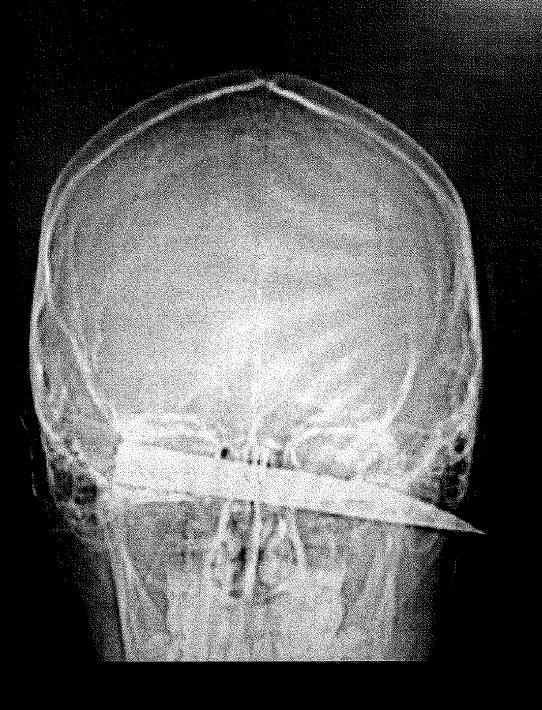 SHOCKING: X-ray shows the blade embedded in the boy's skull
He was taken to a south London hospital to recover from his injuries.
A stark image of an x-ray of the victim's injuries after the attack with the knife embedded in his skull showed how fortunate he was to survive the attack.
During the attack Norman stole the victim's mobile phone before fleeing the scene.
Featured picture courtesy of ohi007, with thanks