Meghan Markle announced last Thursday she had chosen animal welfare charity Mayhew as one of her four new patronages, but she's not the only big name to be championing its cause.
Iconoclast – an international production agency whose directors have worked with the likes of Miley Cyrus, Jay-Z and Christian Dior – offered its services to the charity last month for an innovative new campaign.
Home is where their dog is is a series of three short films – released between 18 and 30 December 2018 – that reveal the range of Mayhew's work, not only in caring for abandoned animals, but in helping people who've been abandoned by society.
The collaboration was spearheaded by award-winning director Roland Kennedy and coordinated by creative director Dominic Goldman, whose projects include a £7m ad campaign for Weetabix back in 2011.
The four-minute-long movies, each filmed in a docudrama style, tell the true stories of three vulnerable men who have received life-saving support from Mayhew, including Gulbar whose dog was left for dead after a hit-and-run accident, and Wully, whose dog was by his side as he left behind a life of homelessness and alcoholism.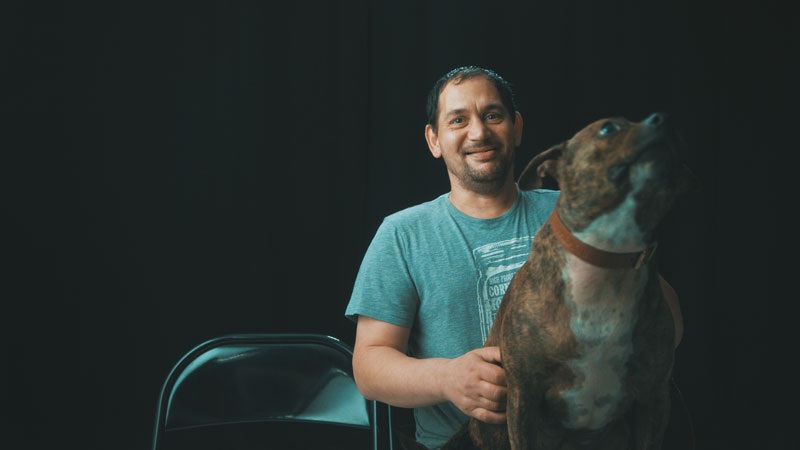 LUCKY CHARM: Gulbar with his 'best friend' Lucky who recovered from a car accident at the Mayhew centre.
The final instalment – The Breath of Life – introduces Shaun, a homeless hostel resident, whose dog Toffee helps him every day to fight a debilitating lung disease that's left him with 16% lung capacity.
A survey commissioned by Mayhew last year showed that while 86% of people believe pets offer invaluable, human-level companionship, more than 60% think it's wrong for people to keep an animal if they're struggling financially.  The 'home is where their dog is' project seeks to quash such judgements of the vulnerable and homeless by showing the humanity behind each person and their pet.
Director Roland Kennedy, 29, had wanted to cover issues surrounding homelessness for some time and welcomed the opportunity to show a lesser-known side of street living.
"The overwhelming thing I learnt is that no other bond between a human and a dog is as intense as this one," said Mr Kennedy.
"These people spend 24 hours a day with their dogs which makes the connection between them so much stronger and makes any time apart really disturbing.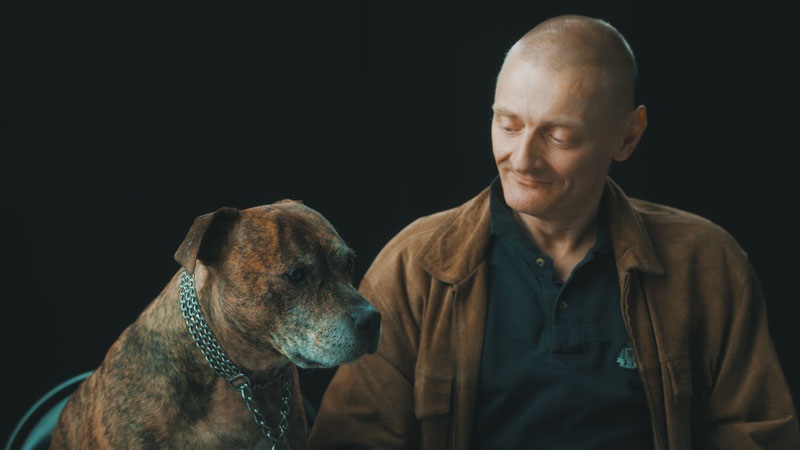 GUARDIAN ANGEL: Shaun and his staffy Toffee, who helps him battle chronic lung disease every day.
"Pets offer these people – many of whom have suffered unimaginable trauma – totally pure, un-judgemental companionship. They also give them responsibility, something to structure their day. Some of the people I spoke to said their dog was the only thing standing between them and suicide," Mr Kennedy added.
Zoe Edwards, Mayhew's head of animal welfare, said: "We've worked with clients like Gulbar, Wully and Shaun for over ten years now and we're so proud of everything they've achieved.
"We want audiences to see that these people don't have dogs as a ploy to get more money from passers-by on the street, but because they love them and would give their lives for them.
"By helping them care for their animals, we're enabling people like Wully to go to rehab and change their lives for good. This keeps the pets with the people who love them rather than in shelters, which ultimately is what's best for both owner and dog."
'Home is where their dog is' has already achieved significant outreach results. Two weeks after the project's launch, the website had seen a 26% rise in traffic and an 11% rise in unique visitors, with two million people engaging with the campaign on social media. And that was before Ms Markle shone her own spotlight on the charity.
Mayhew CEO Caroline Yates said: "The 'home is where their dog is' films were a labour of love for Roland and his team. You could see they were all passionate about the project.
"Iconoclast carried out most of the work pro-bono because of its commitment to our cause. It was a privilege for us to work with them."
Feature image shows Wully and his dogs.