Adopting a granny has never been so important as Age UK has revealed that half a million people over the age of 60 spend every day alone.
'Adopt a Granny' is a scheme initiated by Putney charity Regenerate-RISE that aims to create friendships between older people and volunteers in a bid to combat loneliness.
One person who the scheme has helped greatly is 94-year-old Irene who was 'adopted' by Tracey.
"Tracey and I adore each other," she said.
"We have the most wonderful friendship. We go shopping, to the cinema.
"I see her about once a week.  It is a wonderful thing.
"We have a lovely relationship."
Irene has been part of the service for 20 years and is the longest standing member of RISE.
"The scheme helps a lot of people whose families are in other countries," said Mo Smith, RISE founder and chair of trustees.
The research by Age UK released this month also revealed that nearly half a million more do not speak to anyone for five or six days a week.
"Sometimes one person cannot see another for three or four weeks on end," said RISE operations manager Anthony Van der Walt.
"It's something which improves the lives of all the people who attend.
"It's about giving back. That is what I like about it.
"A lot of people are alone and isolated and this is the only thing they do."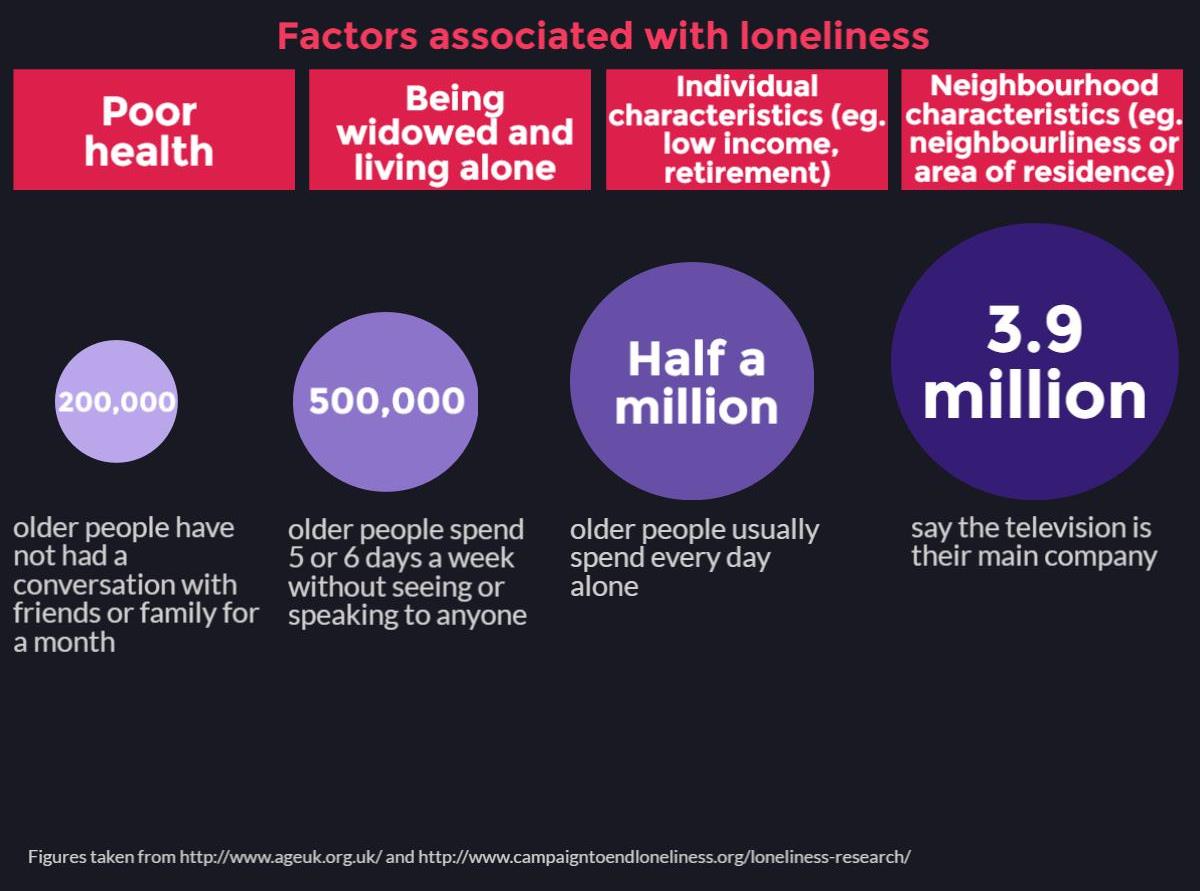 Founded in 2001, the charity is also starting a new project giving dressing gowns to older people in the Mary Seacole ward of Queen Mary's Hospital in Roehampton.
"Our new project with Queen Mary's is giving gifts to the ward of dressing gowns as they don't bring these in," said Ms Smith.
"We will be giving the gift to each patient as an act of kindness as well as giving them information on our services.
"If we can help them any way we can we will."
The ward contains 42 beds for rehabilitated older people, who can feel lonely while in hospital.
"When an older person goes into hospital it is stressful for them," said Mr Van der Walt.
"They do not always have family around.  A little gift provides a bit of comfort.
"It is showing people that there are people in the community who really care.
"It would be good to get the funds to keep it going so we could maybe do it for a long time."
RISE is also currently raising £2.5m to refurbish and build a 10-bed unit for older people on discharge from the five main south west London hospitals and have raised £795,000 to date.
They hope it will also help to alleviate the issue of bed-blocking, a predominant issue within the NHS.
"We will be having a series of fundraising events during 2017 and are looking for companies or individuals to sponsor us," said Ms Smith.
RISE is funded by Wandsworth Council, but their funding does not cover all of the operational costs such as transport and food.
The charity is also supported by Hillsong Church Choir who provide volunteers and raised £1,000 for them over Christmas.
"We believe that you are never too old to enjoy life, there are always new opportunities and isolation has to be eradicated," said Ms Smith.
"We are looking forward to 2017 as being a year of reaching out to our community in a new way by supporting those who we are already in touch with, but also changing the lives of those who as yet do not know we exist."
For more information visit http://www.regenerate-rise.co.uk/.