A mob of runners from Ranelagh Harriers descended on Epping Forest to conquer Orion Harriers in an epic match encounter earlier this month.
The race on Saturday, November 5 was the 90th meeting between the two clubs – with 56 Ranelites making the trip to Epping Forest, with the top 53 runners scoring against the top 53 of Orion's total of 61 runners.
Mob matches originated in the early 20th century and are en masse cross country races between two running clubs where the winner takes all.
Each runner scores points based on their finishing position – if a runner finishes first they score one point and the 15th runner scores 15 points – and the team with the lowest points total wins the match.
Fireworks flew early as Ranelagh packed the top places amassing a brilliant low scoring total of 2445 to comprehensively beat Orion's 3228 points and win the match.
Jon Pepper led the Ranelagh team home as he strode through the seven-an-a-half mile course in the mud in a time of 44:44.
The win keeps alive Ranelagh Harriers' unprecedented winning streak of 13 mob match wins – the longest streak in the history of the traditional mob clubs.
Ranelagh Harrier Dave Lawley said: "Rename Epping forest to epic forest!
"What a course it is. Stunning, challenging, twisty, turny and as for those hills!"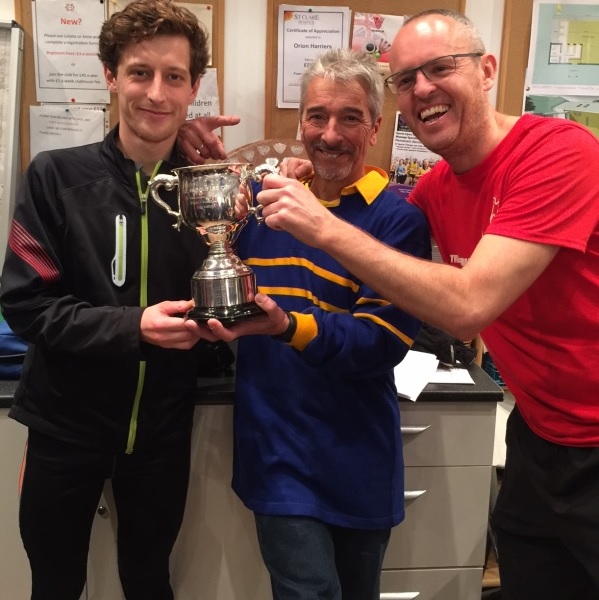 RUN-DERFUL: Jon Pepper with Mike Peace and Stuart Colley
Ranelagh Harriers will look to continue their streak in the two races to go this season – at home to South London on December 10 in Richmond Park and away to Blackheath & Bromley on February 19 at Hayes, Kent.
Ranelagh Harrier John Shaw said: "Of course I love the tradition and camaraderie of Mob Matches.
"But more than that, I love the craziness involved in schlepping across London to don a scanty singlet in the freezing cold, then shout archaic club songs with incomprehensible words, dramatic gestures, and the odd handkerchief, followed by a shattering odyssey through mud, stumps, cruel hills, holes, stiles, ramblers, brambles, swamps, horse by-products, and even the occasional actual horse, all for a piece of cake.
"You're not just running a race, you're keeping alight the proud flame of British Sporting Eccentricity. And that is a noble pursuit."
The first mob match is believed to be Ranelagh H v Blackheath H [now Blackheath & Bromley HAC] on Jan 12, 1907 at West Wickham.
David Wright knows more about the spirit of mob matches than most.
He ran his first mob match as a callow 17-year-old in December 1974 and now, aged 59, he has ran in 166 mob matches – missing only one in 1999 due to flu.
He said: "Mobs encapsulate all that is good in sport: hard competition without it being taken too seriously, good banter with the opposition, team spirit in what is generally an individual sport, a scoring system that means everybody counts, tea and cake, and most importantly a few beers in the evening talking about the race.
"For me the mobs have kept me in touch with my beloved club.
"I relocated from London to Cirencester in Gloucestershire in 1990 so for the last 36 years have been driving 100 miles each way to the mobs, not just to keep my streak going but as a way to keep in touch with old friends and vainly try to maintain a modicum of fitness (becoming ever harder)."
The Richmond Park-based club that was formed in 1881 has a rich tradition and history.
The London Marathon was founded by one of its most famous members and former Olympian, the late Chris Braisher CBE, along with John Disley CBE.
The club also provided a London Marathon winner with Hugh Jones winning in 1982 and club member Priscilla Welch was a runner up on two occasions in the 1980s.
More recently Paul Sinton-Hewitt CBE, a Ranelagh member, founded parkrun in 2004 and another Ranelagh man Chris Owens won the inaugural parkrun at Bushy Park on October, 2 2004.