Summary:
Glyn Semple on how he was scammed by mobile fraud – and how to avoid it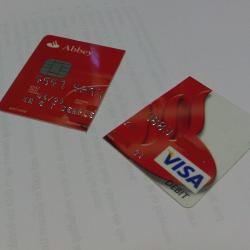 A Nigerian prince is not going to put his fortune into your bank account. He's really not.
When the flashing lights pop up on some dodgy website saying 'you are the millionth visitor'! Click here! You have won an amazing prize! You haven't. Sorry.
And another thing, your bank have not emailed you to confirm all your details, they already know them.
However, the offer of £270 cash back on my new phone was real. I have already received the cheque and agreed to a two year contract.
I'd read the reviews on various sites telling me to beware of cheap internet deals but I thought, 'I'm savvy, I know what I'm doing', and I did know.
So you can imagine how my ego suffered when a 'representative' of my new phone company called me, extracted my bank details and tried to steal my money.
To be fair to Mobiles.co.uk, the website I used, it was nothing to do with them.
I received a call on my new phone and a very nice man introduced himself as Ben and asked me if everything was OK and if I was happy.
"Oh yes, everything's great, no problems so far," I told him.
He asked me some more questions and then told me he worked for the insurance division of Carphone Warehouse, Mobiles.co.uk's parent company.
"Do you understand what the insurance covers you for?" He asked.
I said I had an idea, pretty much everything except dropping it in a mug of hot coffee, the fate of my previous phone.
He said that water damage was covered by this policy so not to worry about it. I was pleasantly surprised, one less thing.
He then explained in detail the insurance policy and answered my questions casually and efficiently.
I realise now that this was all designed to convince me he was who he said he was.
After softening me up he asked me to confirm my bank card details. I was suspicious and asked him how I could verify who he was, especially since he had called me, not the other way around.
He gave me a number to call back on, said his name was Ben Jones and gave me his extension. He said I could call back afterwards and check.
Still suspicious, I grudgingly handed over my card numbers. Why? I think because he already had enough of my details to convince me he was for real.
But did he already know my details?
When I think back on the experience it's possible that he sneaked them from me during the conversation without me noticing.
I'm almost certain he already had my number, obviously, details of my plan with O2 and the first four digits of my debit card, almost certain.
I called the number he gave me and got an answer phone message saying the call centre was closed. Of course I started to panic. I called the Carphone Warehouse customer service number and tried to verify if they had called me but they confirmed they hadn't.
I was about to go on my internet banking and transfer all the money from that account into another one when my phone rang again.
Luckily for me it was my bank, Abbey, who had flagged up a transaction on my debit card as possibly fraudulent. It was a big relief. My bank had saved me from losing a lot of money.
The criminals had tried to put through a payment of £99.99. I'm certain they would have gone for more if that one had been successful.
The Abbey fraud team member asked me if I had made that transaction and I said no. They blocked the payment and cancelled my card.
Now I have to wait for a new card and pin number in the post but it's a minor inconvenience compared to the alternative.
I was called again by Carphone Warehouse as they wanted details of the attempted fraud so they could chase it up with the police.
Their spokesman explained that mobile phone companies buy numbers from a national database from which the fraudsters can obtain the numbers.
They use an auto-dialler to call all the numbers and when one is answered a recording asks you to stay on the line and wait for a representative.
I've already established what happens next!
Abbey also asked for details and advised me never to give out my card numbers like that again.
Both Abbey and Carphone Warehouse said they would never call a customer and ask for these details.
What makes it worse is that I already knew that and somehow was persuaded to break my own rule.
These scam artists are well trained and very convincing. I still feel like a complete idiot but I understand now how easy it is to fall for this kind of thing.
I plan to be a lot more careful in the future.
ADVICE ON PROTECTING YOURSELF FROM FRAUD
Never give out your personal details such as bank card numbers or passwords to someone who calls you, no matter who they claim to be. Insist on calling the company back, preferably through a central switchboard.
Make sure your computer has anti virus software and a firewall.
Your bank will NOT ask you to confirm account details, passwords or card details by email.
Instruct your bank not to accept any payments processed abroad unless you tell them otherwise. Although if you are going abroad don't forget to let them know or your card will not work!
Check your accounts regularly for any charges or payments you may not have made yourself.
OTHER COMMON TYPES OF FRAUD
(From the metropolitan police website)
Calling victims pretending to be their bank, or other financial institution and asking customers to confirm their personal details, passwords and security numbers.
Targeted phishing attacks; a criminal activity where "phishers" attempt to fraudulently acquire sensitive information, such as usernames, passwords and credit card details, by masquerading as a trustworthy financial institutions on the internet.
Malicious software such as spyware which can surreptitiously collect personal information from personal computers.
Gathering of personal details through personal information posted on the web; such as on social networking sites.
Stealing mail left in communal areas of residential properties or thrown out in the rubbish.
Stealing personal data through stealing your belongings i.e. wallet, purse, burglary etc.