A government decision to select Lambeth's Waterloo Station as the site for a planned Windrush monument is stirring debate. 
Questions over Waterloo's suitability and the extent of community consultation have been raised and a petition by Lambeth councillor and cabinet member Sonia Winifred, calling for the monument to be in Brixton's Windrush Square, has more than 1,500 signatures.
Then Prime Minister Theresa May announced the location in June after a recommendation from the Windrush Commemoration Committee, part of the Ministry of Housing, Communities and Local Government (MHCLG) which is supplying £1m of funding for the project.
Councillor Winifred said: "The petition is gaining momentum and I'd like there to be an acknowledgement of the discontent with this decision and for there to be a re-think."
She added: "Lambeth Council would have loved the opportunity to be part of this discussion but we were not party to it."
The council believes Brixton is the rightful site for the memorial since many of the first HMT Empire Windrush passengers settled there after arriving in 1948 and significantly shaped the area's heritage.
The Windrush Commemoration Committee is chaired by Baroness Floella Benjamin and includes eight other influential members of the BAME community, including executive director of The Voice Paulette Simpson and Reverend Rose Hudson-Wilki.
A response from the MHCLG to a freedom of information request indicates that the only input received so far outside of the committee has been from Caribbean High Commissioners at committee meetings.
The response stated that the committee itself represents a range of backgrounds, foundations and charities and that there would be 'further community engagement later in the process'.
Councillor Winifred said: "This engagement is too late in the day. They have already made the decision – the main point is where the monument will be erected.
"Any other group in this country would be given the opportunity to sit down and discuss where the monument will be or it would be put out to public consultation."
One reason for selecting Waterloo is that thousands of Caribbean migrants who followed those original passengers arrived at the station after docking in Southampton. The proposed monument would also receive substantial exposure at a world-famous location undergoing a multi-million pound redevelopment.
Councillor Winifred said: "I don't see the sense of it being in Waterloo as you are in transit there and interested in your departure point and your arrival. Where you set up home is where your family, memory and roots are."
In response to the freedom of information request, the MHCLG declined to disclose alternative sites considered for the monument but has publicly stated that Windrush Square was an option.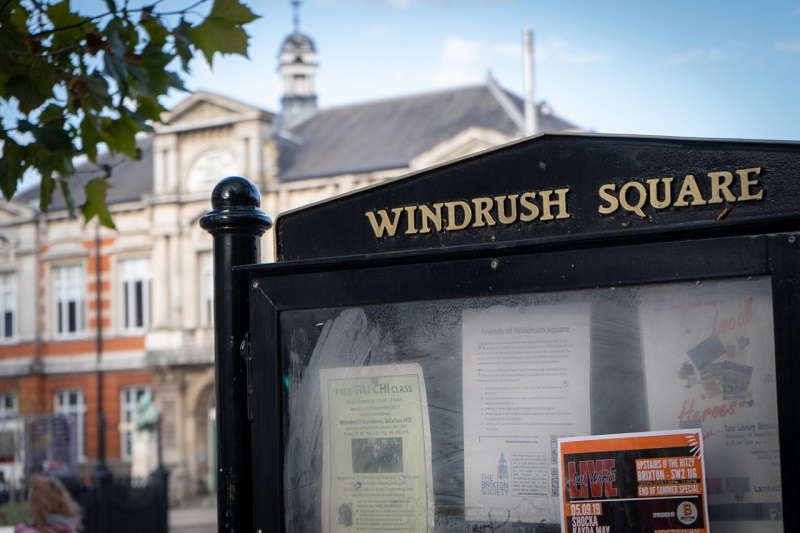 TOO LATE: Councillor Winifred believes the community should have been consulted on the location of the monument. Image credit: Kiran Acharya.
Another point of contention is the omission of several leading Windrush figures from the committee.
The MHCLG confirmed the composition of the committee was recommended by its chair and approved by ministers and Number 10.
One of those absent is Arthur Torrington, director and co-founder of Windrush Foundation, a charity whose mission is to celebrate the ways in which African and Caribbean people have enriched the UK.
He said: "I would have rejected anything to do with Waterloo because Windrush has nothing to do with Waterloo.
"It was chosen because most of the Windrush generation went through it but I would disagree with that, as we don't know. Lots came through Victoria, Paddington and Heathrow Airport."
Mr Torrington believes further public engagement is necessary and backs the call for the monument to be erected in Windrush square.
He said: "There ought to be open consultation at various sites in London associated with what's happening in the black community."
Black Cultural Archives (BCA) which is based in Windrush Square and a centre dedicated to the history of African and Caribbean people in Britain, was also not consulted.
BCA provided free legal clinics when the Windrush migration scandal broke in 2018 and continues to assist those affected today.
Chair of BCA Dawn Hill said: "We do find it odd that we weren't asked to be on the committee. I would have liked to have sent someone from BCA."
BCA supports the idea of a memorial and remains neutral on the location until a full consultation has taken place.
She said: "Maybe Waterloo Station is the very best place but we don't know. The Caribbean community hasn't had any input into that decision and that's why it is not popular."
This kind of public discussion took place in 1998 when residents, businesses and organisations were given the opportunity to choose the name of Windrush Square.
She said: "People filled in their forms and in the end Windrush Square won. We were well behind it at the BCA and absolutely determined it was going to be called this.
"It does work if you consult people."
Feature image credit: Kiran Acharya.