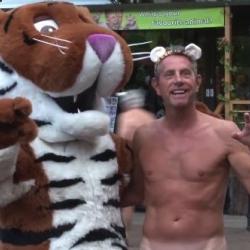 London's weirdest charity run will see hundreds of participants once again run naked around ZSL London Zoo all in the name of tiger conservation.
Streak For Tigers, a somewhat unusual charity event, makes a return tonight after its debut run last year.
Bold members of the general public have signed up to strip off and run a 350metre loop around the zoo grounds, completely in the buff, for the conservation and protection of Sumatran tigers.
The fundraising race last year raised over £85k for the charity Zoological Society London, which also supports the tigers currently at the Zoo.
Lucy Osman, challenge events manager at London Zoo said: "We're so excited for the stripiest streak in London to return.
"We're hoping this year we can encourage lots of daring people to sign up and help us raise even more."
ZSL currently houses five Sumatran tigers; a handsome male named Jae Jae and a female, Melati, who gave birth to three cubs, Cinta, Nakal and Budi, in February this year under the international breeding programme.
The variety of runners are as diverse as their motivations for signing up for this barmy event.
Participants range from those passionate about conserving the endangered Sumatran tiger to keen naturists.
And even to some individuals, like Martin Payne, 47, from Windsor, who simply agreed to run 'because it's a really stupid, typically British idea'.
Fiona Smith, 29, is a charity fundraiser from Plumstead, who after competing last year is excited to return.
"I have the pleasure of raising money and getting naked at the same time, what's not to love?" she said.
"Last year was nothing short of euphoric and I anticipate the same feeling this streak."
You don't have to be a regular exhibitionist or keen naturist to take part.
Richard Jones from South West London enjoys nudity 'whenever it's warm enough' and commented that 'last year's event was a great mix of naturists and people who were trying it for the first time'.
ZSL London Zoo do provide tiger masks to preserve some anonymity, and many competitors have chosen to add ears and face paint to calm their nerves.
"Of course I'm nervous about getting naked in public, but our team is going in full tiger body paint with fur ears and tails which makes it feel more like dressing up," said Ryan Nelson, 29, from Clapham.
"How often does someone get the chance to say they've streaked at the zoo without being arrested?"