One thousand and six hundred roses have defied torrential rain to adorn Morden Hall Park.
The National Trust property's rose garden showcases more than 40 varieties of the flower, but a month's worth of rain in 24 hours on June 10 caused a stream running through the garden to burst its banks.
Gardener Emily Lamey attributed the fact the beautiful blooms were not swept away to the work of her team of 12 volunteers, whose dedication throughout the year ensured the plants were firmly rooted.
Ms Lamey said the roses were particularly gratifying for the several novices in her team.
She said: "They haven't done much gardening, certainly no pruning before and when they came to me in January I showed them how to prune properly.
"Now they've seen these plants, which they were quite scared to touch initially, really flourish."
Ms Lamey said Morden Hall Park's annual Rosefest was one of the highlights of its calendar. "It gets very busy, people bring picnics and just lounge and smell the flowers," she said.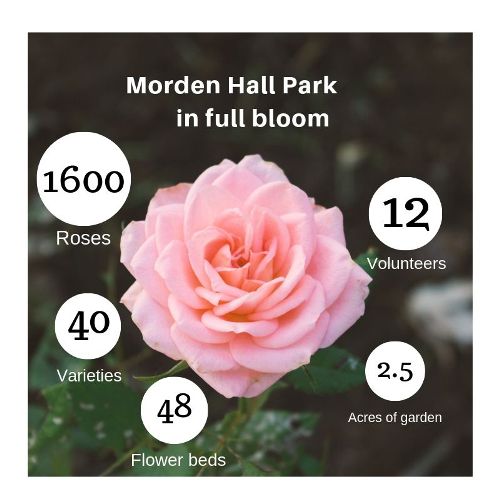 For many years it was the council who tended the garden, introducing several modern, vibrant roses. Ms Lamey said she hoped to gradually phase them out in favour of pastel hues preferred at the time of the garden's creation.
"I really want to bring romance back into the gardens," she said.
The National Trust is raising funds to further restore the garden by rebuilding two bridges used to connect the garden's two halves.
Rosefest runs until this Sunday, June 16.