The winter wonderland scene in London is diverse with a lot of options to choose from around this festive season, so what winter wonderlands should you visit this year?
A variety of winter wonderland events are set to flood London for the rest of the year. This list of top five winter wonderlands to visit includes entertainment, food and more.
Hogwarts in the snow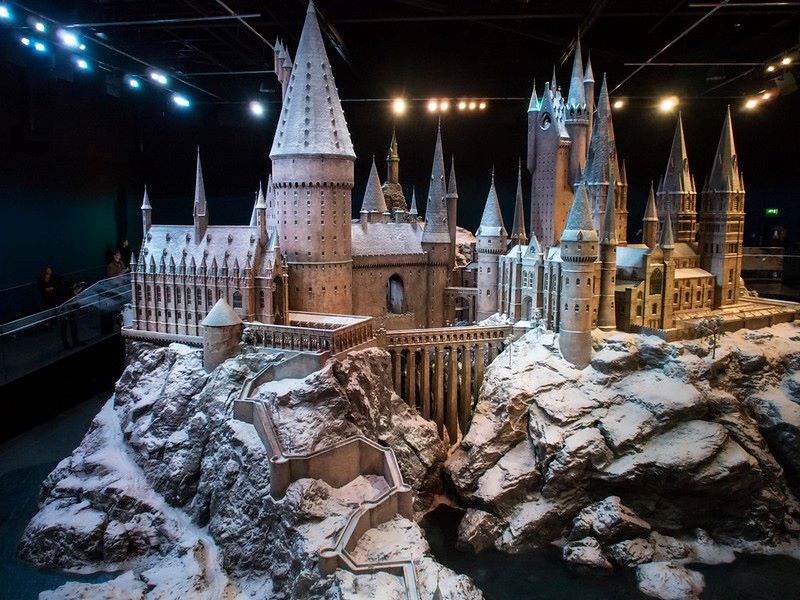 Deck the halls of Hogwarts, Harry Potter fans can experience the Warner Bros. Studio Tour London in the snow this Christmas. 
The Watford based studio is bringing the magic of Christmas to muggles with a banquet in the Great Hall.
Diners can expect the hall to be decorated in gold themed from Harry Potter and the Philosopher's Stone to celebrate the end-of-term feast, with a spread of roast potatoes, peas, turkeys, and puddings.
Christmas trees, flying witches and inviting fireplaces will adorn the hall with typical festive holly, mistletoe and wreaths.
Get immersed in the wizarding world with Christmas scenes from the sets of Gryffindor's boys' dormitory to the common rooms.
This limited time experience lasts from November 11th to December 14th.
Tickets for the tour start from £51.50 and are selling faster than a golden snitch: www.wbstudiotour.co.uk
Tipis on the green
Experience the Alps from London in a tipi this Christmas.
London's first sustainable festive pop-up caters an alpine-inspired menu from ski holiday favourites like tartiflette to charcuterie.
Get the chalet experience this winter in festive decorated and vintage memorabilia adorned venue this season.
Their dedicated chefs have curated a menu of traditional dishes with modern ingredients, techniques and flavours to herald in the holidays with festive spirit.
The event is to be held at Parsons Green in Fulham this winter from November 17th to December 22nd
Make your reservations now: www.tipisonthegreen.uk
CHRISTMAS AT KEW
Rejoice in the festive spirit this winter in Kew botanical gardens.
This unmissable opportunity is a family friendly evening spectacle of botanical beauty and seasonal cheer.
Discover glittering tunnels of light, dancing lakeside reflections and trees drenched in jewel-like colour.
Along the walk expect to indulge in festive delights from independent street food vendors, from hot food and sweet treats to spiced winter warmers and hot chocolate.
Doors open on November 15th to January 7th at Kew Gardens entrances: Victoria Gate, Brentford Gate and Elizabeth Gate.
Tickets for adults' range from £19.50 to £29 with family and child tickets available on the website.
The event will have a limited capacity with timed entry so be sure to plan and book tickets now at: www.kew.org
Hyde Park winter wonderland
The iconic London winter wonderland returns to Hyde Park this season packing an array of festive fun.
From roller-coaster rides and fair games to seasonal festive foods and drinks, Hyde Park Winter Wonderland has it all and more with a spectacular variety of live shows for all the family.
Expect all winter festivities at Hyde Park this time of year weather your interests are Norse ice sculptors, or you like to tuck into some fondue there is something for everybody.
Some of the mouth-watering food to expect are: Stakehaus, Flesh & Buns, Wok boy and Seawise catering and are all new additions to the food stall line up for 2023.
To book tickets check: hydeparkwinterwonderland.com
Glide at Battersea power station
Glide presented by Jo Malone London returns to Battersea Power Station with London's only riverside ice rink from November 10th until January 7th.
Come show off your ice-skating skills whether you're Bambi on ice or a figure skater the rink caters to all promising an unforgettable experience for all.
From the team who brought you the Natural History Museum Ice Rink and Hyde Park Winter Wonderland, it is a must-do activity this winter.
Take in the views of the Thames as you twirl around the three interconnecting rinks surrounded by sparkling lights and a spectacular 30ft Christmas tree.
Participate in a variety of vintage-style fairground rides, live entertainment, and photo booths to capture those precious moments.
The Glass House bar returns, following an incredible first year so visitors can fuel up before a skate or relax with a well-earned post-skate treat.
Pub quizzes, themed music night, DJs and live bands will also be available throughout the week.
The fragrance brand Jo Malone London, known for its unexpected fragrances, immerses your senses in their new collection of festive colognes and home scents.
On offer are custom gifts with a selection of bespoke personalisation options to make a cherished personal keepsake.
Featured Image credits: Jason Rolls on flickr