Fireman were forced to cut the roof and four doors off a saloon car following a two-vehicle crash on The Broadway this morning.
The driver of the silver Toyota Yaris and at least one passenger were treated at the scene and taken to hospital by ambulance.
The accident happened at the junction of The Broadway and Stanley Road outside the Made in Italy restaurant in Wimbledon.
A black Audi A3 appeared to have struck the Toyota close to a pedestrian crossing controlled by traffic lights.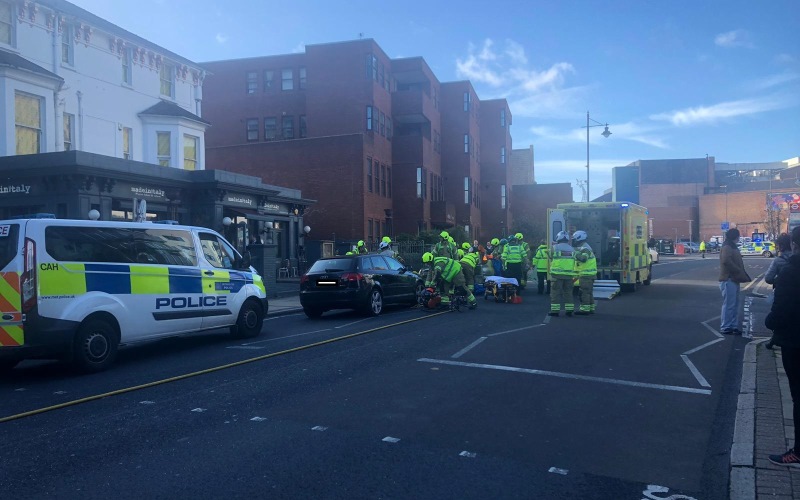 At least seven police cars, two ambulances and three fire engines were at the scene as emergency workers helped with the rescue.
"I was shocked. This is the first time I've ever seen anything like this happen," said Lucia Alpa, 20, who works at the restaurant.
Lucia, from Genoa, Italy, said the incident occurred just before she arrived at work.
Traffic was halted on both sides of the accident as crowds of people, including residents in a nearby tower block and workers at offices which overlook the scene, gathered to view unfolding events.
Fire crews worked to speedily remove the roof of the Yaris and a person was seen being taken into an ambulance on a stretcher.
A substantial amount of glass littered the middle of the road and the emergency services first took time to clear out the damage from around the vehicles.
Both vehicles were still in working condition and police eventually drove them away from the scene.
The Metropolitan Police declined to give a statement as their investigations are still ongoing.
No fatalities were reported. Anyone with further information should contact the police.