His Legend continues – Hollywood superstar Tom Hardy gave a helping paw to his four-legged friends as he took to the trading floor to raise funds for Battersea Dogs & Cats Home yesterday.
The Mad Max icon hit the trading floor for an annual charity day, commemorating those who died in the 9/11 attacks on New York's World Trade Center, at BGC Partners in Canary Wharf.
Tom is know as a huge animal lover and is often papped walking his dogs around his homes in London and was even accompanied his beloved rescue hound, Woody, down the red carpet at the Legend premiere.
A long-time advocate of adopting rescue dogs, he took time out of his busy schedule to help find a home for one of the charities longest stay dogs, a Staffy called Sidney, with Battersea Ambassador Paul O'Grady last year.
Claire Horton, Battersea Chief Executive said: "We love getting involved in BGC Partners' Charity Day and this year in no exception. It's such an exciting day and it really does help Battersea make a difference to the lives of so many animals.
"Last year Battersea spent over £13 million looking after thousands of abandoned unwanted dogs and cats in our care, and that's why we're so grateful to Tom Hardy for helping us raise vital funds to keep that good work going."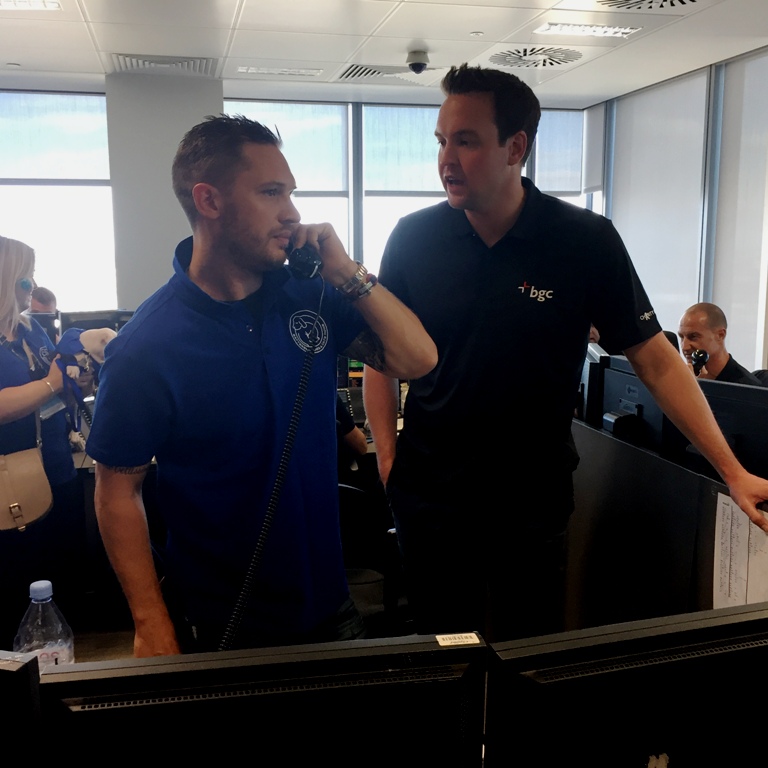 SELL SELL SELL! BUY BUY BUY! Tom Hardy gets trading for Battersea
The trading floor fundraising is hosted every year by BGC, celebrity ambassadors represent their chosen charities and join brokers to conduct transactions with clients – and 100% of the day's revenue is donated to the charities.
Last year's event saw top male model David Gandy and The Saturday's Mollie King hit the homes for Battersea, helping the 8,000 needy pets who pass through the gates each year.
Battersea receives no government funding and relies on donations to rescue, reunite, and rehome the 13 dogs and nine cats who arrive at their three centres every day.